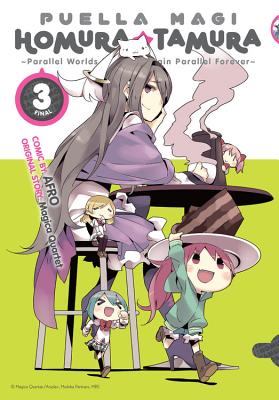 Puella Magi Homura Tamura, Vol. 3: Parallel Worlds Do Not Remain Parallel Forever (Paperback)
Parallel Worlds Do Not Remain Parallel Forever
Yen Press, 9780316439824, 112pp.
Publication Date: September 19, 2017
Description
Tamura--er, Homura--returns once again to the time flows on her quest to save Madoka. From ancient Arthurian legends to high-tech space battles, from Kyubey Jail prison breaks to coming face-to-face with a practical-joker version of HERSELF, Tamura--er, Homura--will stop at nothing to save her friend This universe-hopping adventure shows the sillier side of the hit series Puella Magi Madoka Magica
About the Author
Afro is the artist behind the newest comedy spin-off of the Puella Magi Madoka Magica series, Puella Magi Homura Tamura and the creator of Laid-Back Camp! Magica Quartet is a team formed of members of anime production studios SHAFT and Aniplex who came together to create "Puella Magi Madoka Magica." Members include Iwakami Atsuhiro, Akiyuki Shinbo, Gen Urobuchi, and Ume Aoki, who is also the creator behind "Sunshine Sketch."
Advertisement