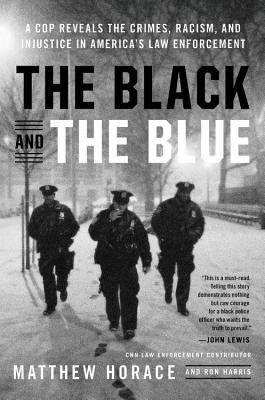 The Black and the Blue
A Cop Reveals the Crimes, Racism, and Injustice in America's Law Enforcement
Hardcover

* Individual store prices may vary.
Other Editions of This Title:
Digital Audiobook (8/6/2018)
Paperback (8/6/2019)
Compact Disc (8/7/2018)
Compact Disc (8/7/2018)
Description
During his 28-year career, Matthew Horace rose through the ranks from a police officer working the beat to a federal agent working criminal cases in some of the toughest communities in America to a highly decorated federal law enforcement executive managing high-profile investigations nationwide. Yet it was not until seven years into his service- when Horace found himself face down on the ground with a gun pointed at his head by a white fellow officer-that he fully understood the racism seething within America's police departments.

Through gut-wrenching reportage, on-the-ground research, and personal accounts from interviews with police and government officials around the country, Horace presents an insider's examination of archaic police tactics. He dissects some of the nation's most highly publicized police shootings and communities to explain how these systems and tactics have hurt the people they serve, revealing the mistakes that have stoked racist policing, sky-high incarceration rates, and an epidemic of violence.

"Horace's authority as an experienced officer, as well as his obvious integrity and courage, provides the book with a gravitas." -- The Washington Post

"The Black and the Blue is an affirmation of the critical need for criminal justice reform, all the more urgent because itcomes from an insider who respects his profession yet is willing to reveal its flaws." -- USA Today
Praise For The Black and the Blue: A Cop Reveals the Crimes, Racism, and Injustice in America's Law Enforcement…
"A black cop's frank look at tensions between police, communities of color.... The Black and the Blue is an affirmation of the critical need for criminal justice reform, all the more urgent because it comes from an insider who respects his profession yet is willing to reveal its flaws."
—USA Today

"The Black and the Blue is an important contribution to a growing body of work about minority police officers. Horace's authority as an experienced officer, as well as his obvious integrity and courage, provides the book with a gravitas."
—The Washington Post

"Who polices the police? Matthew Horace asks this in TheBlack and the Blue....[P]lenty of [stories] are about times when black lives didn't seem to matter, others are about blue lives, too, as police officers-white and black, men and women, good and bad-talk honestly about life on the street."—New York Daily News

"Horace's experiences, from his childhood in Philadelphia to his work on the streets and in police training classrooms, will be revelatory to many readers who have not felt the sting of racial prejudice.... [S]olid reporting and trenchant analysis [gives] Horace's readers a poignant understanding of how it feels to be both a black man and a black policeman. Reading The Black and the Blue will help all of us better understand the formidable challenges that big-city police officers confront every day-and how those challenges are exponentially more difficult when the police officer is a black man."—Philadelphia Inquirer

"The hidden dysfunctions in American policing are laid bare in this searching exposé.... Horace and coauthor Harris write sympathetically of the dilemmas of policing, but are uncompromising in their indictment of abuses. Horace's street cred and hard-won insights make this one of the best treatments yet of police misconduct."—Publishers Weekly (starred review)

"The heated debates surrounding the relationship between police and African Americans have tended to overlook one crucial part of the story: people who belong to both communities. Matthew Horace is a keen observer of the racial dynamics of policing, the often shameful history that contextualizes it and the implications for our current circumstances. A great deal has been said on this subject but very little of it [is as] perceptive and profound as The Black and the Blue."

—Jelani Cobb, The New Yorker

"Matthew Horace is shedding light on racial stereotypes and how they play out in police departments across America."—Salon.com

"An impassioned memoir... Horace vividly depicts the surreal challenges faced by African Americans in law enforcement.... An astute, unvarnished account that should stand out from the crowd of pro- and anti-law enforcement books."—Kirkus Reviews

"If anger and sorrow haven't flooded to the surface when the last page is turned, go back and start again."—Shelf Awareness starred review

"Insightful, honest, and probing.... Drawing on years of experience as an officer-and even more years of experience as a black man-Matthew Horace has written a book that everyone should read."
—Wesley Lowery, author of the New York Times bestseller They Can't Kill Us All

"Matt has compiled real life, inherent issues that we face as African American law enforcement professionals. I applaud [him] for bringing into focus... that somehow we were removed from the fabric of the black communities just because we took an oath, pinned on a badge and were issued a gun."—Clarence E. Cox III, President, National Organization of Black Law Enforcement Executives

"A critical look into law enforcement and the plethora of problems that exist within America's criminal justice system. The Black and Blue is full of hard truths-truths that every American needs to hear.... Horace is an informed, intelligent, and extremely measured journalist. The Black and Blue is both well written and researched."—D. Watkins, New York Times bestselling author of The Beast Side and The Cook Up

"Raw and riveting!... Horace brings nuance and complexity to the policing issues on the front lines of U.S. racial tensions."
—Debby Irving, author of Waking Up White, and Finding Myself in the Story of Race

"I have called on Matthew Horace as an expert so many times I can't count them. He offers insight like no other. This book is a must read!"—Nancy Grace

"The Black and the Blue is a necessary testimony from behind the blue wall of secrecy and silence that affirms the racist underpinnings and often deadly consequences of African American contact with law enforcement. This is an urgent conversation needed at every level in the criminal justice system."
—Liza Jessie Peterson, author of All Day: A Year of Love and Survival Teaching Incarcerated Kids at Rikers Island

"The Black and the Blue is a powerful and courageous truth telling, and a must read for all of us who want criminal justice change-and not reform. [It] is a clear statement of how white supremacy controls what is believed to be justice in America."—Flores A. Forbes, American Book Award-winning author of Invisible Men and Will You Die With Me?

"Matthew Horace provides a no-holds-barred, insider's account of the conscious, unconscious, and institutional racism that continues to be a cancer in many police departments, resulting in explosive incidents [and] the deaths of both innocent citizens and law enforcement officers alike. [Horace] offers our police officers a better and smarter way to protect and serve all of our citizens, regardless of race, creed, or color."
—Jeffrey Gardere, Ph.D., best known as ?America?s Psychologist? on Good Morning America and The Real Housewives of Atlanta

"Horace has done an excellent job of weaving together his personal experiences as a law enforcement officer [and] the experiences of African Americans with the police."
—Elsie L. Scott, Ph.D., Director of the Ronald W. Walters Leadership and Public Policy Center, Howard University

"We love [Matt Horace] because he always brings a strong point of view."—Chris Cuomo

"Every police officer, attorney, and civilian in American should read The Black and the Blue. There are lessons for us all."
—Joey Jackson, CNN Legal Analyst

"Matthew Horace doesn't pull punches, and as a black man and a cop, he's seen it all.... In The Black and the Blue, his powerful, probing, unvarnished assessment of racial injustice in law enforcement today, he comes out as a "champion of wholesale police reform in the United States," unafraid to offer prescriptive advice on how to address the racism, prejudices, biases and the lethal "cops don't tell on cops" tradition ingrained in police culture. Using in-depth interviews and his own experiences, Horace presents the vivid on-the-ground actuality of police brutality, misconduct, malfeasance and the needless, heedless shootings that capture headlines and snuff out lives all over America. Horace narrates like a pro with both passion and control."—Bookpage
Legacy Lit, 9780316440080, 256pp.
Publication Date: August 7, 2018
About the Author
Matthew Horace spent three decades working in law enforcement and is a nationally recognized security expert. He has also served as a contributor to CNN and The Wall Street Journal.

Ron Harris is a former reporter and editor for the Los Angeles Times and the St. Louis Post-Dispatch. Currently, he is a professor at Howard University.
or
Not Currently Available for Direct Purchase