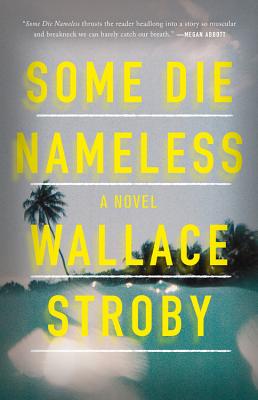 Some Die Nameless
Hardcover

* Individual store prices may vary.
Description
An ex-mercenary and an embattled journalist find themselves unlikely allies against a corrupt defense contractor in this "noir beach read" (New York).

Ray Devlin is retired, living a simple life off the grid in Florida, when a visit from an old colleague stirs some bad memories -- and ends with a gunshot. Soon Devlin is forced to again face a past he'd hoped to leave behind, as a member of a mercenary force that helped put a brutal South American dictator into power.

Tracy Quinn is an investigative reporter at a struggling Philadelphia newspaper decimated by layoffs and cutbacks. Then one day what appears to be a straightforward homicide -- a body left in an abandoned rowhouse -- draws her and Devlin together, and ultimately enmeshes both in a conspiracy that stretches over twenty years and reaches to the highest levels of the U.S. government.

Before long, they're both the targets of a ruthless assassin haunted by his own wartime experiences. For Devlin, it could all mean a last shot at redemption. For Tracy, the biggest story of her career just might cost her life.
Praise For Some Die Nameless…
"Stroby, already a crime fiction luminary, is channeling his inner Elmore Leonard more and more these days, and this time he's headed to Leonard's old stomping grounds, a Florida populated by rogues, hustlers, reporters, and mercenaries. Expect some quality thrills and madcap action."—LitHub

"Stroby, who is frequently compared to Elmore Leonard, remains at the top of his game. His sketches of today's newspapers and their financial woes are vividly rendered, as is his take on the sordid business of companies attempting to exploit the idea of 'Democracy for Profit.' Best of all, Stroby's prose is as lean, clean, and mean as ever."—Booklist (starred review)

"Wallace Stroby's Some Die Nameless manages that rare feat: it thrusts the reader headlong into a story so muscular and breakneck we can barely catch our breath,while also offering rich, damaged characters and a haunted, mournful tone that deepens everything, that lingers with us long after we reach the final page."—Megan Abbott, author of Give Me Your Hand

"Stroby is a master of his genre, and a must-read for lovers of thrillers, crime, and noir."—Medium

"Some Die Nameless has no shortage of suspense. Stroby keeps the adrenaline flowing page after page. His depiction of the modern newsroom and its shrinking staff builds Quinn as a rogue hero, fighting to bring the truth to the American public. Timely, exciting and shrewd, Some Die Nameless is prime crime fiction."—Shelf Awareness

"Some Die Nameless is a superbly entertaining thriller full of hard truths about what happens when the shadow world is exposed to the light. Stroby's subtle, straightforward style is pitch perfect."—Reed Farrel Coleman, New York Times bestselling author of What You Break

"Wallace Stroby's writing is all muscle, with not an ounce of fat. Some Die Nameless is propulsive and intelligent, populated by the very best kind of characters:authentic, complicated human beings who are capable of surprising both the reader and themselves."—Lou Berney, author of the bestselling Long and Faraway Gone

"Wally Stroby is a knockout writer, the king of dialogue and a terrific storyteller. This timely and relentless thriller, a triumph of unlikely alliances, is taut, tight, vivid and brilliant."—Hank Phillippi Ryan, bestselling author of Trust Me

"Some Die Nameless is noir for modern times. The heroes are classic, but the bad guys are completely a 21st Century product. Greedy and reckless, they have no fear of the truth or those seeking justice. A boat bum Army vet and a jaded newspaper reporter are the perfect duo to take them down. —Ace Atkins, New York Times Bestselling author of The Sinners and Robert B. Parker's Old Black Magic

"Wallace Stroby is the real thing, a writer who channels two of the best Raymonds--Chandler and Carver--with his tough, lean prose and 'dirty' realism," in a high-voltage story of murder and corruption."—Jonathan Santlofer, author of the bestselling The Death Artist

"Wallace Stroby is a master of propulsive narrative and stunning action sequences. If you love supercharged suspense, strap in for a ride with his newest creation, Ray Devlin, the haunted ex-mercenary who is the heart and soul of Some Die Nameless."—Ted Tally, Academy Award-winning screenwriter of The Silence of the Lambs

"With surgically precise prose, Wallace Stroby has created a story as fast, emotionally engaging, as richly detailed and riveting as any novel I've read in years. I would have consumed Some Die Nameless in a single sitting except I had to keep getting up and walking around the room to catch my breath. I've been a Stroby fan for a while, but this novel is by far his most ambitious and his most impressive. From the first scene to the last, this book never slows down or disappoints. A deeply satisfying read."—James W. Hall, author of When They Come For You

"With Some Die Nameless Wallace Stroby has achieved the impossible, combining the complexity and tension of a whodunit mystery with the suspense and action of one of the most dynamic thrillers in years. Stroby's taut prose and authentic characters keep the twists and turns coming,culminating in an explosive ending that kept me thinking about the book long after I finished it."—Paul Guyot, co-executive producer NCIS: New Orleans

"Stroby's years as a journalist, including for the Star-Ledger, are evident in his lean prose... Stroby has a great eye for the kind of characters who belong in noir."—Newark Star-Ledger
Mulholland Books, 9780316440202, 352pp.
Publication Date: July 10, 2018
About the Author
Wallace Stroby is an award-winning journalist and the author of seven novels, four of which feature Crissa Stone, the professional thief labeled "crime fiction's best bad girl ever." His first novel, The Barbed-Wire Kiss, was a Barry Award finalist for best debut novel. A native of Long Branch, N.J., he's a lifelong resident of the Jersey Shore.
or
Not Currently Available for Direct Purchase