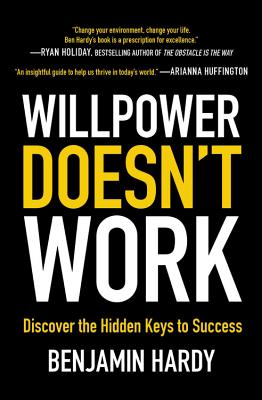 Willpower Doesn't Work
Discover the Hidden Keys to Success
Paperback

* Individual store prices may vary.
Other Editions of This Title:
Digital Audiobook (3/5/2018)
Paperback, Korean (7/14/2018)
Hardcover (3/6/2018)
Description
We rely on willpower to create change in our lives...but what if we're thinking about it all wrong? In
Willpower Doesn't Work
, Benjamin Hardy explains that willpower is nothing more than a dangerous fad-one that is bound to lead to failure. Instead of "white-knuckling" your way to change, you need to instead
alter yoursurroundings
to support your goals. This book shows you how.
The world around us is fast-paced, confusing, and full of distractions. It's easy to lose focus on what you want to achieve, and your willpower won't last long if your environment is in conflict with your goals--eventually, the environment will win out.
Willpower Doesn't Work
is the needed guided for today's over-stimulating and addicting environment.
Willpower Doesn't Work
will specifically teach you:
How to make the biggest decisions of your life--and why those decisions must be made in specific settings
How to create a daily "sacred" environment to live your life with intention, and not get sucked into the cultural addictions
How to invest big in yourself to upgrade your environment and mindset
How to put "forcing functions" in your life--so your default behaviors are precisely what you want them to be
How to quickly put yourself in proximity to the most successful people in the world--and how to adapt their knowledge and skills to yourself even quicker
How to create an environment where endless creativity and boundless productivity is the norm
Benjamin Hardy will show you that nurture is far more powerful than your nature, and teach you how to create and control your environment so your environment will not create and control
you
.
Praise For Willpower Doesn't Work: Discover the Hidden Keys to Success…
"If
you want to get more done, don't worry about willpower--focus on motivation.
Challenging the dominant view of self-control as a muscle. Benjamin Hardy
reveals that productivity is really about clarity and commitment."—Adam Grant, New York Times bestselling author of Originals and Give and Take

"Benjamin Hardy is one of the leading voices on well-being and productivity. Willpower Doesn't Work is an insightful guide to help us thrive in today's world."—Arianna Huffington

"Change
your environment, change your life. Ben Hardy's book is a prescription for
excellence and contains the hidden keys to success."—Ryan Holiday, bestselling author of The Obstacle Is the Way

"If
you only read one book in 2018, make it this one. . . . This book will help you
accomplish more in less time than any other book--by changing your entire
approach to confidence and personal commitment."—Inc.

"A
welcome prescription for those striving to overcome challenges and realize
their aspirations."—Library Journal

"This is a must-grab book!"—BuzzFeed

"In
this immensely practical and useful book, Hardy will teach you everything from
how to put 'forcing functions' in your life (so your default behaviors are
precisely what you want them to be) to how to create an environment where
endless creativity and boundless productivity is the norm. If you're ready to
set the conditions for your success, this book is for you."—Forbes

"Uncommonly
thoughtful: that's what I think of when I read Benjamin Hardy's work. Get this
book and you'll better understand how to be who you truly want to be."—JimmySoni, editor at the Observer and author of Rome's Last Citizen

"In
an age when few people think deeply about life, Benjamin Hardy is the
exception. Read this book if you want to be better."—Jeff Goins, nationally bestselling author of The Art of Work

"Willpower Doesn't Work debunks so many myths about what truly makes people successful. What Ben reveals in his fantastic book is something that can absolutely transform your life in a matter of moments when you understand what it is and put it into practice."—JoePolish, founder of Genius Network and Genius Recovery

"With the right models and practices found in [Willpower Doesn't Work], you can control your environment. And with a simple decision to get going, you can take all the action required to begin living the life you know you were meant to have. By reading this one book, you can change a million lives, including your own."—MareoMcCracken, Thrive Global
Hachette Books, 9780316441339, 256pp.
Publication Date: March 5, 2019
About the Author
Benjamin Hardy and his wife, Lauren, are the foster parents of three kids. In 2016, Benjamin was the #1 overall writer on Medium.com. His work has been featured at Forbes, Psychology Today, Fortune, Mashable, and others.