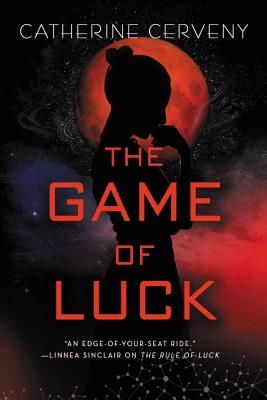 The Game of Luck (A Felicia Sevigny Novel #3) (Paperback)
Orbit, 9780316441667, 480pp.
Publication Date: September 25, 2018
* Individual store prices may vary.
Description
A Brazilian tarot card reader and a Russian crime lord try to restore peace to the galaxy in the third and final book of the steamy science fiction adventure series that began with The Rule of Luck.
The perfect society One Gov engineered from Earth's ashes is beginning to crumble. As social unrest and dissatisfaction spread throughout the tri-system, One Gov struggles to maintain order, and a single misstep could see civilization spiraling into chaos.
During this dark time, Felicia Sevigny is eager to use her card-reading ability and new position with One Gov to help restore peace. But she soon learns that the game of politics is a dangerous one, and being married to Alexei Petriv, head of the Tsarist Consortium and One Gov's biggest rival, is not necessarily a hand in her favor.
When members of her family begin to disappear, the stakes skyrocket. There are those who would stop at nothing for the chance to exploit Felicia's luck gene to seize power all over the tri-system. And as the threat of revolution seems imminent, it may be that this time, nothing will be enough to keep Felicia and everyone she loves safe-not even luck.
"Cerveny's debut blends steamy sci-fi-fi with breathless intrigue and action, all set on a far-future Earth that's equal parts fascinating and terrifying."
-Beth Cato, author of The Clockwork Dagger and Breath of Earth
"Imaginative. Fans of romance in science fiction are going to love this!"
-Kim Harrison, #1 New York Times bestselling author
Felicia Sevigny novels
The Rule of Luck
The Chaos of Luck
The Game of Luck
About the Author
Catherine Cerveny was born in Peterborough, Ontario. She'd always planned to move away to the big city but the small town life got its hooks in her and that's where she still resides today. Catherine is a huge fan of romance and science fiction and wishes the two genres would cross paths more often.



Praise For The Game of Luck (A Felicia Sevigny Novel #3)…
"Nora Roberts meets Neal Stephenson--certain to satisfy audiences of both genres."
—Booklist (starred review) on The Rule of Luck

"Imaginative. Fans of romance in science fiction are going to love this!"—Kim Harrison, #1 New York Times bestselling author on The Rule of Luck

"Cerveny's debut blends steamy sci-fi with breathless intrigue and action, all set on a far-future Earth that's equal parts fascinating and terrifying."—Beth Cato, author of The Clockwork Dagger and Breath of Earth on The Rule of Luck

"A compelling and intriguing read built on a fascinating premise. Cerveny's future world is richly drawn, and Felicia's and Alexei's adventure is definitely an edge-of-your-seat ride."—Linnea Sinclair, award-winning author of the Dock Five Universe series on The Rule of Luck

"Catherine Cerveny delivers the perfect blend of futuristic intrigue, engrossing action, and passionate romance in a riveting adventure that will leave you hungry for more. Intensely absorbing. Emotionally satisfying."—Amanda Bouchet, author of the Kingmaker Chronicles on The Rule of Luck

"A fresh heroine pairs with a dangerous hero to confront nuanced and compelling ethical dilemmas... fast-paced, tightly plotted."—RT Book Reviews on The Rule of Luck

"A novel with depth... a terrific story."—The Qwillery on The Rule of Luck

"Sexy science fiction romance.... that will entirely satisfy fans of pulpy SF."—Publishers Weekly on The Rule of Luck

"A well-crafted world with a promising heroine."—Kirkus on The Rule of Luck