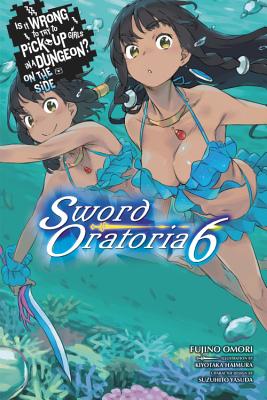 Is It Wrong to Try to Pick Up Girls in a Dungeon? On the Side (Paperback)
Sword Oratoria, Vol. 6 (light novel)
Yen On, 9780316442527, 304pp.
Publication Date: June 26, 2018
* Individual store prices may vary.
Description
Many will brave the Dungeon, if it lets them escape their past...
Now that their big expedition is over, Loki Familia is headed to Port Meren in search of the rumored second entrance to the Dungeon. After arriving, everyone finally gets a chance to relax on the gorgeous beaches of the lakeside city, even if it's all thanks to their goddess's obviously ulterior motives. But before they settle in, a storm arrives!
Kali Familia and their patron deity of carnage have made landfall, ready to stir up trouble. What's worse, there seems to be bad blood between them and the Amazon twins, Tione and Tiona! As sinister shadows darken Meren, the two sisters are forced to face their turbulent history!
About the Author
Fujino Omori is the author of the hilarious fantasy light novel series, Is it Wrong to Try to Pick Up Girls in a Dungeon?