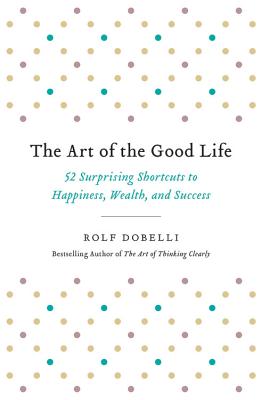 The Art of the Good Life
52 Surprising Shortcuts to Happiness, Wealth, and Success
Paperback

* Individual store prices may vary.
Other Editions of This Title:
Digital Audiobook (11/6/2017)
Hardcover (11/7/2017)
Paperback, Japanese (4/2/2019)
Description
Since antiquity, people have been asking themselves what it means to live a good life. How should I live? What constitutes a good life? What's the role of fate? What's the role of money? Is leading a good life a question of mindset, or is it more about reaching your goals? Is it better to actively seek happiness or to avoid unhappiness?

Each generation poses these questions anew, and somehow the answers are always fundamentally disappointing. Why? Because we're constantly searching for a single principle, a single tenet, a single rule. Yet this holy grail--a single, simple path to happiness--doesn't exist. Rolf Dobelli -- successful businessman, founder of the TED-style ideas conference Zurich Minds, bestselling author, and all-around seeker of big ideas--has made finding a shortcut to happiness his life's mission. He's synthesized the leading thinkers and the latest science in happiness to find the best shortcuts to satisfaction in The Art of the Good Life, his follow up to the international bestseller The Art of Thinking Clearly (which has sold more than 2.5 million copies in 40 languages all around the globe).

The Art of the Good Life is a toolkit designed for practical living. Here you'll find fifty-two happiness hacks -- from guilt-free shunning of technology to gleefully paying your parking tickets -- that are certain to optimize your happiness. These tips may not guarantee you a good life, but they'll give you a better chance (and that's all any of us can ask for).
Praise For The Art of the Good Life: 52 Surprising Shortcuts to Happiness, Wealth, and Success…
"Rolf Dobelli offers plenty of food for thought, and writes clearly--stimulating, amusing, brilliant."—Dr. Christoph Franz, former C EO of Lufthansa, Chairman of Roche

"Do you have to read this book? Definitely. It's extremely entertaining and offers a fundamentally sound introduction to the nature of human thought."—Professor Dr. Roland Berger, Founder and Honorary Chairman of Roland Berger Strategy Consultants

"Brimming with insights! Anybody who's sick of constantly stumbling into mental traps has got to read this book."—Prof. Iris Bohnet, Harvard

"This book will change your thinking."—Prof. Dan Goldstein, London Business School

"Rolf Dobelli possesses one of Europe's finest
minds."—Matt Ridley, author of the Evolution of Everything

"Rolf Dobelli's works are informative,
insightful, and accessible. In an age of celebrity ignoramuses, he is a true
public intellectual."—Lou Marinoff, Professor of Philosophy at the CityCollege of New York

"Rolf Dobelli is a virtuosic synthesizer of ideas.
With wit, grace, and precision he melds science and art in his joyful pursuit
of wisdom."—Joshua Greene, professor of psychology, HarvardUniversity, and author of Moral Tribes

"Rolf Dobelli possesses the
fascinating knack to present modern scientific insights in an inspiring and
thrilling way."—Bruno S. Frey, Professor of Economics,University of Basel, and founder of the field of economic happiness research
Hachette Books, 9780316445061, 272pp.
Publication Date: November 6, 2018
About the Author
Rolf Dobelli is a bestselling writer and entrepreneur. He is the founder of Zurich Minds, a community of some of the world's most famed and distinguished thinkers, scientists, artists, and entrepreneurs, and a cofounder of getAbstract, the world's largest publisher of compressed knowledge. A novelist, sailor, and pilot, he lives in Lucerne, Switzerland.