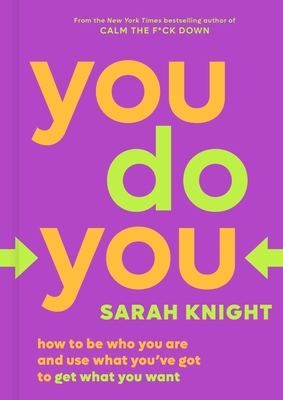 You Do You (Hardcover)
How to Be Who You Are and Use What You've Got to Get What You Want (No F*cks Given Guide)
Little Brown and Company, 9780316445122, 320pp.
Publication Date: November 21, 2017
* Individual store prices may vary.
Description

You Do You is a down-to-earth, irreverent, and no-holds-barred guide to letting go of the weight of others' expectations and doubling down on your dreams to find real, lasting happiness.
First, bestselling "anti-guru" Sarah Knight taught you to shed unwanted guilt and obligations like a year's worth of old socks in The Life-Changing Magic of Not Giving a F*ck. Then, in Get Your Sh*t Together, she taught you how to set goals for the life you want and really achieve them.
Now she's back, with her most broadly-applicable "No F*cks Given Guide" yet: helping you let go of family, social, and existential pressures to be happy with yourself and the life you really want. In the down-to-earth, warmly irreverent tone that has become her trademark, Sarah Knight helps readers find the conviction that it's not just okay to be who you are and want what you want, but that it's great.
In the bestselling tradition of Shonda Rhimes' Year of Yes and Jen Sincero's You Are a Badass, You Do You is an unconventional yet universal guide to getting down with your bad self.
About the Author
Sarah Knight's first book, The Life-Changing Magic of Not Giving a F*ck, has been published in eighteen languages and counting, and her TEDx talk, "The Magic of Not Giving a F*ck," has more than two million views. The second book in the No F*cks Given guides series, Get Your Sh*t Together, is a New York Times bestseller. Her third, You Do You, will be published in November 2017. Her writing has also appeared in Glamour, Harper's Bazaar, Marie Claire, Red, Refinery29, and elsewhere. After quitting her corporate job in 2015 to pursue a freelance life, she moved from Brooklyn, New York, to the Dominican Republic, where she currently resides with her husband and a sh*tload of lizards.Learn more at sarahknightauthor.com or follow her on Twitter and Instagram @MCSnugz. You can also sign up for her No F*cks Given newsletter at tinyletter.com/sarahknight.