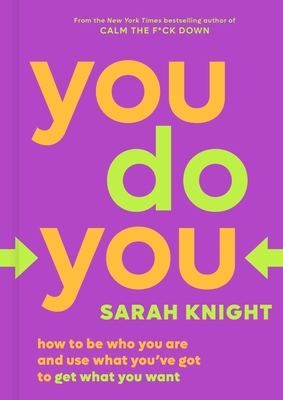 You Do You (Hardcover)
How to Be Who You Are and Use What You've Got to Get What You Want (A No F*cks Given Guide #3)
Little, Brown and Company, 9780316445122, 320pp.
Publication Date: November 21, 2017
Other Editions of This Title:
Digital Audiobook (11/20/2017)
* Individual store prices may vary.
Description
From the New York Times bestselling author of The Life-Changing Magic of Not Giving a F*ck and Get Your Sh*t Together comes more straight talk about how to stand up for who you are and what you really want, need, and deserve--showing when it's okay to be selfish
,
why it's pointless to be perfect, and how to be "difficult."
Being yourself should be easy, yet too many of us struggle to live on other people's terms instead of our own. Rather than feeling large and in charge, we feel little and belittled.
Sound familiar? Bestselling "anti-guru" Sarah Knight has three simple words for you:
YOU DO YOU.
It's time to start putting your happiness first--and stop letting other people tell you what to do, how to do it, or why it can't be done. And don't panic! You can do it without losing friends and alienating people. Knight delivers her trademark no-bullsh*t advice about:
The Tyranny of "Just Because"
The social contract and how to amend it
Turning "flaws" into strengths--aka "mental redecorating"
Why it's not your job to be nice
Letting your freak flag fly
How to take risks, silence the doubters, and prove the haters wrong
Praise for Sarah Knight
"Genius." --Cosmopolitan
"Self-help to swear by." --Boston Globe
"Hilarious... truly practical." --Booklist

About the Author
Sarah Knight's first book, The Life-Changing Magic of Not Giving a F*ck, has been published in more than twenty languages, and her TEDx talk, "The Magic of Not Giving a F*ck," has more than four million views. All of the books in her No F*cks Given Guide series have been international bestsellers, including Get Your Sh*t Together, which was on the New York Times bestseller list for sixteen weeks. Her writing has also appeared in Glamour, Harper's Bazaar, Marie Claire, Red, Refinery29, and elsewhere. After quitting her corporate job to pursue a freelance life, she moved from Brooklyn, New York, to the Dominican Republic, where she currently resides with her husband, two feral rescue cats, and a sh*tload of lizards.
You can learn more and sign up for her newsletter at nofucksgivenguides.com, follow Sarah on Twitter and Instagram @MCSnugz, and follow the books @NoFucksGivenGuides (Facebook and Instagram) and @NoFucksGiven (Twitter).
Praise For You Do You: How to Be Who You Are and Use What You've Got to Get What You Want (A No F*cks Given Guide #3)…
"Knight's point is to encourage her readers to embrace themselves as they are, warts and all... She gives her readers permission not to care too much about always doing their best on the job because, as she reveals, she knows what it is to be a perfectionist."—The New Yorker

"Hilarious, irreverent, and no-nonsense... You Do You is all about being yourself, putting your own happiness first, rejecting any social contracts that aren't working for you, and living life from your own place of power. Get it girl."—Bustle

"Knight has ignored the traditional 'self-help' tropes and gone for something much more fun--she champions selfishness and weirdness, speaks boldly, and is the queen of shedding expectations and obligations."—Apartment Therapy

"It'll give you the confidence to reach for your goals, turn your flaws into strengths, and become the #girlboss you've always wanted to be."—Woman's Day

"Does your 2018 to-do list include learning to love yourself? If the answer is yes, then here's your next need-to-read title... A self-esteem essential, You Do You will empower you to take risks and take charge of every aspect of your life."—Bookpage

"Another sassy riot of a self-help book. You Do You will help you shake off the shackles of what society expects you to be, and instead shows you how to be the best version of your wonderful unique self. We loved it!—Heat magazine (UK)

"[In] You Do You, Knight shoots down in flames all the stuff you think you need to care about, giving you permission to rid yourself of all outside influences, obligation, and expectations."—The Pool (UK)

"Refreshingly honest and laugh-out-loud hilarious... this book offers straightforward advice, perfect for anyone who needs a break from the usual language of self-improvement books."—Woman's Way (Ireland)

"You Do You means taking care of yourself--and generally just being yourself--in the face of ever-mounting obligations to and expectations of others."—Oliver Bonas (UK)