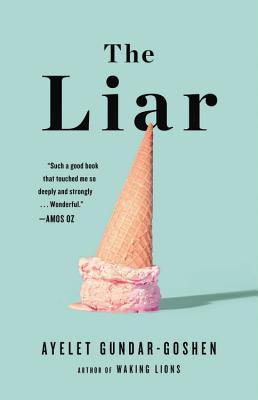 The Liar (Hardcover)
Little, Brown and Company, 9780316445399, 288pp.
Publication Date: September 24, 2019
Other Editions of This Title:
Compact Disc (9/24/2019)
Pre-Recorded Audio Player (12/1/2019)
Paperback (8/11/2020)
* Individual store prices may vary.
Description
An Elle Magazine 2019 Best Book of the Year
"A brilliant fable about the lure of lying and the lure of fame. The writing is wonderful." --Joan Silber, National Book Critics Circle and PEN/Faulkner award-winning author of Improvement

From the award-winning author of Waking Lions, a provocative novel about how one mistake can have a thousand consequences
Nofar is an average teenage girl---so average, in fact, that she's almost invisible. Serving customers ice cream all summer long, she is desperate for some kind of escape.
One afternoon, a terrible lie slips from her tongue. And suddenly everyone wants to talk to her: the press, her schoolmates, and even the boy upstairs. He is the only one who knows the truth, and he is demanding a price for his silence.
Then Nofar meets Raymonde, an elderly immigrant whose best friend has just died. Raymonde keeps her friend alive the only way she knows how, by inhabiting her stories. But soon, Raymonde's lies take on a life of their own.

Written with propulsive energy, dark humor, and deep insight,
The Liar
reveals the far-reaching consequences of even our smallest choices, and explores the hidden corners of human nature to reveal the liar, and the truth-teller, in all of us.
About the Author
Ayelet Gundar-Goshen is the winner of the JQ-Wingate Prize for Waking Lions. She is a clinical psychologist, has worked for the Israeli civil rights movement, and is an award-winning screenwriter. She won Israel's prestigious Sapir Prize for best debut. Waking Lions, her first novel published in the United States, has been published in seventeen countries and was a New York Times Notable Book.
Praise For The Liar…
"Evocative... Moving...Gundar-Goshen writes sensitively of inner
turmoil and loneliness."—Teddy Wayne, New York Times Book Review

"Riveting...Rich and delicious...I
slipped into The Liar like falling into a velvet milkshake... While
Gundar-Goshen paces it like a thriller, you read The Liar for its playfulness
and for its wisdom about truth and lies and guilt."—Moira Macdonald, Seattle Times

"A
poignant, thought-provoking tale of the #MeToo era."—People

"A brilliant fable about the lure of lying and the lure of fame. The writing
is wonderful--I was impressed and delighted at every turn. I came out feeling
how much I'd learned from it--its astute way of being cynical and kindly and
farsighted all at once."—Joan Silber, National Book Critics Circle and PEN/Faulkner award-winning author of Improvement

"Such a good book that touched me so strongly and
deeply...Wonderful."—Amos Oz

"Is it possible to marvel at/enjoy/admire every page of a novel? I swear to a Yes, in the case of the joy-read that is The Liar. It takes a rare skill to create characters who are all at once sympathetic and unforgivable--beautifully brought to life in writing that is both darkly funny and profound. What a talent! What a wonderful book."—Elinor Lipman, New England Book Award-winning author of Good Riddance and The Inn at Lake Devine

"Perceptive and exquisitely observed...Gundar-Goshen skillfully explores various dynamics of power...and portrays with great compassion and insight the humiliation, loneliness, and rage of society's outsiders."—Hannah Beckerman, The Guardian (UK)

"A moral mystery for the thinking reader...It makes an art of probing moral questions while sacrificing neither narrative propulsion nor complex storytelling."—Lucy Scholes, Financial Times

"A psychological page-turner, rich in setting, character, and wisdom...The author unfurls her ironic fable--simultaneously timeless and
contemporary...with captivating authority and in lush
prose."—Kirkus Reviews

"The Liar has the momentum of a psychological thriller...Gundar-Goshen carefully shades in the grey between the black and white, allowing our sympathies to slide around."—Claire Allfree, Daily Mail

"Slyly edgy... Gundar-Goshen explores the thin line between
lying and story-telling... Both sardonic and touching, the novel raises questions
of morality for which there are no easy answers. Its timely subject matter and
intriguing, unpredictable plot are sure to prompt discussion among readers."—Booklist, (starred review)

"This tender and satisfying coming-of-age story leads readers to question how a split second can change lives."—Publishers Weekly