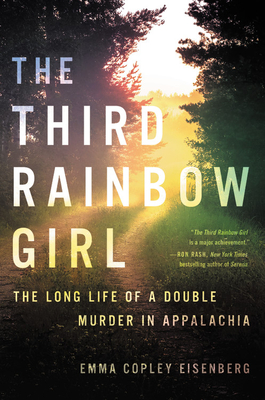 The Third Rainbow Girl (Hardcover)
The Long Life of a Double Murder in Appalachia
Hachette Books, 9780316449236, 336pp.
Publication Date: January 21, 2020
* Individual store prices may vary.
Description
A deeply researched and stunningly written investigation of the murder of two young women-and how a violent crime casts a shadow over an entire community.
In the early evening of June 25, 1980, Vicki Durian, 26, and Nancy Santomero, 19, were killed in an isolated clearing in Pocahontas County, West Virginia. They were hitchhiking to a festival known as the Rainbow Gathering but never arrived. For thirteen years no one was prosecuted for the "Rainbow Murders," though suspicion was cast on a succession of local men. In 1993, a local farmer was convicted, only to be released when a known serial killer and diagnosed schizophrenic named Joseph Paul Franklin claimed responsibility. With the passage of time, as the truth seemed to slip away, the toll became more inescapable--the unsolved murders were a trauma, experienced on a community scale.

Emma Copley Eisenberg spent five years re-investigating these brutal acts, which once captured the national media's imagination, only to fall into obscurity. A one-time New Yorker who took a job in Pocahontas County, Eisenberg shows how a mysterious act of violence against a pair of middle-class outsiders, has loomed over all those involved for generations, shaping their identities, fates, and the stories they tell about themselves. In The Third Rainbow Girl, Eisenberg follows the threads of this crime through the complex history of Appalachia, forming a searing portrait of America and its divisions of gender and class, and of its violence.
About the Author
Emma Copley Eisenberg is a writer whose work has appeared in Granta, VQR, McSweeney's, Tin House, The Paris Review online, The New Republic, Salon, Slate, and elsewhere. Her work has been supported by the Millay Colony for the Arts, the Elizabeth George Foundation, Lambda Literary, and the New Economy Coalition. Her reporting has been recognized by GLAAD, the New York Association of Black Journalists, the Deadline Club and Longreads' Best Crime Reporting 2017. Eisenberg lives in Philadelphia, where she co-directs Blue Stoop, a community hub for the literary arts.
Praise For The Third Rainbow Girl: The Long Life of a Double Murder in Appalachia…
"Headlines only deliver
digestible tropes: Backcountry hicks confront hippie celebrants, two
dead. But for the indefatigable Emma Eisenberg, approaching the murders
at Briery Knob is about more than who fired the gun. An affection for
this law-resistant corner of West Virginia enables her to transcend the
simple formula of white male rage. Stepping into darkness, she extracts a
nuanced sense of place and draws a map with historical connections."—
Nancy Isenberg, New York Times bestselling author of White Trash: The 400-Year Untold History of Class in America
"Part crime narrative and part soul-searching memoir, Emma Copley
Eisenberg's
The Third Rainbow Girl
has so much wisdom to offer. It's
about the corrosiveness of preconceived notions, and about how trauma
ripples through cultures and generations, and about finding connections
in others and strength in oneself. Rich in detail and sensitivity and
intelligence and honesty, this is a book you won't want to put down, one
that will stay with you for a long time."—
Robert Kolker, New York Times bestselling author of Lost Girls: An Unsolved American Mystery
"Emma Copley Eisenberg has written a true crime book that brings to mind
Truman Capote's masterpiece
In Cold Blood
: elegantly written, perfectly
paced, and vividly realized people and places. Equally impressive is
her refusal to condescend to the inhabitants of the Appalachian
community where the crimes occurred.
The Third Rainbow Girl
is a major
achievement."—
Ron Rash, New York Times bestselling author of Serena

"I blazed through this book, which is a true crime page-turner, a moving
coming-of-age memoir, an ode to Appalachia, and a scintillating
investigation into the human psyche's astounding and sometimes chilling
instinct for narrative. A beautiful debut that will stay with me for a
long time, whose story mesmerizes even as it convinces you to find all
mesmerizing stories suspect."—
Melissa Febos, Lambda Literary Award winner and author of Whip Smart and Abandon Me
"Emma Eisenberg has distinguished herself as a reporter of remarkable
wisdom and conscience, and her powers are on full display in
The Third
Rainbow Girl
. Eisenberg's meticulous, compassionate reporting does not
promise any of the easy answers we might expect from true crime: neither
about what happened to the "Rainbow Girls," nor about poverty,
injustice, and the fate of outsiders-whether hippies, hitchhikers,
carpet baggers, or journalists-who give and take in this country's
poorest areas. Her insights are hard won, deep, and devastating, making
this an unforgettable debut."—
Alice Bolin, author of Dead Girls: Essays on Surviving an American Obsession