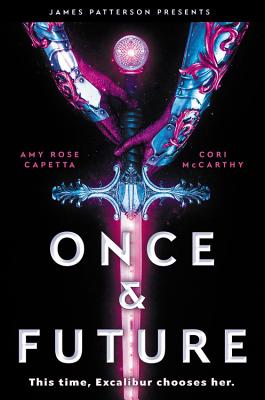 Once & Future (Hardcover)
jimmy patterson, 9780316449274, 368pp.
Publication Date: March 26, 2019
* Individual store prices may vary.
Description
Some legends never die--they are reborn. King Arthur as you've never imagined!
I've been chased my whole life. As an illegal immigrant in the territory controlled by the tyrannical Mercer corporation, I've always had to hide who I am. Until I found Excalibur.
Now I'm done hiding.
My name is Ari Helix. I have a magic sword, a cranky wizard, and a revolution to start.
When Ari crash-lands on Old Earth and pulls a magic sword from its ancient resting place, she is revealed to be the newest reincarnation of King Arthur. Then she meets Merlin, who has aged backward over the centuries into a teenager, and together they must break the curse that keeps Arthur coming back. Their quest? Defeat the cruel, oppressive government and bring peace and equality to all humankind.
No pressure.
"Once & Future is a sizzling, bold exploration of gender, power, and revolution. Its dynamic and diverse cast will inspire and delight readers. I loved every second!" - Jessica Khoury, author of The Forbidden Wish
About the Author
Cori McCarthy is the author of four young adult books, including BREAKING SKY, which received multiple starred reviews and is in development to become a film by Sony Pictures, and a forthcoming nonfiction picture book. Cori is an Irish-Lebanese American who, like many of their characters, is a member of the LGBTQ+ community. After earning a BA in Creative Writing from Ohio University, they completed UCLA's Professional Program in Screenwriting and earned an MFA in Writing for Children & Young Adults from Vermont College of Fine Arts. Cori lives in the mountains of Vermont with their partner and young son.

Amy Rose Capetta is the author of several YA novels, including punk rock ECHO AFTER ECHO (starred review), and THE BRILLIANT DEATH, which releases October 2018. Amy Rose holds a BA in Theater Arts from UC Santa Cruz and an MFA in Writing for Children and Young Adults from VCFA. With Cori McCarthy, she is the co-founder of the Rainbow Boxes initiative which sent LGBTQIAP fiction to readers in all 50 states, and the Rainbow Writers Workshop, which helps find and develop exciting new voices. She lives in Vermont with her ONCE & FUTURE co-author and the champion of her heart, Cori.
Praise For Once & Future…
Praise for Once & Future:

"The inclusive, genderbent King Arthur retelling your bookshelf has been missing. ... An adventure of epic scale, including on-page representation and celebration of people of many different sexualities, races, and gender identities."—B&N Teen Blog

"Pointedly funny and deftly topical, an effortless Arthurian update with heart in all the right places."—#1 New York Times Bestselling Author E.K. Johnston

"Once & Future is an utterly delightful romp, full of witty voice, imaginative adventures, and deeply lovable characters. It kept me up into the wee hours of the morning. I couldn't put it down!"—--Katherine Locke, author of The Girl with the Red Balloon (2018 Sydney Taylor Honor Book)

"An effortlessly fun, breathtakingly epic quest, featuring a queer immigrant teen pulling Excalibur and fighting to save the galaxy. There is nothing else in YA that can quite compare to Once & Future, which makes it a unique and majestic reading experience. It's the holy grail of inclusiveness!"—Rachel Strolle, Glenside Public Library

"Once & Future is a sizzling, bold exploration of gender, power, and revolution. Its dynamic and diverse cast will inspire and delight readers. I loved every second!"—Jessica Khoury, author of The Forbidden Wish

"A rip-roaring, no-holds-barred, gloriously queer reinvention of Arthurian legend."—Malinda Lo, author of Ash and A Line in the Dark