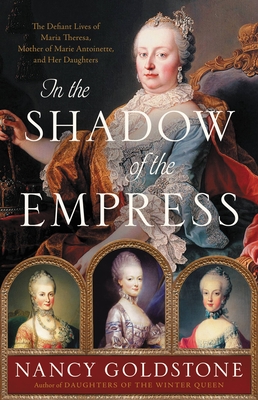 In the Shadow of the Empress
The Defiant Lives of Maria Theresa, Mother of Marie Antoinette, and Her Daughters
Hardcover

* Individual store prices may vary.
Description
The vibrant, sprawling saga of Empress Maria Theresa, one of the most renowned women rulers in history, and three of her extraordinary daughters: elegant and artistic Maria Christina, Duchess of Teschen; Maria Carolina, courageous queen of Naples; and the world-famous Marie Antoinette, doomed queen of France.

Out of the thrilling and tempestuous eighteenth century comes the sweeping family saga of beautiful Maria Theresa, a sovereign of extraordinary strength and vision, the only woman ever to inherit and rule the vast Habsburg empire in her own name, and three of her remarkable daughters: lovely, talented Maria Christina, governor-general of the Austrian Netherlands; spirited Maria Carolina, the resolute queen of Naples; and the youngest, Marie Antoinette, the glamorous, tragic queen of France, perhaps the most famous princess in history.

Unfolding against an irresistible backdrop of brilliant courts from Vienna to Versailles, embracing the exotic lure of Naples and Sicily, this epic history of Maria Theresa and her daughters is a tour de force of desire, adventure, ambition, treachery, sorrow, and glory.

Each of these women's lives was packed with passion and heart-stopping suspense. Maria Theresa inherited her father's thrones at the age of twenty-three and was immediately attacked on all sides by foreign powers confident that a woman would to be too weak to defend herself.  Maria Christina, a gifted artist, who alone among her sisters succeeded in marrying for love, would face the same dangers that destroyed the monarchy in France. Resourceful Maria Carolina would usher in the golden age of Naples only to then face the deadly whirlwind of Napoleon. And, finally, Marie Antoinette, the doomed queen whose stylish excesses and captivating notoriety have masked the truth about her husband and herself for two hundred and fifty years.   

Vividly written and deeply researched, In the Shadow of the Empress is the riveting story of four remarkable women who changed the course of history.
Praise For In the Shadow of the Empress: The Defiant Lives of Maria Theresa, Mother of Marie Antoinette, and Her Daughters…
Praise for Daughters of the Winter Queen:

"Goldstone's forthright and often witty asides keep this complicated story bowling along at a terrific pace...Lively and well-researched, Daughters of the Winter Queen offers a timely introduction to a turbulent period in Britain's past relations with Europe."—Miranda Seymour, New York Times Book Review

"So enjoyable.... Goldstone is a popular historian whose writing is based on very serious research, with a gift for telling the most complicated tale in vivid, accessible prose."
—Anka Muhlstein, New York Review of Books

"Goldstone's riveting history examines the famous rift between Catherine de' Medici and Marguerite de Valois, who were mother and daughter."
—Isabella Biedenharn, Entertainment Weekly

"Goldstone (The Rival Queens) once again places a much-deserved spotlight on remarkable women from European history...A compulsively readable account of an otherwise unfamiliar royal family. Goldstone writes with knowledge, humor, and ease--a masterly storyteller who steers clear of overly academic language. Ideal for amateur Tudor historians who wish to be introduced to a lesser-known yet equally fascinating royal family."—Library Journal (starred review)

"Goldstone is a master juggler. She tells a good story, always with a delightfully light touch. In the process, extraordinary women are given the attention they deserve."—Gerard DeGroot, The Times of London

"Tudor fans will be lured in by this history set in Renaissance France."
—Jocelyn McClurg, USA Today

"Goldstone is a thrilling narrator of this complicated history. Yet the achievement of a work like this is not merely its command of a vast and dense web of the past, but also its incredible literary merit. Daughters of the Winter Queen is nothing short of page-turning, an exceptional work of scholarship that reads like a favorite novel filled with political intrigue, romantic scandal, and more than one dark-of-night escape."—East Hampton Star

"A fascinating feminist story."—The Coil

"This rich and complex story of a seventeenth century queen who lost her throne, and her four defiant daughters, is compulsively readable. Combining rigorous research with a vivid writing style, Nancy Goldstone illuminates the women who have often been left in the shadows of history, and reminds us that fascination with royalty is nothing new."—Charlotte Gray, author of Reluctant Genius: Alexander GrahamBell and the Passion for Invention and Gold Diggers: Striking It Rich inthe Klondike

"Goldstone relates the eminently readable tale of Elizabeth Stuart, dubbed the Winter Queen, and her four lovely, talented daughters...The story of these five women, each remarkable for individual reasons and in her own right, both illuminates and is offset by Goldstone's vividly rendered European backdrop."—Booklist

"Though the narrative could have devolved into a complicated mass of intertwined royal families, Goldstone, a seasoned historian, effectively keeps the lines clear as she relates Elizabeth's repeated, frustrated attempts to secure strong marriages for her children under trying circumstances. Her children's stories are fascinating, as well...A great book for history fans seeking illumination on the connections of European royalty."—Kirkus

"A lively, well-researched group biography...Goldstone presents a captivating story with empathy and humor in a relaxed, entertaining, modern voice."—Publishers Weekly

PRAISE FOR THE RIVAL QUEENS:

"A gripping tale of royal feuds and divided kingdoms. Goldstone has lovingly restored the reputation of Marguerite de Valois; revealing her to be a woman of passion and drive whose fierce loyalties burned bright until the day she died."—Amanda Foreman, author of A World on Fire and Georgiana

"A highly dramatic dual biography.... If serious history readers believe that Tudor England is the only place where family and religious conflict at the highest level makes riveting reading matter, those folks need to take a close look across the English Channel and see what was transpiring at the same time in the French court.... Read this along with Antonia Fraser's classic Mary Queen of Scots."
—Brad Hooper, Booklist (Starred Review)
Little, Brown and Company, 9780316449335, 624pp.
Publication Date: September 21, 2021
About the Author
Nancy Goldstone is the author of six previous books including Daughters of the Winter Queen: Four Remarkable Sisters, the Crown of Bohemia, and the Enduring Legacy of Mary, Queen of Scots; The Rival Queens: Catherine de' Medici, Her Daughter Marguerite de Valois, and the Betrayal that Ignited a Kingdom; The Maid and the Queen: The Secret History of Joan of Arc; Four Queens: The Provençal Sisters Who Ruled Europe; and The Lady Queen: The Notorious Reign of Joanna I, Queen of Naples, Jerusalem, and Sicily. She has also coauthored five books with her husband, Lawrence Goldstone. She lives in Del Mar, California.