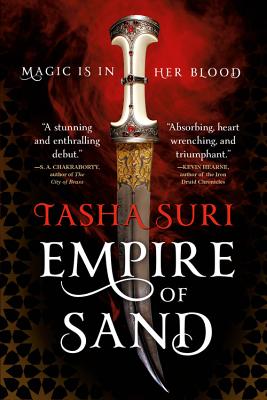 Empire of Sand (The Books of Ambha) (Paperback)
Orbit, 9780316449717, 496pp.
Publication Date: November 13, 2018
Other Editions of This Title:
Library Binding, Large Print (4/24/2019)
Compact Disc (11/13/2018)
Compact Disc (11/13/2018)
Pre-Recorded Audio Player (1/13/2019)
* Individual store prices may vary.
Description
"Stunning and enthralling.... Empire of Sand is a gripping tale of survival I'll be recommending for a long time!" - S. A. Chakraborty, author of The City of Brass
"A darkly intricate, devastating, and utterly original story about the ways we are bound by those we love." - R. F. Kuang, author of The Poppy War
A nobleman's daughter with magic in her blood. An empire built on the dreams of enslaved gods. Empire of Sand is Tasha Suri's captivating, Mughal India-inspired debut fantasy.
The Amrithi are outcasts; nomads descended of desert spirits, they are coveted and persecuted throughout the Empire for the power in their blood. Mehr is the illegitimate daughter of an imperial governor and an exiled Amrithi mother she can barely remember, but whose face and magic she has inherited.
When Mehr's power comes to the attention of the Emperor's most feared mystics, she must use every ounce of will, subtlety, and power she possesses to resist their cruel agenda.
Should she fail, the gods themselves may awaken seeking vengeance...
Empire of Sand is a lush, dazzling fantasy novel perfect for readers of City of Brass and The Wrath & the Dawn.
About the Author
Tasha Suri was born in London to Punjabi parents. She studied English and Creative Writing at Warwick University, and is now a cat-owning librarian in London. A love of period Bollywood films, history, and mythology led her to write South Asian-influenced fantasy. Find her on Twitter @tashadrinkstea.
Praise For Empire of Sand (The Books of Ambha)…
"A stunning and enthralling debut, Empire of Sand thoroughly swept me away. With wonderfully lyrical prose, Suri deftly balances fantastic world-building with a nuanced exploration of family ties and the lengths one will go for love. A quiet, powerful and unexpected love story set in a crushing world of magic and tyrants, Empire of Sand is a gripping tale of survival I'll be recommending for a long time!"—S. A. Chakraborty

"The best fantasy novel I have read this year. I loved it!"—Miles Cameron

"A brilliant debut that shows us a rich, magical world with clear parallels to this one: it has a sadistic leader with a cult-like following who warps the world for personal gain, a few individuals with the strength to resist him, and a planet seeking balance. But its core is a heroine defined by her choices, and her journey is absorbing, heart wrenching, and triumphant. Highly recommended."—Kevin Hearne

"Empire of Sand is astounding. The desert setting captured my imagination, the magic bound me up, and the epic story set my heart free."—Fran Wilde

"I was hooked from the moment I began Tasha Suri's gorgeous debut novel, Empire of Sand. Suri has created a rich world full of beautiful and powerful magic, utterly compelling characters, high stakes and immersive prose. I absolutely loved it!"—Kat Howard

"A darkly intricate, devastating, and utterly original story about the ways we are bound by those we love."—R. F. Kuang

"Tasha Suri's beautiful prose, with its undercurrent of warm tenderness, hides a web of escalating tension and existential dread. By the time the spider appears, Empire of Sand will have you in its grip and you won't be able to put it down."—Peter V. Brett

"This is the future of fantasy: rich, complex, unflinching. Empire of Sand is a stunning achievement."—Mark Oshiro

"Genuine, painful, and beautiful. A very strong start for a new voice."—Kirkus (starred review)

"Complex, affecting epic fantasy.... Intricate worldbuilding, heartrending emotional stakes... well-wrought prose."—Publishers Weekly (starred review)

"The desert setting, complex characters, and epic mythology will captivate readers of Suri's debut fantasy."—Booklist (starred review)

"A lush, atmospheric and sweeping epic fantasy, a powerful story of resistance and love in the face of terrifying darkness. You'll want to devour Empire of Sand."—Aliette de Bodard

"Riveting and wonderful! A fascinating desert world, a compelling heroine, and a richly satisfying conclusion. Empire of Sand will sweep you away!"—Sarah Beth Durst

"A lovely dark dream full of wrenching choices and bittersweet triumph. This gorgeous, magic-woven story and its determined heroine spin hope from hopelessness, power from powerlessness, and love from desolation."—Melissa Caruso

"Empire of Sand draws you into an intricately realized world of blood and secrets. An arresting and magical history told through the eyes of an indomitable heroine. I cannot ask for more."—Jeannette Ng

"An oasis of a story that you fall into, head-first. A mesmerizing tale full of magic and mystery."—Sayantani DasGupta

"A powerful story of empire, magic, and resistance, told with an intimate poignancy and emotional resonance."—Rowenna Miller

"A study of elegance, eloquence and a unique example of how words can be used with restraint and care to create something wonderful.... The start of an incredible journey."—Geek Syndicate

"Impressive, exciting.... Beautiful and evocative."—Fantasy Book Critic