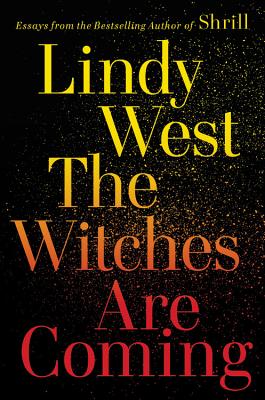 The Witches Are Coming (Hardcover)
Hachette Books, 9780316449885, 272pp.
Publication Date: November 5, 2019
* Individual store prices may vary.
Description
**Named one of Esquire's most anticipated books of 2019**

The firebrand New York Times columnist and bestselling author of Shrill--soon to be a Hulu series starring Aidy Bryant--provides a brilliant and incisive look at how patriarchy, intolerance, and misogyny have conquered not just politics but American culture itself.
What do Adam Sandler, Donald Trump, and
South Park
have in common? Why are myths like "reverse sexism" and "political correctness" so seductive? And why do movie classics of yore, from
Sixteen Candles
to
Revenge of the Nerds
, make rape look like so much silly fun? With Lindy West's signature wit and in her uniquely incendiary voice, THE WITCHES ARE COMING lays out a grand theory of America that explains why Trump's election was, in many ways, a foregone conclusion.
As West reveals through fascinating journeys across the landscapes of pop culture, the lies that fostered the catastrophic resentment that boiled over in the 2016 presidential race did not spring from a vacuum. They have in fact been woven into America's DNA, cultivated by generations of mediocre white men and fed to the masses with such fury that we have become unable to recognize them as lies at all.
Whether it be the notion overheard since the earliest moments of the #MeToo movement that feminism has gone too far or the insistence that holding someone accountable for his actions amounts to a "witch hunt," THE WITCHES ARE COMING exposes the lies that many have chosen to believe and the often unexpected figures who have furthered them. Along the way, it unravels the tightening link between culture and politics, identifying in the memes, music, and movies we've loved the seeds of the neoreactionary movement now surging through the nation.
Sprawling, funny, scorching, and illuminating, THE WITCHES ARE COMING shows West at the top of her intellectual and comic powers. As much a celebration of America's potential as a condemnation of our failures, some will call it a witch hunt. To which West would reply, so be it: "I'm a witch and I'm hunting you."
About the Author
Lindy West is a contributing opinion writer for The New York Times. She is the author of Shrill, a memoir, which is being adapted into a Hulu series starring Aidy Bryant. Her essays on feminism, social justice, body image and popular culture have been featured in Jezebel, Cosmopolitan, GQ, and on This American Life. From 2014 to 2017 she wrote a weekly political column for The Guardian. She is also the founder of I Believe You/It's Not Your Fault, an advice blog for teenagers, as well as the reproductive rights destigmatization campaign #ShoutYourAbortion. She lives in Seattle.
Praise For The Witches Are Coming…
Advance praise for The Witches Are Coming:


"One of our foremost thinkers on gender unveils her unifying theory of
America: that our steady diet of pop culture created by and for
embittered, entitled white men has stoked our sociopolitical moment.
Adam Sandler, South Park, and Pepe the Frog all come under West's
withering scrutiny in this funny, hyper-literate analysis of the link
between meme culture and male mediocrity."—Esquire.com

Praise for Shrill:


"Lindy West's memoir is a witty and cathartic take on toxic misogyny and fat shaming. She comes to accept her body just as Internet trolls congregate en masse to try to rip this new confidence from her, but she's rearing to fight back...In Shrill, West is our fat, ferocious, and funny avenging angel."—NPR, Best Books of 2016

"Lindy West is funny. That's the first thing you should know about her essay collection on feminism, fat acceptance, and Internet harassment....Lindy has faced so many intolerable and enraging situations as a fat woman who is outspoken in her writing and on social media, but she always frames her negative experiences with humor and perspective. With her clear-eyed insights into modern culture and her confidence in her own intelligence and personal worth, West appeals to the humanity of even the most parents' basement-dwelling, misogynistic and casually hateful of trolls."—Esquire, Best Books of 2016

"One of the most distinctive voices advancing feminist politics through humor...With patience, humor and a wildly generous attitude toward her audience [West] meets readers at their point of prejudice so that she may, with little visible effort, shepherd them toward a more humane point of view."—The New York Times Book Review

"Ask West one question, and the feminist writer and film critic's answer feels like wandering into an extraordinarily engaging women's studies class taught by your favorite comedian. West pings back and forth between astute commentary about the role of women in society to clever asides on the idiocy of trolls to riotous observations about life on the Internet."—Cosmopolitan

"Uproariously funny...Readers will delight in West's biting clarity....Despite its serious subject, West's ribald jokes, hilarious tirades, and raucous confessions keep her memoir skipping merrily along as she jumps from painful confession to powerful epiphany. Sure to be a boon for anyone who has struggled with body image, Shrill is a triumphant, exacting, absorbing memoir that will lay new groundwork for the way we talk about the taboo of being too large."—Booklist (Starred Review)

"There's some beautiful, joyful writing here: West defies cliches both by being persistently hilarious and deeply loving.....In the same way that West traces the sobering long-term consequences of fighting over big cultural issues in public, she also writes with substance and grace about living in her own body in a way that transcends the sometimes facile cheerleading for body positivity that shows up everywhere, from feminist Tumblrs to the cover of Sports Illustrated's swimsuit issue.....It's not easy to talk about the work and consequences involved in changing the world; we crave triumphal stories and incidents to get outraged by. The strength of "Shrill," though, is the way it captures both halves of the equation, the joy of those hard-fought victories and the pain incurred in battle.—Washington Post

"West came of age as a writer in the full light of the Internet, a young feminist speaking out against fat-shaming--publicly addressing her colleague at the Stranger, Dan Savage--and writing about periods and rape jokes at Jezebel the Guardian....[reveals] how vital it is for young women to raise their voices."—Los Angeles Times, The 10 Most Important Books of 2016

"Lindy West's name may already be familiar to readers of Jezebel or to anyone who listened to her fascinating, brutal piece on internet trolls for This American Life. Her collection of essays takes on stereotypes, gender politics, beauty standards and other topics she attacks with her thoughtful, clever, cutting and inspiring commentary."—Minnesota Public Radio, Best Books of 2016