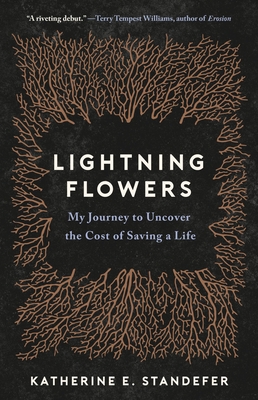 Lightning Flowers
My Journey to Uncover the Cost of Saving a Life
Hardcover

* Individual store prices may vary.
Other Editions of This Title:
Digital Audiobook (11/9/2020)
Paperback (5/3/2022)
Description
This "utterly spectacular" book weighs the impact modern medical technology has had on the author's life against the social and environmental costs inevitably incurred by the mining that makes such innovation possible (Rachel Louise Snyder, author of No Visible Bruises).
What if a lifesaving medical device causes loss of life along its supply chain? That's the question Katherine E. Standefer finds herself asking one night after being suddenly shocked by her implanted cardiac defibrillator.
In this gripping, intimate memoir about health, illness, and the invisible reverberating effects of our medical system, Standefer recounts the astonishing true story of the rare diagnosis that upended her rugged life in the mountains of Wyoming and sent her tumbling into a fraught maze of cardiology units, dramatic surgeries, and slow, painful recoveries. As her life increasingly comes to revolve around the internal defibrillator freshly wired into her heart, she becomes consumed with questions about the supply chain that allows such an ostensibly miraculous device to exist. So she sets out to trace its materials back to their roots.
From the sterile labs of a medical device manufacturer in southern California to the tantalum and tin mines seized by armed groups in the Democratic Republic of the Congo to a nickel and cobalt mine carved out of endemic Madagascar jungle,
Lightning Flowers
takes us on a global reckoning with the social and environmental costs of a technology that promises to be lifesaving but is, in fact, much more complicated.
Deeply personal and sharply reported,
Lightning Flowers
takes a hard look at technological mythos, healthcare, and our cultural relationship to medical technology, raising important questions about our obligations to one another, and the cost of saving one life.
Praise For Lightning Flowers: My Journey to Uncover the Cost of Saving a Life…
"This book will make you feel less alone. Pick it up and you will hear a human voice."—New York Times

"An affecting, crystalline memoir."—O, the Oprah Magazine

"A sharp examination of the ways that a heart condition affected the author's life as well as those of strangers halfway across the world… Packed with emotion and a rare, honest assessment of the value of one's own life, this debut book is a standout. An intensely personal and brave accounting of a medical battle and the countless hidden costs of health care." —Kirkus Reviews

"Lightning Flowers is both a memoir and a mystery, a riveting debut book by Katherine Standefer. She faces her own heart and the technological device that keeps it beating with the sharp eye of a journalist and the dramatic pacing of a novelist. Following the supply chain from her body to conflict minerals in the Congo, we see how the world is interconnected and interrelated. Standefer is a lyrical writer who has crafted an embodied text, understanding that our survival balances on the cliff edge of our complicity and our compassion."—Terry Tempest Williams, author of Erosion: Essays of Undoing

"In Lightning Flowers, Katherine E. Standefer offers a full accounting of the cost of a single life, and it is nothing short of astonishing. She travels, literally, to both the brink of death and the edge of the world to discover exactly what it means to live. Her courage is palpable, on the page and in life. This book is utterly spectacular."—Rachel Louise Snyder, author of No Visible Bruises and What We've Lost is Nothing

"In her stunning debut, Katherine E. Standefer reveals how a single piece of supposedly lifesaving machinery has forever implicated her in ruinous global supply chains, how entire economies of extraction have come to reside deep within her body. With great clarity and resilience, Lightning Flowers invites us to become intimate with the moral and environmental calculus of our own lives."—Francisco Cantú, author of The Line Becomes a River

"Lightning Flowers is a quest for an answer to the most basic human question: what is a life worth? For a young American woman, kept alive by a hunk of metal in her chest, the answer is to be found in the African mines that produce titanium, cobalt, nickel... the precious metals used to make our essential microelectronics, including heart defibrillators. No trial in this quest can be avoided: heartbreak and debt, culture shock and corporate empire, medical indifference and poverty, trauma and mortality. There is an alchemy of tender magic and brute force in Standefer's writing; Lightning Flowers transports us into the heart of Africa—and the heart of a woman forced to question our global, racialized economy even as she identifies the raw materials that give her life."—Ann Neumann, author of The Good Death
Little, Brown Spark, 9780316450362, 288pp.
Publication Date: November 10, 2020
About the Author
Katherine E. Standefer's debut book, Lightning Flowers, was a finalist for the 2021 Kirkus Prize in Nonfiction, a New York Times Book Review Editor's Choice/Staff Pick, and shortlisted for the J. Anthony Lukas Work-in-Progress Prize from Columbia Graduate School of Journalism and the Nieman Foundation at Harvard University. Her previous writing appeared in The Best American Essays 2016. Standefer was a 2018 Logan Nonfiction Fellow at the Carey Institute for Global Good and earned her MFA in Nonfiction at the University of Arizona. She writes from a juniper- and piñon-studded mesa in New Mexico, where she lives with her chickens.