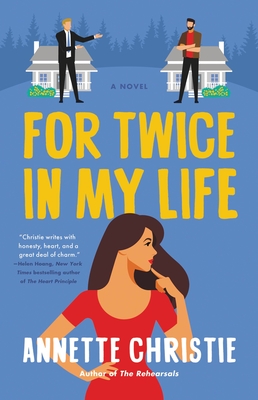 For Twice In My Life
Hardcover

* Individual store prices may vary.
Description
A second try at love becomes more than one woman bargained for in this "timeless, enchanting" rom-com from the author of The Rehearsals (Rachel Lynn Solomon, New York Times bestselling author).

Can one little lie lead to a big second chance?

Layla's chaotic life transformed when she met Ian Barnett. Ambitious, committed, and thoughtful, Ian has been everything she'd dreamed of, and she knows he'd say the same of her. So when he breaks up with her out of the blue, Layla is stunned. What went wrong?

But then, Layla gets a call from the local hospital. Ian's had a biking accident. He's okay, but he needs someone—his someone—to get him home safely. As it becomes clear Ian doesn't remember he ended things, it also becomes clear that the accident has given him a new outlook on life . . . and Layla a second chance to get things right. 

That is, until Ian's younger brother comes to town. Matt is restless, unpredictable, and threatens to upset the careful balance Layla and Ian have rebuilt. As things get more complicated both at home and at work, Layla realizes she might lose her chance at real love—and real happiness—if she doesn't come clean about the stories she's been telling: to Ian, to Matt, to her family, and most importantly, to herself.
Praise For For Twice In My Life…
"
For Twice in My Life
 is a timeless, enchanting love story. Annette Christie's writing is easy to fall for, brimming with wit and gentle compassion. This book completely swept me away!"—
Rachel Lynn Solomon, New York Times Bestselling author of Weather Girl and See You Yesterday
"Captured my heart from the very first page! Layla is my favorite kind of main character--flawed and messy but still completely charming and totally real. Christie's effortless banter is perfection and she uses her sharp wit to make Layla's career, family, and relationship struggles so relatable. I wanted to pack up my real life and move into the world of this book so we could all be friends. This is a book I'll return to again and again!"
 —
Falon Ballard, author of Lease on Love
"Second chances take center stage in this cute contemporary . . . Christie does a good job fleshing out Layla's backstory so that readers will sympathize with her despite her deception. This is a charmer."—
Publishers Weekly
"Equal measures heartfelt and surprising, Christie's instantly compelling premise leads to an unforgettable novel of how our mistakes might lead to our meant-to-be's. Full of wit and warmth, For Twice in my Life is a moving, memorable love story."
—
Emily Wibberley and Austin Siegemund-Broka, authors of The Roughest Draft
"A clever take on
While You Were Sleeping . . .
Christie deftly upends romantic comedy tropes. Her characters are complex and realistic, even in heightened situations. A unique love story that will keep readers guessing."—
Kirkus Reviews
"Annette Christie writes with an unmatched charm, wit, and sincerity, depicting Layla's struggles to decide between doing what she knows is right and doing what 
feels
 right with such genuine authenticity that it's impossible not to root for her. . . . If there was ever a book I wish I could read twice for the first time, it's this one."—
Jenny L. Howe, author of The Make-Up Test and On the Plus Side
"Annette Christie is a thoughtful, talented, and clever writer who explores the messy realities of living in an imperfect world that nevertheless expects us to be perfect."—
Kate Clayborn, author of Love Lettering
"Annette Christie knows how to write an emotional, complicated love story.
For Twice in Your Life
beautifully depicts the ways you can lose yourself . . . and then find yourself again. I'll be thinking about this book long after I've turned the last page."
 —
Alicia Thompson, nationally bestselling author of Love in the Time of Serial Killers
"A stunning and hilarious novel that captures the beautiful messiness of finding yourself and love along the way. Annette Christie will make you laugh one sentence then tug at your heartstrings the next with her incredible ability to tell a story. This novel is for anyone that wished for a second-chance, but got something even better in the end."—
Mazey Eddings, author of A Brush With Love and Lizzie Blake's Best Mistake
"Annette Christie approaches the page with utmost sincerity, heart, and humor, leaving readers enraptured and in love. FOR TWICE IN MY LIFE is a stunning, heart-tugging look at true love, second chances, and the belief we place in ourselves. Christie consistently establishes herself as a cutting-edge voice in romance; a steadily rising star not to be missed!"—
Courtney Kae, author of In the Event of Love
Praise for The Rehearsals:
"A sweet, delightful romance."—
People
"An enchanting and compelling look at life's what-ifs. Christie writes with honesty, heart, and a great deal of charm."—
Helen Hoang, USA Today bestselling author of The Kiss Quotient and The Bride Test
"Irresistible . . . Annette Christie has written a fun, yet thought-provoking, rom-com."—
Elin Hilderbrand, New York Times bestselling author of Golden Girl
"Terrific fun from beginning to end!"—
Sarah Haywood
,
author of the New York Times bestseller and Reese Witherspoon X Hello Sunshine Book Club pick The Cactus
Little, Brown and Company, 9780316451031, 320pp.
Publication Date: February 7, 2023
About the Author
Annette Christie is the author of The Rehearsals. She has a BFA in Theatre and a history of very odd jobs. The back of her head is featured prominently in the film Mean Girls. She currently resides in Phoenix, Arizona with her husband and two children.