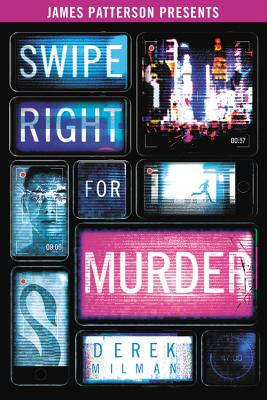 Swipe Right for Murder (Hardcover)
jimmy patterson, 9780316451062, 336pp.
Publication Date: August 6, 2019
* Individual store prices may vary.
Description
A hookup turned deadly.
Hunted by the FBI.
Targeted by a murderous cult.
Accused of cyber-terrorism.
Irritated texts from his friends.
Eye contact with a nice-looking guy on the train.
Aidan Jamison has a lot to deal with, and he's not quite sure which comes first.

Finding himself alone in a posh New York City hotel room for the night, Aidan does what any red-blooded seventeen-year-old would do---tries to hook up with someone new. But that lapse in judgement leads him to a room with a dead guy and a mysterious flash drive...two things that spark an epic case of mistaken identity that puts Aidan on the run from everyone---the authorities, his friends, his family, and especially a cyber-terrorist group who will stop at nothing to find him.

He soon realizes the only way to stop the chase is to deliver the object everyone wants, before he gets caught or killed. But for Aidan, the hardest part is knowing who he can trust not to betray him---including himself.
About the Author
Derek Milman has worked as a playwright, screenwriter, film school teacher, DJ, and underground humor magazine publisher. A classically trained actor, he has performed on stages across the country and appeared in numerous TV shows, commercials, and films. Derek currently resides in Brooklyn, New York, where he writes full time. Swipe Right for Murder is his second novel for young adults.