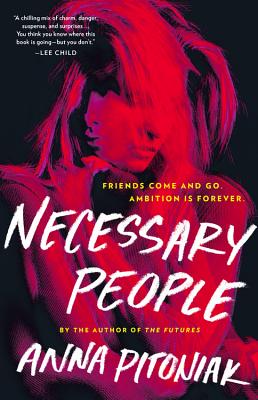 Necessary People
Hardcover

* Individual store prices may vary.
Other Editions of This Title:
Digital Audiobook (5/20/2019)
Paperback (5/19/2020)
Compact Disc (5/21/2019)
Compact Disc (5/21/2019)
Description
A propulsive, "chilling" novel exploring the dangerous fault lines of female friendships (Lee Child), Necessary People deftly plumbs the limits of ambition, loyalty, and love.
One of them has it all. One of them wants it all. But they can't both win.
Stella and Violet are best friends, and from the moment they met in college, they knew their roles. Beautiful, privileged, and reckless Stella lives in the spotlight. Hardworking, laser-focused Violet stays behind the scenes, always ready to clean up the mess that Stella inevitably leaves in her wake.
After graduation, Violet moves to New York and lands a job in cable news, where she works her way up from intern to assistant to producer, and to a life where she's finally free from Stella's shadow. In this fast-paced world, Violet thrives, and her ambitions grow -- but everything is jeopardized when Stella, envious of Violet's new life, uses her connections, beauty, and charisma to get hired at the same network. Stella soon moves in front of the camera, becoming the public face of the stories that Violet has worked tirelessly to produce -- and taking all the credit.
Stella might be the one with the rich family and the right friends, but Violet isn't giving up so easily. As she and Stella strive for success, each reveals just how far she'll go to get what she wants -- even if it means destroying the other person along the way.
"I literally couldn't stop reading." -- Stephen King"I love a book that is smart as hell and impossible to put down and this is IT." -- Jessica KnollNamed one of the Best Books of May by Marie Claire, Town & Country, Refinery29, Cosmopolitan, Woman's Day, Bustle, CrimeReads, and O, the Oprah Magazine
Praise For Necessary People…
"That book-blurb saying 'I couldn't put it down' is usually bullshit, right? For me it was true of Anna Pitoniak's Necessary People. I literally couldn't stop reading. Murder, ambition, toxic friendship. What's not to like?"—Stephen King

"A chilling mix of charm, danger, suspense and surprises...You think you know where this book is going--but you don't."—Lee Child

"Gripping... Pitoniak delivers a pitch-perfect exploration of class, family, and female friendship."—People, Book of the Week

"I started reading Necessary People two hours ago and I am absolutely spellbound. I love a book that is smart as hell and impossible to put down and this is IT."—Jessica Knoll, New York Times bestselling author of Luckiest Girl Alive and The Favorite Sister

"Delicious...Thrilling...I was so mesmerized by this story that I took the longer subway route more than once so I'd have more time to savor it."—Jenny Hollander, Marie Claire (Best Women's Fiction of 2019 So Far)

"Pitoniak's riveting and gripping novel nails the big personalities, intense competition and high drama of TV newsrooms. I was sucked in by the dark friendship of these two ambitious women, and did not see the final twist coming!"—Alisyn Camerota, anchor of CNN's New Day and author of Amanda Wakes Up

"Smart and stylish...Pitoniak creates a compelling world of haves and have-nots that plays out in the cutthroat world of cable news. What begins as a sharp story about best friends--one who's had everything handed to her, the other who has almost ruthlessly made her own way--develops into a darker tale of rivalry, hubris, and deadly desire."—Town and Country

"A juicy thriller that will make you side-eye your friends and wonder if they're capable of doing crimes."—Cosmopolitan, Best Book of the Month

"A delicious story about the ambitions that can lift us up or tear us apart."—Mehera Bonner, Woman's Day

"What we love is that it's a story...you can escape into...Let's just say not everyone plays nice-and it's thrilling."
—Goop

"Utterly enthralling...An escapist thriller laced with substantive social commentary. A no-guilt guilty pleasure."—Elena Nicolaou, Refinery29

"In college, quiet Violet lives in the shadow of party girl Stella. When they're adults, Violet comes into her own as a TV producer, sparking Stella's jealousy. A juicy, all-too-familiar tale."—Good Housekeeping

"Psychologically astute...Pitoniak's spot-on portraits of these two women come together in a gripping novel that's sure to be a popular summer read."—Deborah Donovan, BookPage

"A complex, sharply written novel of female friendship and competition. Everything I want from a novel and more. Rife with plot twists and rich with insights, this is a book that will leave you desperate for whatever Anna Pitoniak writes next."—Julie Buntin, author of Marlena

"Propulsive...Pitoniak's prose keeps a quick pace, and her characters and the TV-news setting ring true...Hand this to readers who like books exploring the dark side of female friendships, à la Megan Abbott."—Kathy Sexton, Booklist

"Sheer pleasure...A twisting delight with a haunting punch. Deceptively nuanced, and impossible to put down, this is escapism with substance."—Kirkus (Starred Review)

"Fantastic...This stirring character study and treatise on the dark sides of ambition, friendship, family, and privilege will hook readers from the get-go."—Publishers Weekly (starred review)
Little, Brown and Company, 9780316451703, 352pp.
Publication Date: May 21, 2019
About the Author
Anna Pitoniak is the author of The Futures. She worked for many years in book publishing, most recently as a senior editor at Random House. She grew up in Whistler, British Columbia, and now lives in New York City.