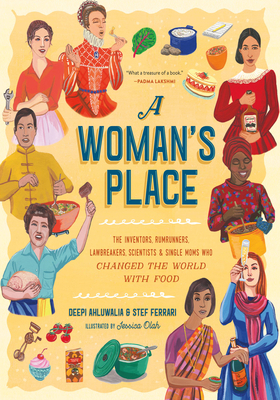 A Woman's Place
The Inventors, Rumrunners, Lawbreakers, Scientists, and Single Moms Who Changed the World with Food
Hardcover

* Individual store prices may vary.
Description
Discover the trailblazing women who changed the world from their kitchens.

If "a woman's place is in the kitchen," why is the history of food such an old boys' club?
A Woman's Place
sets the record straight, sharing stories of more than 80
hidden figures of food
who made a lasting mark on history.
In an era when women were told to stay at home and leave glory to the men, these rebel women used the transformative power of food to break barriers and fight for a better world. Discover the stories of:
Georgia Gilmore, who fueled the Montgomery Bus Boycott with chicken sandwiches and slices of pie
Hattie Burr, who financed the fight for female suffrage by publishing cookbooks
Kamaladevi Chattopadhyay, who, with just a few grains of salt, inspired a march for the independence of India
The inventors of the dishwasher, coffee filter, the first buffalo wings, Veuve Clicquot champagne, the PB&J sandwich, and more.
With gorgeous full-color illustrations and
10 recipes
that bring the story off of the page and onto your plate, this book reclaims women's rightful place--in the kitchen, and beyond.
Praise For A Woman's Place: The Inventors, Rumrunners, Lawbreakers, Scientists, and Single Moms Who Changed the World with Food…
"What a treasure of a book. Move over, Escoffier and Brillat-Savarin, this lovely compendium tells of all the unsung female heroes who have shaped food culture into what it is today. A great book."—Padma Lakshmi, host of Top Chef and author of Love, Loss, and What We Ate

"A new book about women who changed the world with food, full of bite-size introductions to more than 100 inventors, scientists, and rumrunners, among them the poet and author Vertamae Smart-Grosvenor, the restaurateur Leah Chase, and the actor-turned-author Madhur Jaffrey."—Tejal Rao, The New York Times

"Did you know a woman invented your favorite fancy Champagne, Veuve Clicquot? How about dishwashers, coffee filters, and the first ever buffalo wings?! All thanks to women! You'll learn all about the trailblazing women who contributed so much to society and the world, yet never (or hardly) get the recognition they deserve... A perfect gift for a young woman."—Women.com

"Deepi Ahluwalia and Stef Ferrari are revisiting the culinary past with fresh eyes--by centering the stories of women. From civil rights activists to inventors, they've gathered the legacies of more than 80 trailblazing women who made history with food."—Evan Kleinman, KCRW

"A storybook of heroes, A Woman's Place is a book I wish I had when I was growing up. From Miss Georgia Gilmore, who quite literally fed the civil rights movement, to Cecilia Chiang, who reimagined what a restaurateur could be, Deepi Ahluwalia and Stef Ferrari catalogue the many women in food who have paved the way for us all."—Julia Turshen, author of Small Victories and founder, Equity at the Table

"Marvelous... tells the story of remarkable women throughout history responsible for progress in both the food world and the real world--and shares some incredible recipes besides."—Flavorwire

"Two food writers are giving the adage 'a woman's place is in the kitchen' a feminist twist."—amNewYork

"A Woman's Place humbles me. It shows me that I am standing on the shoulders of giants. Reading the stories of the brave and ingenious women who came before me has inspired me to work even harder for the generations to come."—Dominique Crenn, first American female chef to be awarded three Michelin stars

"Impressive... a new illustrated book of stories about 50 female culinary innovators, inventors, and activists who have shaped the way we eat."—Parade

"A Woman's Place has introduced me to the legion of unsung heroines in the culinary world, among them restaurant owners, inventors of appliances, developers of iconic recipes, and writers and publishers of cookbooks... not to mention the women who used food as an agent of social change. Reading their stories is an inspiration."—Sara Moulton, co-founder of the New York Women's Culinary Alliance and host, Sara's Weeknight Meals

"Combines so many passions--cooking, women's equality, writing, and history... from dishwashers to doughnuts, chances are there was a woman with an untold story behind it."—Arkansas Democrat-Gazette

"Women in the culinary industry have combated adversity from the very beginning. Deepi Ahluwalia and Stef Ferrari bring those struggles to life in this book, replete with beautiful illustrations and thoughtful passages honoring the incredible women who paved the way. A truly inspirational read for glass ceiling breakers everywhere."—Susan Feniger, James Beard Award-winning TV personality and author

"Deepi Ahluwalia and Stef Ferrari have redefined the meaning of a woman's place. With thoughtful and enlightening stories of strong, intelligent, inspiring women, from Julia Child to the real Betty Crocker and many more, this book is a Cliff Notes guide to how the history of food was carried on the shoulders of women."—Brooke Williamson, restaurateur and Top Chef winner

"This book couldn't have come out at a better time. Everyone should know these amazing female chefs, creators, and innovators who made their mark on the food world. A Woman's Place inspires the next generation to carry the torch."—Aaron Sanchez, James Beard Award-winning chef and restaurateur

"We need this book right now, a recognition of those who paved the way for all of us in the kitchen."—Curtis Stone, James Beard Award-winning chef and restaurateur
Little, Brown and Company, 9780316452243, 192pp.
Publication Date: March 5, 2019
About the Author
Deepi Ahluwalia is a food writer and photographer and a columnist for Life & Thyme magazine. She has worked with such brands, companies, and publications as American Airlines, Nestle, JCPenney, the Dallas Morning News, Jacques Torres Chocolate, and Wal-Mart. She holds a degree in pastry arts from the French Culinary Institute.
Stef Ferrari is Senior Editor of Life & Thyme Magazine. She is an Emmy-winning, James Beard Award-nominated producer on the documentary series The Migrant Kitchen, which explores the influence of immigrant culture on America's foodways. Her recipes have been featured in O, The Oprah Magazine, Better Homes and Gardens, and Southern Living, and she has appeared on the Food Network's Cutthroat Kitchen and Unique Sweets.