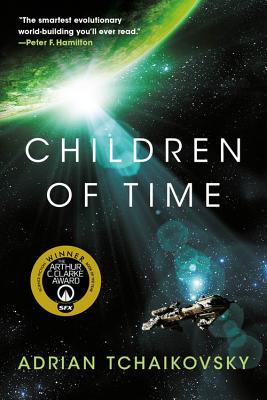 Children of Time
Paperback

* Individual store prices may vary.
Other Editions of This Title:
MP3 CD (8/4/2017)
Description
Adrian Tchaikovksy's award-winning novel Children of Time, is the epic story of humanity's battle for survival on a terraformed planet.

Who will inherit this new Earth?

The last remnants of the human race left a dying Earth, desperate to find a new home among the stars. Following in the footsteps of their ancestors, they discover the greatest treasure of the past age -- a world terraformed and prepared for human life.

But all is not right in this new Eden. In the long years since the planet was abandoned, the work of its architects has borne disastrous fruit. The planet is not waiting for them, pristine and unoccupied. New masters have turned it from a refuge into mankind's worst nightmare.

Now two civilizations are on a collision course, both testing the boundaries of what they will do to survive. As the fate of humanity hangs in the balance, who are the true heirs of this new Earth? Span
Praise For Children of Time…
"Children of Time is a joy from start to finish. Entertaining, smart, surprising and unexpectedly human."—Patrick Ness

"Brilliant science fiction and far out world building"—James McAvoy

"A refreshingly new take on post-dystopia civilizations, with the smartest evolutionary worldbuilding you'll ever read"
—Peter F Hamilton

"A magnificently imaginative space opera."—B&N Sci-Fi & Fantasy Blog

"Like a Stephen Baxter novel with an epic sweep of history (see his Evolution, for example), added to a broad cast of a Peter Hamilton Space Opera and the narrative drive of, say, a David Brin or a Greg Bear old style SF novel, Children of Time soon got me hooked."—SFF World


"Children of Time has that essence of the classic science fiction novels, that sense of wonder and unfettered imagination but combined with this is the charm of a writer who really knows how to entertain, how to spin a good story. Essential science fiction, a book not to be missed."
—SF Book

"The novel's clever interrogation of the usual narrative of planetary conquest, and its thoughtful depiction of two alien civilisations attempting to understand each other, is an exemplar of classic widescreen science fiction."—New Scientist

"This is superior stuff, tackling big themes - gods, messiahs, artificial intelligence, alienness - with brio."—Financial Times

"An entertaining and thought provoking novel of post humanity, survival and legacy."—SF Signal

"Tchaikovsky's prose is superb, and his world-building was exceptional, brilliantly realized on the page, and both fascinating and original."—Civilian Reader
Orbit, 9780316452502, 640pp.
Publication Date: December 11, 2018
About the Author
Adrian Tchaikovsky was born in Woodhall Spa, Lincolnshire, and headed off to university in Reading to study psychology and zoology. For reasons unclear even to himself, he subsequently ended up in law. Adrian has since worked as a legal executive in both Reading and Leeds and now writes full time. He also lives in Leeds, with his wife and son. Adrian is a keen live role-player and occasional amateur actor. He has also trained in stage-fighting and keeps no exotic or dangerous pets of any kind -- possibly excepting his son.