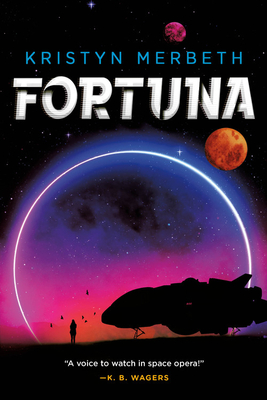 Fortuna (The Nova Vita Protocol #1)
Paperback

* Individual store prices may vary.
Other Editions of This Title:
Digital Audiobook (11/4/2019)
Description
Fortuna launches a new space opera trilogy that will hook you from the first crash landing.
Scorpia Kaiser has always stood in Corvus's shadow until the day her older brother abandons their family to participate in a profitless war. However, becoming the heir to her mother's smuggling operation is not an easy transition for the always rebellious, usually reckless, and occasionally drunk pilot of the Fortuna, an aging cargo ship and the only home Scorpia has ever known.
But when a deal turns deadly and Corvus returns from the war, Scorpia's plans to take over the family business are interrupted, and the Kaiser siblings are forced to make a choice: take responsibility for their family's involvement in a devastating massacre or lay low and hope it blows over.
Too bad Scorpia was never any good at staying out of a fight.
Perfect for fans of Becky Chambers and Catherynne M. Valente, Fortuna introduces a dazzling new voice in science fiction.
Praise For Fortuna (The Nova Vita Protocol #1)…
"Kristyn Merbeth has created a desperate, gritty world in her newest book Fortuna, an epic space opera about the lengths a family will go to survive not only each other, but a world out to kill them . . . . Merbeth is a voice to watch in space opera!"—K. B. Wagers, author of There Before the Chaos

"The narrative is powered by a cast of deeply developed characters. Scorpia, in particular, is impressively multidimensional . . . . The nonstop action and varying levels of tension make this an unarguable page-turner."—Kirkus

"Merbeth's multiple narrators and plotlines converge beautifully into a suspenseful tale of family. The characters are distinct and grounded, and each interaction is filled with purpose and emotion that brings all of them, regardless of differences, into the fray together. SF fans who have been waiting for a crime family spin on space opera will find nothing but joy in this whirlwind story."—Publishers Weekly

"High energy, high stakes, and lots of high notes."—Library Journal

"Merbeth's world building is fascinating-five human-settled planets, each distinct and littered with alien technology-but her multifaceted characters and their troubled relationships give this action-packed family drama its heart. A good readalike for Lois McMaster Bujold's Miles Vorkosigan books, John Scalzi's Collapsing Empire (2017), and for those who want a grittier version of Becky Chambers' Wayfarers series."—Booklist

"This is an engaging start to a series that blends crime family drama with the sort of character-focused sci-fi that made Becky Chambers' Wayfarers series an award-winning favorite."—B&N Reads

"It's everything you could ask for in a space opera."—The Arcanist
Orbit, 9780316453998, 560pp.
Publication Date: November 5, 2019
About the Author
Kristyn Merbeth is obsessed with SFF, food, video games, her dog and resides in Tucson, Arizona.