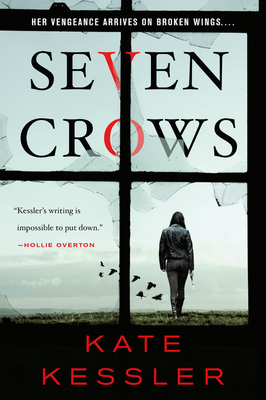 Seven Crows (Paperback)
Redhook, 9780316454254, 384pp.
Publication Date: October 8, 2019
* Individual store prices may vary.
Description
An ex-con tracks down the men who have kidnapped her niece in this gritty and visceral thriller.
Killian Delaney has a skewed moral compass, a high threshold for pain, and has just been released from prison to discover that someone has taken her niece.
Killian does not hesitate. Loyalty is the most important thing in her life, and when she gets a call from her sister saying that her daughter is missing, Killian immediately begins hunting down the men responsible.
She quickly discovers her niece was involved with a notorious biker gang who are engaged in everything from drugs to human trafficking. And to make it worse, the man who sent Killian to jail, the one she nearly beat to death, is at the center of it all.
To save her niece, she'll need a plan. A smart, quick, and efficient one. Because she's going to do it right this time. She'll burn them to the ground.
For more from Kate Kessler, check out:
The Audrey Harte novels
It Takes One
Two Can Play
Three Strikes

Four of a Kind
Zero Hour (novella)
Dead Ringer
About the Author
As a child Kate Kessler seemed to have a knack for finding trouble, and for it finding her. A former delinquent, Kate now prefers to write about trouble rather than cause it, and spends her days writing about why people do the things they do. She lives in New England with her husband.
Praise For Seven Crows…
"If you take the John Wick and "Sons of Anarchy" series, blend them with the movie Taken and then dial the intensity up to 11, you have Seven Crows . . . . [It] opens with a bang and doesn't slow down."—BookPage

"A gusty action here emerges . . . Sometimes brutal, yet compelling."—Booklist

"Visceral . . . Kessler works hard to build sympathy for her raging antiheroine."—Publishers Weekly

"Wow, what a ride! ... Kate Kessler has created a near-perfect [antihero] in Killian Delaney. For readers who love hardboiled realism and cheering on society's underdogs, this novel is right up our dark and lonely alley."—ThrillerFix

"Kate Kessler's Dead Ringer is an intensely haunting thriller that I simply could not put down. Not only is it a lightning-fast page turner, but it's also infused with real emotion about family ties and the vise-like grip the past holds us in. Powerful, provocative, and real, Dead Ringer delivers all the goods."—David Bell on Dead Ringer

"Deliciously twisted and genre-bending, Kate Kessler's positively riveting It Takes One boasts a knockout concept and a thoroughly unique and exciting protagonist, a savvy criminal psychologist with murderous skeletons in her own closet."—Sara Blaedel on It Takes One

"A book that kept calling to me when I should have been doing something else. Hard to put down, compulsive reading."—Rachel Abbott on It Takes One

"It Takes One is a gripping roller-coaster ride of shock and suspense. ...Kate Kessler excels at creating an atmosphere of fear and suspense."—Kate Rhodes on It Takes One


"Kessler has created a kick-ass, heartfelt character in this lively, twisty thriller. Believe me - you'll enjoy the ride."—Sandra Block on It Takes One

"This first in a series combines an intriguing mystery with a terrific cast of characters. Fans of Nancy Pickard or Lisa Unger will find much to like in Kessler. Expect her to become very popular very quickly."—Booklist (starred review) on It Takes One

"[Audrey's] a likable heroine, and between her moxie and sense of humor, she'll soon become a favorite of those who like their suspense less dark and bleak....Audrey is definitely a keeper."—Kirkus on It Takes One

"Tense, fast-paced....The action builds to compelling and unexpected conclusion."—Publishers Weekly on It Takes One

"Carve out some time to read this series starter - it's that hard to put down."—RT Book Reviews on It Takes One

"Kate Kessler's writing is impossible to put down. I devoured It Takes One and couldn't wait to read the sequel. If you love characters that are misfits, and outsiders, have a penchant for bad boys, and want a mystery that keeps you guessing, this is the series for you."—Hollie Overton, author of Baby Doll, on the Audrey Harte series