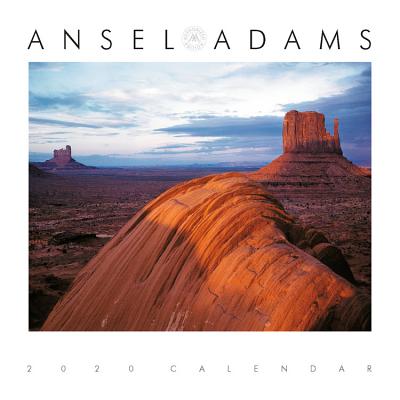 Ansel Adams 2020 Color Mini Wall Calendar
Calendar

* Individual store prices may vary.
Description
Experience the splendor and diversity of the American West with this all-new 7" x 7" mini wall calendar, featuring thirteen vibrant color photos by legendary photographer Ansel Adams.
While the name "Ansel Adams" is virtually synonymous with black-and-white photography, his work in color remains largely unknown. Over the course of four decades, Adams produced a highly accomplished--if relatively small--body of color photographs, a sampling of which are featured in this all-new 2020 mini calendar. These scintillating pictures epitomize the same refined detail and delicacy of light embodied in Adams' celebrated black-and-white images.
Fourteen exquisitely-printed, full-color photographs by legendary artist and environmentalist Ansel Adams, carefully selected and sequenced to reflect the changing seasons.
Diminutive 7" x 7" format brings a splash of color to smaller spaces.
Dazzling images of the American West--from the desert Southwest, to lush Hawaiian botanical gardens, to Yosemite and Yellowstone National Parks--will bring joy to your home or office.
The perfect inspirational gift for lovers of fine art, photography, nature, and the outdoors
Features US and Canadian legal holidays, phases of the moon, and major religious holidays
Printed and manufactured in the United States of America.
The photographs of Ansel Adams are among America's finest cultural treasures, and are the foundation of his tremendous legacy of environmental activism. One of the most influential artists of the 20th century, today his creative vision is as relevant and convincing as ever.
For more ways to enjoy the photography of Ansel Adams, look for the Ansel Adams 2020 Engagement Calendar, the Ansel Adams Wall Calendar, and Ansel Adams' Yosemite.
Ansel Adams, 9780316454490, 24pp.
Publication Date: July 23, 2019
About the Author
Ansel Adams (1902-1984) was the most honored American photographer of the twentieth century. Through the exhibition and publication of his work, his writings, and his leadership in the Sierra Club, Adams was also a prescient and highly effective voice in the fight to preserve America's remaining wilderness.
or
Not Currently Available for Direct Purchase