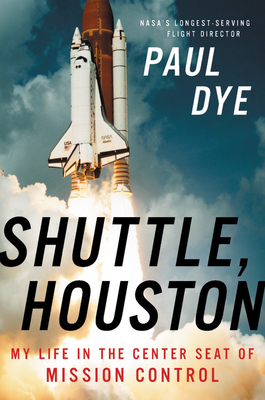 Shuttle, Houston
My Life in the Center Seat of Mission Control
Hardcover

* Individual store prices may vary.
Other Editions of This Title:
Digital Audiobook (7/13/2020)
Compact Disc (7/14/2020)
Description
From the longest-serving Flight Director in NASA's history comes a revealing account of high-stakes Mission Control work and the Space Shuttle program that has redefined our relationship with the universe.

A compelling look inside the Space Shuttle missions that helped lay the groundwork for the Space Age, Shuttle, Houston explores the determined personalities, technological miracles, and eleventh-hour saves that have given us human spaceflight.
Relaying stories of missions (and their grueling training) in vivid detail, Paul Dye, NASA's longest-serving Flight Director, examines the split-second decisions that the directors and astronauts were forced to make in a field where mistakes are unthinkable, and where errors led to the loss of national resources -- and more importantly one's crew. Dye's stories from the heart of Mission Control explain the mysteries of flying the Shuttle -- from the powerful fiery ascent to the majesty of on-orbit operations to the high-speed and critical re-entry and landing of a hundred-ton glider.
The Space Shuttles flew 135 missions. Astronauts conducted space walks, captured satellites, and docked with the Mir Space Station, bringing space into our everyday life, from GPS to satellite TV. Shuttle, Houston puts readers in his own seat at Mission Control, the hub that made humanity's leap into a new frontier possible.
Praise For Shuttle, Houston: My Life in the Center Seat of Mission Control…
"An excellent portrait of Mission Control, the teams, and the later missions. This should be required reading for anyone aspiring to be part of human space flight, as well as all scientists, engineers, project managers of any kind, and anyone considering a career in a highly complex field or program."
—Gene Kranz, Former Flight Director, NASA, and author Failure Is Not an Option

"Paul Dye pulls back the curtain on what it takes to be a Flight Controller, then a Flight Director in Mission Control. Like him, I've been both. Shuttle, Houston should not only entertain the casual, interested reader, but it should be invaluable to anyone aspiring to work in the 'Center Seat' whether that's in Mission Control or any other business or leadership position."—Milt Heflin, NASA 1966-2013, Retired, Johnson Space Center Chief Flight Director, 2001-2004, and coauthor of Go, Flight!

"I learned many of these lessons from Paul Dye as he taught me and two decades more of Mission Control leaders the ropes, in exactly these words! His guidance is as valuable today in any leadership setting as it always was."—Paul Sean Hill, Retired NASA Flight Director and Director of Mission Operations, and author of Leadership from the Mission Control Room to the Boardroom

"Shuttle, Houston gives us tremendous insight on the Mission Control Center. Paul Dye captures the awe and amazement of being part of that team. His wonderful explanations of how everyone works together and his understanding of the science and history will fascinate anyone who appreciates the dynamic world of human space exploration."
—Shannon Lucid, former Astronaut

"Richly detailed with the author's own experiences and recollections, Shuttle, Houston covers virtually every aspect of Mission Control. By the time you finish reading this book, you will feel like you just participated in an actual space mission….A very interesting read."—National Space Society

"Terrific...a fascinating history of how America built and operated the most complex machine ever devised by man....Anyone who is interested in flying generally, the history of flight, or managing massive technical projects, will enjoy this read."—Kitplanes

"Government or commercial, capsule or shuttle, crewed spaceflight require the support of a mission control to ensure a safe mission. Wherever that mission control may be located and however it looks, it requires the same rigor and attention to detail described in Dye's book to ensure success."
—The Space Review

"With a clear voice from the onset, Dye deftly crafts the story of his many years working on the Shuttle program around the broader story of NASA at that time.... We are afforded a glimpse of the inner workings of NASA, a rare treat...the book is somehow referential and personal, thanks to the author's excellent writing skills. Packed with fascinating anecdotes from each mission...for anyone with even a passing interest in human spaceflight, this is a must-read."—BBC Sky at Night Magazine

"Space history enthusiasts will relish this."—AudioFile

"A passionate look at the U.S. space shuttle program....The author fondly recalls in scrupulous detail the highlights of his three-decade career as a top NASA flight controller... both engaging and informative....The author's simple anecdotes about everyday working life at mission control that make for the most readable, entertaining sections....Dye's memoir is a balanced mix of moments both banal and breathtaking."
—Kirkus Reviews

"A fascinating insight into the inner workings of NASA."—Booklist

"Dye provides an insider view of historic events....This motivating book shows people succeeding at their best: smart, cooperative, innovative, and caring."—Library Journal
Hachette Books, 9780316454575, 320pp.
Publication Date: July 14, 2020
About the Author
Paul Dye has more than forty years of aviation experience as an engineer, builder, and pilot. He earned his degree in Aeronautical Engineering with a specialization in aircraft design and flight testing from the University of Minnesota in 1982. He retired from NASA in 2013 as the longest-serving Flight Director in U.S. history, having been involved in thirty-nine missions, nine of those as the lead Flight Director. He has received a NASA Outstanding Leadership Medal, a NASA Exceptional Service Medal (three times), and a Presidential Medal. Dye is now a leadership consultant and speaker, as well as the former Editor-in-Chief (currently Editor-at-Large) of Kitplanes magazine.
or
Not Currently Available for Direct Purchase