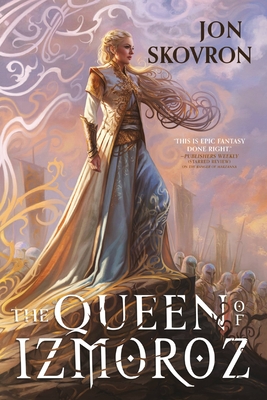 The Queen of Izmoroz (The Goddess War #2)
Paperback

* Individual store prices may vary.
Description
In this thrilling epic fantasy, Sonya has won the battle and brought a foreign army to free her country from imperial rule, but now she has to face her allies—who may have other goals. 

The first battle is over, but war yet looms on the horizon. Sonya and her allies--the foreign Uaine and their armies of the undead—have beaten back the imperial soldiers from the capital city. Now they have the rest of the country to free.

Meanwhile, her brother the famed wizard Sebastian has retreated with the imperial forces to regroup and lick his wounds. Betrayed by his sister and his wife, the beautiful noblewoman Galina, he will regain control of his life and his country at any cost.

Galina, his former betrothed, has her own visions for the land, and the political savvy to make them a reality. But a fledgling oligarchy, a foreign army, and the whims of a self-proclaimed servant of death stand in her way—power must be seized, and a queen must rise, before it's too late.

Sonya has brought a foreign army to free her country from imperial rule, but her allies may have other goals in the second book of this thrilling epic fantasy trilogy from Jon Skovron.
Praise For The Queen of Izmoroz (The Goddess War #2)…
"Furious where it needs to be, deceptively tender where it can get away with it, adventurous all around."—Sam Sykes on Hope and Red

"Skovron's eye for characterization and situations is exceptional... A compelling coming-of-age yarn."—Publishers Weekly (starred review) on Hope and Red

"Engaging ... [Skovron's] skillfully developed world, filled with swords and magic, is a perfect foil for his dynamic characters."—Library Journal on Hope and Red

"Skovron launches his Slavic-influenced Goddess War series with this intricate, well-told fantasy.... This is epic fantasy done right."—Publishers Weekly (starred review) on The Ranger of Marzanna

"The worldbuilding is solid, the action is nonstop, and Skovron's overall character development is exceptional.... An undeniable page-turner that will have readers salivating for the next volume of this projected trilogy."—Kirkus on The Ranger of Marzanna
Orbit, 9780316454650, 480pp.
Publication Date: April 20, 2021
About the Author
Jon Skovron is the author of The Empire of Storms Trilogy and several young adult novels. His short stories have appeared in publications such as ChiZine and Baen's Universe. He lives just outside Washington, D.C. with his two sons and two cats.