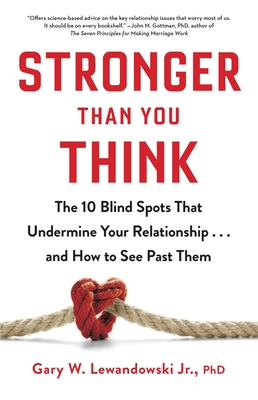 Stronger Than You Think
The 10 Blind Spots That Undermine Your Relationship...and How to See Past Them
Hardcover

* Individual store prices may vary.
Other Editions of This Title:
Compact Disc (2/9/2021)
Compact Disc (2/9/2021)
Description
Discover the ten myths sabotaging your love life, and the practical, science-backed tools you can use to reveal your relationship's hidden strengths and build a fulfilling, long-lasting bond.
Dr. Gary W. Lewandowski Jr. is a nationally recognized expert on the psychology of relationships. In his first book, he blends hot-off-the-press science, engaging writing, impactful examples, and fascinating stories to present an impressive range of refreshing and eye-opening set of insights. For instance, did you know that . . .
To forecast your relationship's future, you are the worst person to ask.
Men are the real romantics in heterosexual relationships, not women.
The amount of sex you should have to keep your relationship going strong is lower than you think.
It's okay to be selfish. Putting me before you, can help both of you.
When it comes to closeness, you can have too much of a good thing.
Struggles actually strengthen your relationship.
In terms of partner support, what you're not seeing is more important than what you notice.
When your relationship doesn't help you become a better person, ending it does.
A bold, fresh take on what it means to love and be loved,
Stronger Than You Think
will help you more confidently and accurately view yourself and your relationship—so that you can fully appreciate the love you have, or find the one you want and deserve.
Praise For Stronger Than You Think: The 10 Blind Spots That Undermine Your Relationship...and How to See Past Them…
"I really enjoyed reading Stronger Than you Think. It offers science-based advice on the key relationship issues that worry most of us. It should be on every bookshelf."—John Gottman, author of The Seven Principles for Making Marriage Work

"Scientists have been exposing humanity's blind spots for centuries. In Stronger Than You Think, Gary Lewandowski leverages the tools of science to reveal our blind spots about love, offering an essential roadmap for cultivating an exquisite relationship."—Eli J. Finkel, author of The All-or-Nothing Marriage

"Stronger Than You Think identifies the common blind spots that mold and sabotage your love relationship, and then helps you fix them—all backed by science and good research! After reading this book, you'll become more knowledgeable, prepared, confident, and perceptive about your own relationship."—Terri Orbuch, PhD, author of 5 Simple Steps to Take Your Marriage from Good to Great

"Stronger Than You Think is a captivating, intelligent book that shows you how to strengthen your relationships and steer clear of common pitfalls. Dr. Lewandowski translates his vast knowledge of relationship research into clear, relevant advice that will leave you feeling enlightened and more confident about how to navigate the complexities of romantic love."—Ty Tashiro, PhD, author of The Science of Happily Ever After

"Whether you're already in a relationship or looking for one, Stronger Than You Think is a must-read. Lewandowski masterfully distills the science of relationships in an informative and engaging fashion that will change everything you thought you knew about love and set you on the path to long-term happiness and success."—Justin Lehmiller, PhD, research fellow at The Kinsey Institute and author of Tell Me What You Want
Little, Brown Spark, 9780316454711, 304pp.
Publication Date: February 9, 2021
About the Author
Dr. Gary W. Lewandowski, Jr. is an award-winning teacher, researcher, writer, and relationship expert. His work has been featured by the Washington Post, IFLScience.com, Daily Mail, Business Insider, Salon, the New Republic, Time, and Newsweek, and he's appeared in the New York Times, the Atlantic, VICE, CNN, and NPR, among others. He created the popular relationship advice website ScienceofRelationships.com (now Luvze.com), and his TED Talk has been viewed nearly two million times.