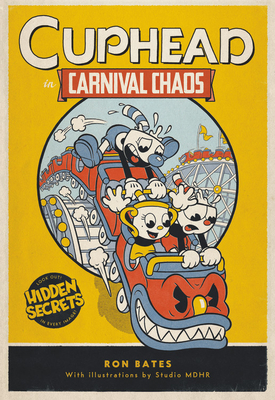 Cuphead in Carnival Chaos
A Cuphead Novel
Hardcover

* Individual store prices may vary.
Description
Fans of the award-winning and visually stunning video game can see Cuphead, Mugman, and friends like never before in this original, illustrated middle-grade novel. Join them on their adventure as they make merry mischief in the vibrant and topsy-turvy world of the Inkwell Isles!
It's a special day on the Inkwell Isles: Elder Kettle's birthday! Yes, sirree, it's a very special day. So Cuphead and Mugman need to find the perfect gift to honor their beloved mentor. But along the way, the brothers and their new friend Ms. Chalice are captivated by the sights and sounds of the carnival that just rolled into town. Despite Elder Kettle's warning that the attraction is filled with liars and thieves, the trio gets reeled in.
At the carnival, the friends are bamboozled and burgled by enemies, old and new. Will they escape the chaos and get their gift before it's too late?
Includes over 20 never-before-seen illustrations drawn by Studio MDHR's Lance Miller that feature hidden items for an interactive treasure hunt!
Cuphead in Carnival Chaos is the first book in an original series and perfect for players of Cuphead, and readers of Hello Neighbor, Bendy and the Ink Machine, and Five Nights at Freddy's.
© 2020 StudioMDHR Entertainment Inc. All Rights Reserved. Cuphead(TM), the Cuphead(TM) logo, StudioMDHR(TM) and the StudioMDHR(TM) logo are trademarks and/or registered trademarks of StudioMDHR Entertainment Inc. throughout the world.

Praise For Cuphead in Carnival Chaos: A Cuphead Novel…
"[Cuphead] features illustrations by Studio MDHR's Miller that evoke the golden age of American animation, when Walt Disney and Looney Tunes were at their peaks. The book's tone blends the smirking asides of Tex Avery...with the heartfelt aw-shucks emotions of early Mickey Mouse cartoons. Fans of the Cuphead video game will delight, but even those completely unfamiliar will find plenty to enjoy here."—Kirkus
Little, Brown Books for Young Readers, 9780316456548, 272pp.
Publication Date: March 3, 2020
About the Author
Ron Bates is a novelist who writes about secret laboratories, bullies, evil robots, toilet monsters, super plumbers, cafeteria tacos, and all the other things that make being a middle-school student so interesting. A former newspaper reporter and humor columnist, he is the author of How to Make Friends and Monsters, How to Survive Middle School and Monster Bots, and The Unflushables. He also writes comic books, poems, and other stuff for kids who like to laugh. He lives in Texas.
Studio MDHR is an independent video game company founded by brothers Chad & Jared Moldenhauer. Working remotely with a team from across North America, Studio MDHR launched Cuphead on Xbox One and PC to commercial and critical acclaim.