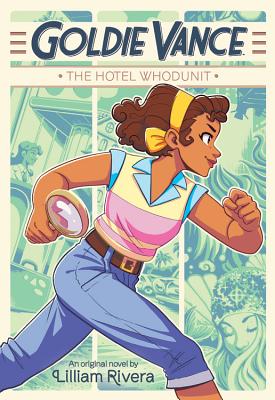 Goldie Vance
The Hotel Whodunit
Hardcover

* Individual store prices may vary.
Description
Move over, Nancy Drew--there's a new sleuth in town! Inspired by the beloved comic series, Goldie Vance is ready to sleuth her way through never-before-seen mysteries in this original novel series by Lilliam Rivera featuring 16 full-color comic pages!
Marigold "Goldie" Vance lives and works at the Crossed Palms Resort Hotel in Florida with a whole slew of characters: her dad, Art, the manager of the joint; Cheryl Lebeaux, the concierge and Goldie's best friend; and Walter Tooey, the hired hotel detective. Her mom, Sylvie, works nearby at the Mermaid Club.
While life at the Crossed Palms is always busy, the resort is currently overrun with Hollywood-types filming the hottest new creature feature, and tensions are at an all-time high. Even Goldie's mom is in on the movie act, doing what she does best: playing a mermaid. Just when Goldie thinks the movie biz couldn't get any more exciting, a diamond-encrusted swimming cap goes missing, and all fingers point to Goldie's mom as the culprit. Can Goldie uncover the true thief before it's too late?
Based on Hope Larson and Brittney Williams's critically acclaimed Goldie Vance comic, this thrilling novel explores a never-before-seen caper and features 16 full-color comic pages essential to unraveling the mystery.
Text and Illustration copyright: © 2020 BOOM! StudiosGoldie Vance(TM) and © 2020 Hope Larson & Brittney Williams

Praise For Goldie Vance: The Hotel Whodunit…
Praise for Goldie Vance: The Hotel Whodunit:
A 2021 Rainbow Book List Title "Goldie's endless optimism and belief in herself inspire while creating amusing moments in this satisfying gumshoe mystery. Comic book inserts by animator Power further enliven action-packed segments."—Publishers Weekly

"[...] [S]he [Rivera] shows herself to be skilled at combining noir language conventions with contemporary sensibilities in a way that doesn't feel anachronistic but is just a gas! [...] This biracial, LGBTQ protagonist seamlessly shifts from comics to prose in a winner of a series opener."—Kirkus

"Readers will love Goldie, an ambitious female lead who challenges gender roles, is gay, and is not to be underestimated. [...] A great purchase for middle grade collections, especially those whose readers are looking for their next boisterous supersleuth."—School Library Journal

"[T]his middle-grade novel is kind to new series readers, offering a standalone adventure for Goldie and the gang. Goldie is appealing as a headstrong, confident, absurdly good-natured narrator who worms her way into the heart of the surprisingly normal star Lucerne. [...] Rivera unravels the mystery in an enjoyable romp with a large cast of quirky, lovable characters."—BCCB

"[Goldie's] courage and determination will appeal to young readers who long for a sense of adventure and the desire to be accepted for who they are. Readers will enjoy this smart, independent, and quirky character who isn't afraid to go after what she wants."—School Library Connection
Little, Brown Books for Young Readers, 9780316456647, 264pp.
Publication Date: March 17, 2020
About the Author
Lilliam Rivera is the award-winning author of Dealing in Dreams and The Education of Margot Sanchez. She was nominated for a 2019 Rhode Island Teen Book Award, a 2017 Best Fiction for Young Adult Fiction by the Young Adult Library Services Association (YALSA), and has been featured on NPR, New York Times Book Review, New York magazine, MTV.com, and Teen Vogue, among others. Lilliam lives in Los Angeles.
Born in the United States before moving to and living in Ireland, Elle Power has earned a degree in animation and is pursuing a career in making things to share with others. Lead by a love of visual storytelling, she spends her days helping to create stories and worlds through illustration, comics, and animation. Elle first entered the world of Goldie Vance as a fan of the comic series and has gone on to illustrate volume four of the original graphic novel. She's had a blast ever since!