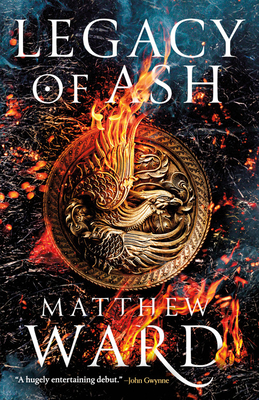 Legacy of Ash (The Legacy Trilogy #1)
Paperback

* Individual store prices may vary.
Description
Legacy of Ash is an unmissable fantasy debut--an epic tale of intrigue and revolution, soldiers and assassins, ancient magic and the eternal clash of empires.
A shadow has fallen over the Tressian Republic.
Ruling families -- once protectors of justice and democracy -- now plot against one another with sharp words and sharper knives. Blinded by ambition, they remain heedless of the threat posed by the invading armies of the Hadari Empire.
Yet as Tressia falls, heroes rise.
Viktor Akadra is the Republic's champion. A warrior without equal, he hides a secret that would see him burned as a heretic.
Josiri Trelanis Viktor's sworn enemy. A political prisoner, he dreams of reigniting his mother's failed rebellion.
And yet Calenne Trelan, Josiri's sister, seeks only to break free of their tarnished legacy; to escape the expectation and prejudice that haunts the family name.
As war spreads across the Republic, these three must set aside their differences in order to save their home. Yet decades of bad blood are not easily set aside. And victory -- if it comes at all -- will demand a darker price than any of them could have imagined.


Praise For Legacy of Ash (The Legacy Trilogy #1)…
"Ward has created a novel with such intention and craftsmanship that it brings back that feeling of excitement fantasy readers felt when discovering masters like J.R.R. Tolkien and C.S. Lewis."—Shelf Awareness

"Packed with big battles, shadowy intrigue and a large cast of characters, Legacy of Ash is an absorbing debut."—James Islington

"A hugely entertaining debut."—John Gwynne

"As intricate as a precision-engineered watch; as surprising as a precision-engineered watch with a concealed face-stabbing mechanism."—Gareth Hanrahan

"Expertly interspersing vivid action sequences with quiet, introspective stretches, Ward guides readers and characters alike through this winding, well-crafted saga. The result is an impressive series opener."—Publishers Weekly (starred review)

"Epic fantasy as it should be: big, bold and very addictive."—Starburst

"An incredibly impressive piece of fantasy fiction."—The Fantasy Inn

"This is the first epic fantasy book I've enjoying getting immersed in for ages . . . a great romp in a brilliantly realized setting . . . I have lost sleep, forgotten food and made this the thing what I pick up every moment I can get."—SFFWorld

"A perfect blend of Martin's A Song of Ice and Fire and Bernard Cornwell's The Last Kingdom."—FanFi Addict
Orbit, 9780316457880, 800pp.
Publication Date: April 7, 2020
About the Author
Matthew Ward is a writer, cat-servant and owner of more musical instruments than he can actually play (and considerably more than he can play well). He's afflicted with an obsession for old places - castles, historic cities and the London Underground chief among them - and should probably cultivate more interests to help expand out his author biography.
After a decade serving as a principle architect for Games Workshop's Warhammer and Warhammer 40,000 properties, Matthew embarked on an adventure to tell stories set in worlds of his own design. He lives near Nottingham with his extremely patient wife - as well as a pride of attention- seeking cats - and writes to entertain anyone who feels there's not enough magic in the world.