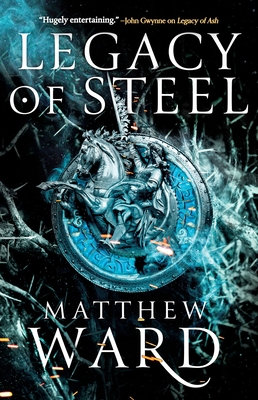 Legacy of Steel (The Legacy Trilogy #2)
Paperback

* Individual store prices may vary.
Description
Warfare, myth and magic collide in Legacy of Steel, the spectacular sequel to Matthew Ward's acclaimed fantasy debut Legacy of Ash.
"Outstanding ... a ripping yarn that more than earns its length." --Publishers Weekly (starred review)
A year has passed since an unlikely alliance saved the Tressian Republic from fire and darkness, at great cost. Thousands perished, and Viktor Akadra -- the Republic's champion -- has disappeared.
While the ruling council struggles to mend old wounds, other factions sense opportunity. The insidious Parliament of Crows schemes in the shadows, while to the east the Hadari Emperor gathers his armies. As turmoil spreads across the Republic, its ripples are felt in the realms of the divine.
War is coming . . . and this time the gods themselves will take sides.
The Legacy TrilogyLegacy of AshLegacy of Steel
Praise For Legacy of Steel (The Legacy Trilogy #2)…
"Expertly interspersing vivid action sequences with quiet, introspective stretches, Ward guides readers and characters alike through this winding, well-crafted saga. The result is an impressive series opener."—Publishers Weekly (starred review) on Legacy of Ash

"Packed with big battles, shadowy intrigue and a large cast of characters, Legacy of Ash is an absorbing debut."—James Islington on Legacy of Ash

"A hugely entertaining debut."—John Gwynne on Legacy of Ash

"As intricate as a precision-engineered watch; as surprising as a precision-engineered watch with a concealed face-stabbing mechanism."—Gareth Hanrahan on Legacy of Ash

"Epic fantasy as it should be: big, bold and very addictive."—Starburst on Legacy of Ash

"An incredibly impressive piece of fantasy fiction."—The Fantasy Inn on Legacy of Ash

"This is the first epic fantasy book I've enjoying getting immersed in for ages . . . a great romp in a brilliantly realized setting . . . I have lost sleep, forgotten food and made this the thing what I pick up every moment I can get."—SFFWorld on Legacy of Ash

"A perfect blend of Martin's A Song of Ice and Fire and Bernard Cornwell's The Last Kingdom."—FanFi Addict on Legacy of Ash
Orbit, 9780316457903, 768pp.
Publication Date: November 3, 2020
About the Author
Matthew Ward is a writer, cat-servant and owner of more musical instruments than he can actually play (and considerably more than he can play well). He's afflicted with an obsession for old places -- castles, historic cities and the London Underground chief among them -- and should probably cultivate more interests to help expand out his author biography.
After a decade serving as a principle architect for Games Workshop's Warhammer and Warhammer 40,000 properties, Matthew embarked on an adventure to tell stories set in worlds of his own design. He lives near Nottingham with his extremely patient wife -- as well as a pride of attention-seeking cats -- and writes to entertain anyone who feels there's not enough magic in the world.