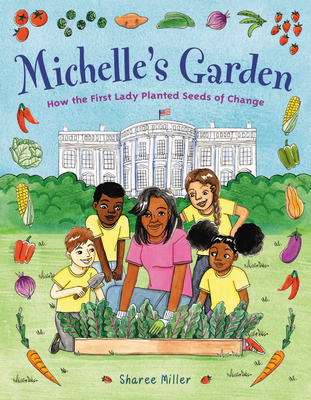 Michelle's Garden (Hardcover)
How the First Lady Planted Seeds of Change
Little, Brown Books for Young Readers, 9780316458573, 40pp.
Publication Date: March 2, 2021
* Individual store prices may vary.
Description
A tribute to Former First Lady Michelle Obama and her contributions in building a healthier future for all children from acclaimed author and illustrator Sharee Miller.
Former First Lady Michelle Obama had an idea. A big, inspiring, and exciting idea! She would grow the largest kitchen garden ever at the White House. This wouldn't be easy, since she'd never gardened before: Where should she start? What tools did she need? What would she plant?

Everyone needs help when they're learning something for the first time, even the first lady of the United States. So she gathered the help of local students, the White House staff, and even President Barack Obama. Together, they wouldn't just grow a garden -- they would inspire a nation!
About the Author
Sharee Miller lives and works in Jersey City with her husband and their two cats, Pumpkin and Spice. Her illustrations combine bright colors, patterns, and expressive characters to tell the stories she wishes she had as a kid. She is the author of Princess Hair and Don't Touch My Hair!
Praise For Michelle's Garden: How the First Lady Planted Seeds of Change…
Praise for Sharee Miller:
* "After decades of white princesses' domination of American fairy tales, Miller expands the vision of what princess hair can look like to black girls.... A sweet and joyful affirmation of the truth that 'NAPPY princesses are HAPPY princesses.'"
—
Kirkus Reviews, starred review of Princess Hair
* "Frank, funny, and revelatory."—
Publishers Weekly, starred review for Don't Touch My Hair!
* "[Sharee] Miller tells it like it is. Miller's lighthearted touch effectively delivers a serious, necessary message about respecting boundaries."—
Kirkus Reviews, starred review for Don't Touch My Hair!
"This is the perfect book for young girls, but especially girls who might not be happy with their hair because it's different from the hair that they see on others."—
The Huffington Post review for Princess Hair
"This exuberant, colorful collection of words and pictures is a stylish pick-me-up for any little princess who's ever had a bad hair day. Delightful."—
USA Today review for Princess Hair