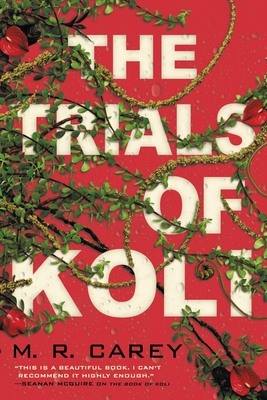 The Trials of Koli (The Rampart Trilogy #2)
Paperback

* Individual store prices may vary.
Other Editions of This Title:
Digital Audiobook (9/14/2020)
Compact Disc (9/15/2020)
Description
"Absorbing, stunning, and emotionally rich." --Locus
The journey through M. R. Carey's "immersive, impeccably rendered world" (Kirkus) -- a world in which nature has turned against us -- continues in The Trials of Koli, book two of the Rampart Trilogy.
The earth wants to swallow us whole...
Koli never planned to set foot outside his small village. He knew that beyond its walls lay a fearsome landscape filled with choker trees, vicious beasts and Shunned men. But when he was exiled, he had no choice but to journey out into this strange world where every moment is a fight for survival.
And it's not just Koli's life that is threatened. Whole villages just like his are dying out.
But Koli heard a story, once. A story about lost London, and the mysterious tech of the Old Times that may still be there. If he can find it, there may still be a way for him to change his own fate - by saving the lives of those who are left.

The Rampart TrilogyThe Book of KoliThe Trials of KoliThe Fall of Koli
For more from M. R. Carey, check out:The Girl With All the GiftsFellsideThe Boy on the BridgeSomeone Like Me
By the same author, writing as Mike Carey:The Devil You KnowVicious CircleDead Men's BootsThicker Than WaterThe Naming of the Beasts
Praise For The Trials of Koli (The Rampart Trilogy #2)…
"A broken world that is both marvelously expansive and claustrophobically menacing. Fans of postapocalyptic science fiction will find plenty to hold their attention."—Publishers Weekly on The Trials of Koli

"If you loved M.R. Carey's The Book of Koli, you will love The Trials of Koli just as much, if not more... Absorbing, stunning, and emotionally rich."—Locus on The Trials of Koli

"[A] beautiful book. Gripping, engaging, and absolutely worth the time it takes to burrow yourself into its reality. I can't recommend it highly enough."—Seanan McGuire on The Book of Koli

"A captivating start to what promises to be an epic post-apocalyptic fable. Narrator Koli's inquisitive mind and kind heart make him the perfect guide to Carey's immersive, impeccably rendered world."—Kirkus on The Book of Koli

"The cadence and pacing of [Koli's] voice adds a depth and richness to the strange and malevolent world."—Booklist on The Book of Koli

"M.R. Carey hefts astonishing storytelling power with plainspoken language, heartbreaking choices, and sincerity like an arrow to the heart." —Locus on The Book of Koli

"An exciting post-apocalyptic coming-of-age trilogy."—Shelf Awareness on The Book of Koli

"A highly imaginative fable."—Nerd Daily on the Book of Koli

"Told in an enchanting, confessional first-person, we're with Koli all the way, from the stifling security of village life into the direst peril."—Daily Mail on The Book of Koli

"A thought-provoking and deeply engaging story ... profoundly and doggedly humane."—C. A. Fletcher on The Book of Koli

"Carey writes with compassion and fire - strange and surprising and humane."
—Lauren Beukes, author of The Shining Girls on The Boy on the Bridge

"Heartfelt, remorseless and painfully human...as fresh as it is terrifying. A jewel."—Joss Whedon on The Girl With All the Gifts

"A master storyteller." —io9
Orbit, 9780316458689, 496pp.
Publication Date: September 15, 2020
About the Author
M. R. Carey has been making up stories for most of his life. His novel The Girl With All the Gifts was a USA Today bestseller and is a major motion picture based on his BAFTA-nominated screenplay. Under the name Mike Carey he has written for both DC and Marvel, including critically acclaimed runs on X-Men and Fantastic Four, Marvel's flagship superhero titles. His creator-owned books regularly appear in the New York Times bestseller list. He also has several previous novels, two radio plays, and a number of TV and movie screenplays to his credit.