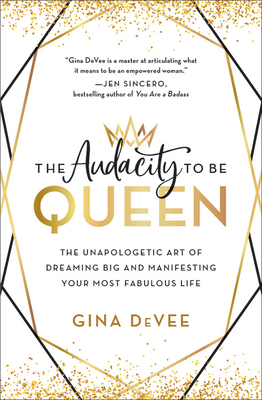 The Audacity to Be Queen
The Unapologetic Art of Dreaming Big and Manifesting Your Most Fabulous Life
Hardcover

* Individual store prices may vary.
Other Editions of This Title:
Digital Audiobook (3/2/2020)
Compact Disc (3/3/2020)
Description
YOUR EPIC LIFE STARTS HERE.
In every woman lives a Queen who is confident, poised, and clear on her calling. She is bold and unapologetic. Drawing from her spiritual connection and feminine nature, she accesses the power to manifest her desires and fulfill her purpose. The era of invisible women is over. Your time to be Queen has arrived. In The Audacity to Be Queen, women's empowerment and success coach Gina DeVee invites modern-day women to embrace the endless possibilities that are rightfully ours. Permission granted to take ourselves off the back burner financially, romantically, physically, and socially-and step into our greatness. The days of dismissing ourselves and our desires end here. No longer must we pretend to be anything other than brilliant, capable, and fabulous. The world needs women like us to own our power, raise our standards, and contribute our talents like never before. When a woman chooses to be a Queen, everyone benefits. With spectacular flair, beautiful pearls of wisdom, and lifechanging stories of unexpected triumph, The Audacity to BeQueen takes you on a journey to empower the Queen within. Gina DeVee shares the steps, exercises, meditations, prayers, and journal prompts to release all forms of self-doubt and self-sabotage so you can discover the best version of you. Only from the position of Queen can you fulfill your calling, and in this pivotal moment, time is of the essence. The age of the Queen is now.

Praise For The Audacity to Be Queen: The Unapologetic Art of Dreaming Big and Manifesting Your Most Fabulous Life…
Publisher's Weekly, "Books Help Seekers Find Spiritual Practice in Strange Places"

"Gina DeVee is a master at articulating what it means to be an empowered woman. At this exciting moment in history, we're being called to embrace the full force of our feminine fierceness, to stop apologizing, to joyfully share our greatness. This book is the guide we've been waiting for. Get ready y'all, the Queens have arrived!"—Jen Sincero, #1 New York Times bestselling author of You Are a Badass and You Are a Badass at Making Money

"In a world that is celebrating the rise of the feminine, Gina DeVee's timely and unapologetic message models for women what it means to be empowered, prioritized and spiritually connected in our modern era. Gina's unique way of embodying the Queen archetype and her ability to communicate this much needed message to women of all cultures is an inspiration."—Marianne Williamson, #1 New York Times bestselling author of A Return to Love

"Gina DeVee shows us how to have it all, and at the same time. Defining what it truly means for the ordinary modern woman to have the mindset of a Queen, Gina's humorous, wise and fabulous philosophy reveals what feminine power is all about and how to access yours. Say goodbye to putting your health and happiness last. Making your dreams happen has never been this fun!"—JJVirgin, New YorkTimes bestselling author of The Virgin Diet

"Gina DeVee grants modern women permission to break the cycle of the nonstop busyness and put themselves first, so they can play an even bigger game and make a bigger difference in the world. With profound spiritual guidance, practical lifestyle wisdom, and indispensable leadership advice, this book is full of AHA moments revealing exactly how all women can step into the role of Queen."—Marci Shimoff, #1 New York Times bestsellingauthor of Happy for No Reason and Chicken Soup for the Woman's Soul

"In The Audacity to be Queen, Gina empowers women with the special touch that only she has to unleash your inner Queen. Her years of expertise shines through here in this gem of a book that is a must-have guide for anyone looking to step into greatness. From the very first pages, Gina lovingly and methodically leads the reader by the hand, sharing touching stories and effective, practical exercises that will lead to incredible transformations. This phenomenal book will lead you to fulfill your calling and become the very best version of yourself."—Dr. Judy Ho, clinical neuropsychologist, co-host of The Doctors,and author of Stop Self Sabotage

"What was once only for celebrities and royals is now available to every woman, thanks to Gina DeVee. The Audacity to Be Queen demystifies the mindset, ways of being, leadership style and lifestyle secrets that will empower you to manifest your dreams without blowing out your adrenals. Let this book be your new source of confidence, grace, influence and ease!"—KatherineWoodward Thomas, New York Times Bestselling Author of Calling in "The One" and Conscious Uncoupling

"In
today's world, where women are torn between conforming to society's standards
or being who they know they are meant to be, Gina DeVee gives all women the
permission to step up and be Queens. The Audacity to Be Queen is your guidebook
to living a life so full of passion and purpose that you can only be jealous of
yourself."—CynthiaPasquella-Garcia, celebrity nutritionist and Founder & CEO of the Instituteof Transformational Nutrition

"Gina
DeVee is the embodiment of a true strong fierce charismatic Queen who fixes all
of our crowns! She is a modern philosopher who defines in her words what it
means to be a modern woman with sass, spirituality and style. Gina is the
lifestyle guru we have all been waiting for and allows us all to dream big!
This book is a go-to bible for empowerment, divinity and the exquisite all at
the same time. Gina in person is the soulful kind of woman you want by your
side, she reaches through and connects with you on a deep level and and her
can-do attitude is both refreshing, honest and to my mind the ultimate in
feminine leadership. Let Gina take you on a powerful inspirational journey of
respect and renewal that brings the idea of self-care to a whole new level. You
will find your deepest truth in this book and you will find ladies you can in
fact have it all!"—LisaCannon, TV host and film producer

"Gina DeVee's fierce devotion to helping women own, earn, and most importantly enjoy their worth is unparalleled. Her coaching experience, built upon years in the trenches with clients from all over the world, gives her a unique perspective on what the modern woman really needs to rise. Brass-tacks practicality blended with a profound spiritual message, Gina's unapologetic message ignites."—Jennifer Racioppi, astrologer, success coach, and author of Lunar Logic and the forthcomingbook, Cosmic Health

"In
a world where women are told to be powerful, but not 'too much,' aggressive,
but not masculine, and beautiful, but not to the point where that beauty
intimidates other women, Gina DeVee's new book, The Audacity to be Queen is a
breath of fresh, lavender-scented air. Calling upon what Gina calls the three
female superpowers: spirituality, femininity, and the audacity to be you, she
takes women through a journey of epic dreaming, and arms them with the tools to
make those dreams a concrete reality. Thoughtfully written for the everyday
woman, Gina offers a generous roadmap to help her readers elevate the everyday,
become intimate with their intuition, and step into their most unapologetic
selves."—CaraAlwill, Bestselling author of Girl Code, master life coach, and host of theStyle Your Mind podcast

"Gina
DeVee is a true game changer. She has built a global tribe through female
empowerment with a deep desire to help others find their passion point and live
their best life. The fact she is a Queen
in an international arena and sharing with others how they can also wear this
crown will no doubt become a global phenomenon. I am proud to call her a
friend."—ToryArchbold, CEO and Founder Torstar + Powerful Steps

Tory
Archbold, CEO and Founder Torstar + Powerful Steps—SaharaRose, best-selling author and host of the #1 spiritual podcast, Highest Self

"Gina DeVee's book is
a true work of art, here to help today's woman access her feminine power and
rise into the Queen that she was always meant to be. Gina's authenticity, wit,
and wisdom make this an inspiring guide for women around the world to dream big
and make an impact... It's a must-read."—Ashley Stahl, International Career Coach and Author

"The age of the Queen is NOW and Gina has
created a life-changing book for women to step into their full queendom and
give themselves the permission to own their greatness. Gina not only empowers
everyone around her to live this magic through her programs and events but now
she is giving every woman this AMAZING book. Gina leaves you with so much joy
and empowerment from this book and showcases that the time is now for women to
not only realize their greatness but own it! This is a book that every woman on
the planet can read over and over again to remind themselves that we get to
live the abundant, powerful life of our dreams and fulfill or true calling, on
our terms. Her book, her events, and her programs are paving the way for queens
everywhere!"—Sarah Pendrick, Founder of GirlTalk Network, Empowerment advocate,Speaker and TV show host

"The Audacity to Be Queen is deep, powerful, humorous, and fabulous. If there's anyone who can inspire you to step confidently into Queendom, it's Gina DeVee. This book is a bridge to get you back into the driver's seat of your ambitious dream and become the kind of person who makes it happen. Mega praise for this work of art."—Libby Crow, Founder and Entrepreneur
Legacy Lit, 9780316458795, 336pp.
Publication Date: March 3, 2020
About the Author
GINA DEVEE is the founder of Divine Living, a multimillion-dollar lifestyle brand and women's empowerment company. She is a sought-after speaker and success coach with a master's degree in clinical psychology. She lives in Los Angeles, California, with her husband, Glenn, and her puppies, Lily and Oscar.