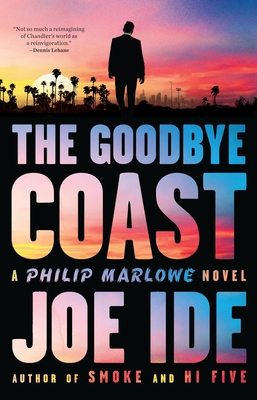 The Goodbye Coast
A Philip Marlowe Novel
Hardcover

* Individual store prices may vary.
Other Editions of This Title:
Digital Audiobook (1/31/2022)
Paperback (3/7/2023)
Compact Disc (2/1/2022)
Description
In this colorful reinvention of a classic, Philip Marlowe finds himself tangled in two missing persons cases; "Ide has chiseled off the rust while keeping the soul of one of American fiction's icons." (Dennis Lehane)

The seductive and relentless figure of Raymond Chandler's detective, Philip Marlowe, is vividly re-imagined in present-day Los Angeles. Here is a city of scheming Malibu actresses, ruthless gang members, virulent inequality, and washed-out police. Acclaimed and award-winning novelist Joe Ide imagines a Marlowe very much of our time: he's a quiet, lonely, and remarkably capable and confident private detective, though he lives beneath the shadow of his father, a once-decorated LAPD homicide detective, famous throughout the city, who's given in to drink after the death of Marlowe's mother.
 
Marlowe, against his better judgement, accepts two missing person cases, the first a daughter of a faded, tyrannical Hollywood starlet, and the second, a British child stolen from his mother by his father. At the center of The Goodbye Coast is Marlowe's troubled and confounding relationship with his father, a son who despises yet respects his dad, and a dad who's unable to hide his bitter disappointment with his grown boy. 

Steeped in the richly detailed ethnic neighborhoods of modern LA, Ide's The Goodbye Coast is a bold recreation that is viciously funny, ingeniously plotted, and surprisingly tender.
Praise For The Goodbye Coast: A Philip Marlowe Novel…
"How the hell do you write a mystery about Philip Marlowe, set it in Los Angeles, and still make it a total gobsmacking original? That's the miracle of Joe Ide's 
The Goodbye Coast
. Ide has created a Philip Marlowe for the 2020s. And an L.A. that he clearly loves and hates." —
James Patterson
"Not so much a reimagining of Chandler's world as a reinvigoration. By transplanting Philip Marlowe to 2021 LA, Joe Ide has chiseled off the rust while keeping the soul of one of American fiction's icons.
The Goodbye Coast
 is a blast from start to finish."
 —
Dennis Lehane
"Sunshine and skullduggery, movie stars and mayhem -- Joe Ide brings us a Philip Marlowe who wears our twenty-first century like a well-cut suit."—
Ian Rankin
"Raymond Chandler may have inspired him, but this Phillip Marlowe is all Joe Ide. I loved this sexy, twisted, complicated Marlowe--he's a perfect match for Ide's sexy, twisted, complicated City of Angels. What a gripping kick-ass book!"—
Rachel Howzell Hall, bestselling author of These Toxic Things and Los Angeles Times Book Prize finalist
Every character has great lines, and the descriptions alone make the story worth reading…. There is tension, violence, humor, and a bit of sadness, with romance just out of the hero's reach. This one's witty, clever, and fun, and it's worthy of the great Raymond Chandler."—
Kirkus, Starred Review
"instead of emulating Chandler's stylized first-person point of view, Ide used his trademark propulsive third-person narrative, entering the heads of multiple characters, including Marlowe's father, Emmet, an aging LAPD officer, and Cody, a client's missing teenage daughter. The prose is pure Ide, infused with whip-smart dialogue and fast-moving scenes throughout iconic Southern California hangouts."—
Naomi Hirahara
,
The OC Register
"At first I was unsure about Emmet — his character seemed so outside of my idea of Marlowe. But through him Ide offers a thoughtful look at how Marlowe might have come to be the man he is, both in Chandler's books and in this one. It's good to have him back."—
Colette Bancroft, Tampa Bay Times
"The talented Joe Ide… manifests Marlowe in the form of a present-day private investigator…. The laugh-out-loud dialogue, the vivid similes, the complicated story and the set-piece subplots are all vintage Chandler. The gripping flashbacks, the adrenaline-pumping action and the heart-piercing poignance show Mr. Ide at his best. 'The Goodbye Coast' delivers the distilled essence of both authors for the price of one."
—
Tom Nolan, The Wall Street Journal
"If you haven't yet read Joe Ide's imagining of Philip Marlowe in "The Goodbye Coast," you ought to."—
Mike Lupica, New York Daily News
"With deft precision and the knowledge of a lifelong L.A. resident, Ide effortlessly inhabits the Marlowe character. Just as Chandler before him, Ide paints a gritty picture of contemporary L.A. and its inhabitants, while also allowing the reader to understand why a character like Marlowe tries so hard to fight back against those darker forces."
 —
Seth Combs
,
San Diego Union-Tribune
"This version of Raymond Chandler's iconic PI patrols the mean streets of contemporary Los Angeles, and while he shares the original's bone-deep iconoclasm, he's distinctly his own man, complete with a rich backstory… The sleuthing here is top notch, but it's the bantering father-son interplay (evoking Jim Rockford and father Rocky in The Rockford Files) that really gives the book its zip. More Marlowe and Emmet would be most welcome." 
 —
Booklist, starred
"This is one gritty-to-the-core novel, as clever as a Sherlock Holmes tale, and a rollercoaster thrill ride the entire way through."—
Kate Ayers
,
Bookreporter
Ide (the IQ series) reimagines Raymond Chandler's hard-boiled sleuth, Philip Marlowe, as a contemporary PI… Ide's
fans will appreciate the humor and evocative descriptions of L.A
."—
Publishers Weekly
PRAISE FOR THE IQ NOVELS:
"Joe Ide's IQ novels are an electrifying combination of Holmesian mystery and SoCal grit."—
Time
"Ide is still the hottest of recently-emerged crime writers. He has populated Southern California with wildly entertaining characters, from those hinted at offstage to the motormouths whose priceless talk fills his pages."—
Janet Maslin, New York Times
"As far as I'm concerned, Joe Ide can't write them fast enough."—
Marilyn Stasio, New York Times Book Review
"Joe Ide expands the territory of L.A. noir."—
Gal Beckerman, New York Times
Mulholland Books, 9780316459273, 320pp.
Publication Date: February 1, 2022
About the Author
Joe Ide is of Japanese American descent. Growing up in South Central Los Angeles, Joe's favorite books were the Conan Doyle Sherlock Holmes stories. The idea that a person could face the world and vanquish his enemies with just his intelligence fascinated him. Joe went on to earn a graduate degree and had several careers before writing his debut novel, IQ, inspired by his early experiences and his love of Sherlock Holmes. Joe lives in Santa Monica, California.