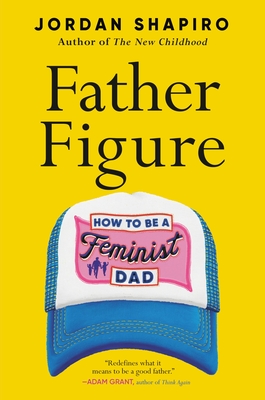 Father Figure
How to Be a Feminist Dad
Hardcover

* Individual store prices may vary.
Description
A thoughtful and "utterly mind-blowing" exploration of fatherhood and masculinity in the 21st century (New York Times). 

There are hundreds of books on parenting, and with good reason—becoming a parent is scary, difficult, and life-changing. But when it comes to books about parenting identity, rather than the nuts and bolts of raising children, nearly all are about what it's like to be a mother.

Drawing on research in sociology, economics, philosophy, gender studies, and the author's own experiences, Father Figure sets out to fill that gap. It's an exploration of the psychology of fatherhood from an archetypal perspective as well as a cultural history that challenges familiar assumptions about the origins of so-called traditional parenting roles. What paradoxes and contradictions  are inherent in our common understanding of dads? Might it be time to rethink some aspects of fatherhood?

Gender norms are changing, and old economic models are facing disruption. As a result, parenthood and family life are undergoing an existential transformation. And yet, the narratives and images of dads available to us are wholly inadequate for this transition. Victorian and Industrial Age tropes about fathers not only dominate the media, but also contour most people's lived experience. Father Figure offers a badly needed update to our collective understanding of fatherhood—and masculinity in general. It teaches dads how to embrace the joys of fathering while guiding them toward an image of manliness for the modern world.
Praise For Father Figure: How to Be a Feminist Dad…
"This book redefines what it means to be a good father. It's for anyone who dreams of a world where dads are both strong and kind—a world where children of any gender can look up to the men in their lives."—Adam Grant, author of Think Again

"Utterly mindblowing." —New York Times

"This pandemic has revealed a crisis in American caregiving. I hope Shapiro's fearless book kickstarts a woke dad revolution, because Goddess knows we need one."—Anya Kamenetz, NPR correspondent and author of The Art of Screen Time

"Father Figure is exactly the book that our family needed, and we imagine yours does too. Shapiro questions what the traditional 'dad' offers a modern household. He reminds us that feminism liberates everyone, not just women. And he offers supportive and profound suggestions for fathers. You can be a vital member of your family's journey without being a patriarchal tyrant."—Ben Lee and Ione Skye, musician, actress, partners, parents

"Holy smokes! This book is a revelation and a revolution. This is required reading for every person who is or will be a caregiver in their lifetime -- which is all of us. Father Figure is a brilliant mix of memoir, manifesto, and action. Shapiro offers us hope for a future where fatherhood is radically reimagined, and this is the road map to get us there."—Eve Rodsky, author of Fair Play

"It's about time someone addressed the role fathers play in raising feminist children, and Shapiro has nailed it. I am happy to add Father Figure to my bookshelf of essential parenting reads."—Jessica Lahey, author of The Gift of Failure and The Addiction Inoculation

"Father Figure is the rare book brave enough to approach feminism from the point of view of the people least likely to identify as feminists — straight dudes — and makes a compelling case for why we should not only be allies, but also feminists ourselves."—Michael Ian Black, Comedian, Actor, Author

"A lucid and moving articulation of how patriarchy harms men. I'm going to buy it for every dad I know. We have needed a book like this so badly."—Melissa Febos, author of Girlhood, Abandon Me, and Whip Smart

"This book heralds a revolution. Young men, fathers, grandfathers, and pretty much anyone who cares about masculinity, families, and a healthy future for us all should buy this book. I loved Father Figure and have recommended it everywhere!"—Sonora Jha, author of How to Raise a Feminist Son

"This is the kind of foreplay that us modern women really are looking for." —Brandy Ferner, author of Adult Conversation

"I'm excited about this, I want to be a feminist dad." —Maz Jobrani, Comedian, Pandemic Warrior (Peacock), Immigrant (Netflix)
Little, Brown Spark, 9780316459969, 240pp.
Publication Date: May 11, 2021
About the Author
Jordan Shapiro, PhD, is father to two children and step-father to two more. He lives in Philadelphia with his partner Amanda Steinberg. He teaches in Temple University's Intellectual Heritage Program. He's senior fellow for the Joan Ganz Cooney Center at Sesame Workshop, and nonresident fellow in the Center for Universal Education at the Brookings Institution. His previous book, The New Childhood (2018), received wide critical acclaim and has been published in 11 languages.

Follow him on twitter: @jordosh
Visit his website: www.jordanshapiro.org