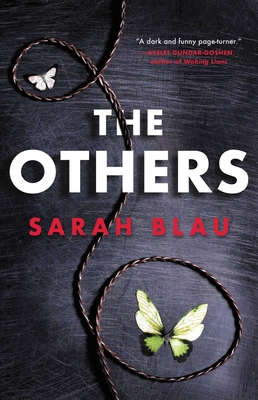 The Others
Hardcover

* Individual store prices may vary.
Other Editions of This Title:
Digital Audiobook (4/26/2021)
Digital Audiobook (4/14/2021)
Digital Audiobook (4/26/2021)
Description
A biting and propulsive thriller in which a pact made twenty years before lands one woman at the heart of a murder investigation—but is she the next victim, or the primary suspect?

"Singularly creepy." ―​New York Times Book Review

"A dark and funny page-turner." ―Ayelet Gundar-Goshen, author of Waking Lions

As soon as Sheila hears the news, she knows the police will be calling. Dina Kaminer—one of Israel's preeminent feminist scholars and Sheila's oldest friend—has been found murdered, the word "mother" carved into her forehead and a baby doll fixed to her hands.
 
For Sheila, that word is a warning. Two decades before, she and Dina had joined a group of women who swore they would never have children. Instead, they would follow the example of "The Others," women the Torah considered childless, but they saw as willingly child-free. Sheila has upheld her vow year after year, even as her friendship with Dina fell apart. But now, as more women turn up dead, each transformed into a mother against her will, Sheila must decide if she's made the right choice . . . and who might want to make her pay the ultimate price.
 
An instant international bestseller with shades of The Perfect Nanny and My Sister, the Serial Killer, The Others is a dark, witty, and riveting psychological thriller.
 
Praise For The Others…
"Singularly creepy . . .  Blau, an award-winning playwright in Israel, wades bravely . . . into issues of sex, religion and aging. The mystery is absorbing, but so is the passionate debate over how the world views women who decide not to have children — and how they view themselves."
 —Sarah Lyall, New York Times Book Review

"The Others had me hooked from page one. A riveting thriller that made me squirm, laugh, and think, often all at once, this book makes us question everything we thought we knew about women, not to mention the Bible, even as we race to find out what happens. Sarah Blau has written a novel as smart as it is scintillating. I adored it."—Anna Solomon, author of The Book of V.

"A dark and funny page-turner."—Ayelet Gundar-Goshen, author of Waking Lions

"Fascinating . . . A compelling and often disturbing narrative. Is Sheila the culprit, the next victim or some combination thereof? The Others will keep readers guessing as it considers the damaging effects of societal pressure, unresolved resentment, and lingering guilt."—BookPage

"Brashly original . . . The twisty, often sardonic narrative shifts neatly between the ongoing investigation and secrets of the women's emotionally fraught past. Blau offers a revealing glimpse into a world not often seen outside her homeland."—Publishers Weekly

"Steeped in the stories of the bible, this razor-sharp thriller combines propulsive narrative with subtle, insightful commentary on identity, gender roles and the different ways we contend with loss. Engrossing and thought-provoking, with a strong sense of place and a set of complex, unforgettable characters, The Others will live with you long after putting the book down."—Daniela Petrova, author of Her Daughter's Mother

"A fast-paced thriller that wres­tles with nuanced ques­tions of fem­i­nin­i­ty in rela­tion to Judaism, aging, and motherhood…Blau's writ­ing is stark and evoca­tive – every word feels inten­tion­al and care­ful­ly cho­sen. At once tense and ten­der, this nov­el isn't afraid to embrace the nuance of its com­plex cen­tral ques­tions . . . an excel­lent­ly craft­ed nar­ra­tive, with a pay­off that is both sat­is­fy­ing and haunting."—Jewish Book Council

"The story is deeply rooted in, and frequently references, childless Biblical women . . . Blau's depictions of the envy that festers between the friends are darkly engaging."

 —Kirkus Reviews

"A daring, darkly-alluring psychological thriller, undoing one of the very foundations of Jewish and Israeli culture, the myth of motherhood. Sarah Blau's subversive and original voice resonates through every line of The Others, placing her in the front row of contemporary Israeli literature." —Ruby Namdar, author of The Ruined House

"Wickedly entertaining with an undercurrent of poignant insight, The Others is unlike anything else you'll read this year. It uses the twisted trappings of its genre to deftly examine questions of choice, culpability and motherhood in ways both unique and unpredictable. Don't miss it."  —Gabriel Bergmoser, author of The Hunted

"The Others is a meaningful and original take on one of the most emotionally charged and complex issues in society - the expectation for women to bear children. Filled with tension and thrill and pitch-perfect characters, this is a convincing and enviable mystery."—Assaf Gavron, author of The Hilltop

PRAISE FROM ISRAEL:
"So witty, eloquent and riveting you want to lock your door while reading it."—Haaretz

"The Others has the makings of a hit... It's both fun and intelligent, with neither coming at the expense of the other." —Morning Show, Tel Aviv Radio

"Blau does not write delicately, but rather blows up the place with thunder and fireworks."—Hagar Yanai, Galei Tzahal radio
Mulholland Books, 9780316460873, 240pp.
Publication Date: April 27, 2021
About the Author
Sarah Blau (b. 1973) is an author and playwright, recipient of the 2015 Prime Minister's Prize for Hebrew Literature, and the 2017 Bar-Ilan University Alumni Achievement Award in recognition of her contribution to enriching culture in Israel and her activity in the fields of literature and communication. Considered a prominent voice in religious Israeli literature, she identifies herself as "religious-lite."