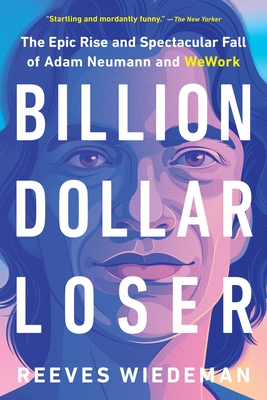 Billion Dollar Loser
The Epic Rise and Spectacular Fall of Adam Neumann and WeWork
Paperback

* Individual store prices may vary.
Other Editions of This Title:
Digital Audiobook (10/19/2020)
Compact Disc (10/20/2020)
Hardcover (10/20/2020)
Description
A Wall Street Journal Business Bestseller: This "vivid" inside story of WeWork and its CEO tells the remarkable saga of one of the most audacious, and improbable, rises and falls in American business history (Ken Auletta).

Christened a potential savior of Silicon Valley's startup culture, Adam Neumann was set to take WeWork, his office share company disrupting the commercial real estate market, public, cash out on the company's forty-seven billion dollar valuation, and break the string of major startups unable to deliver to shareholders. But as employees knew, and investors soon found out, WeWork's capital was built on promises that the company was more than a real estate purveyor, that in fact it was a transformational technology company.
Veteran journalist Reeves Weideman dives deep into WeWork and it CEO's astronomical rise, from the marijuana and tequila-filled board rooms to cult-like company summer camps and consciousness-raising with Anthony Kiedis. Billion Dollar Loser is a character-driven business narrative that captures, through the fascinating psyche of a billionaire founder and his wife and co-founder, the slippery state of global capitalism. 
A Wall Street Journal Business Bestseller 
"Vivid, carefully reported drama that readers will gulp down as if it were a fast-paced novel" (Ken Auletta) 
Praise For Billion Dollar Loser: The Epic Rise and Spectacular Fall of Adam Neumann and WeWork…
The New York Times Bestseller- Editor's Choice/Staff Picks from the Book Review

"Billion Dollar Loser would be absorbing enough if it were just one man's grandiosity, but Wiedeman has a larger argument to make about what Neumann represents."—Jennifer Szalai, New York Times

"Startling and mordantly funny . . . Wiedeman approaches his subject with a wealth of documentation and a deadpan incredulity at the absurdity of Neumann's actions and ambitions." —New Yorker

"Wiedeman's finest feat of reporting and double portraiture is his evocation of Neumann's relationship with his financial savior (for a time) Masayoshi Son. . . to delve any further into their relationship would be to give away the plot of "Billion Dollar Loser," which, like the most engrossing nonfiction stories, has a plot indeed, one that only reality could contrive." —New York Times Book Review, Editors Choice

"A frisky dissection of how a rickety real-estate leasing company tricked the world into seeing it as an immensely valuable, society-shifting tech unicorn....Wiedeman arranges the absurd details of their high lives in the C-suite into a pointillist portrait of wild hubris. "—Wired

"When life transcends art, tell it straight. That's what Reeves Wiedeman, a New York contributing editor since 2016, has done with Billion Dollar Loser, the propulsive tale of WeWork's, and Neumann's, rise and fall."—The Atlantic

"A rollicking Hyperloop of a ride."—San Francisco Chronicle

"Billion Dollar Loser, a new book by journalist Reeves Wiedeman, assembles a definitive chronology of a company doomed not by one bad business strategy—or even Neumann's outsize ego—but by the rot of a postrecession economy that nurtured a certain flavor of investor-class mania. Particularly after the 2020 Covid pandemic and a new economic recession, WeWork's nightmarish if relatively short-lived reign hints at what one future nihilistic phase of capitalism could look like if market-fueled economic inequality is allowed to continue to grow unchecked."—New Republic

"Wild and well-researched"—Fortune

"An impressively reported and fast-moving tale of Neumann and WeWork's co-working house of cards...Wiedeman does a wonderful job uncovering the strange, surreal details that reveal what it was like to be in Neumann's orbit."—Pitchbook
Back Bay Books, 9780316461337, 304pp.
Publication Date: July 6, 2021
About the Author
Reeves Wiedeman is a contributing editor at New York magazine, and has written for the New Yorker, the New York Times Magazine, Rolling Stone, Harper's, Men's Journal, and other publications. He lives in Brooklyn but still calls Kansas City home.