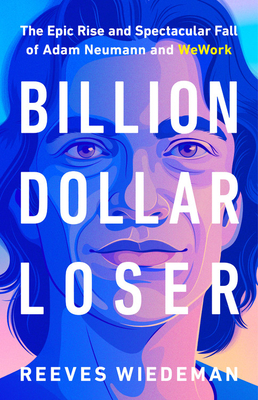 Billion Dollar Loser
The Epic Rise and Spectacular Fall of Adam Neumann and WeWork
Hardcover

* Individual store prices may vary.
Other Editions of This Title:
Digital Audiobook (10/19/2020)
Paperback (7/6/2021)
Compact Disc (10/20/2020)
Description
A Wall Street Journal Business Bestseller 

"Vivid, carefully reported drama that readers will gulp down as if it were a fast-paced novel" (Ken Auletta) 

The inside story of WeWork and its CEO, Adam Neumann, which tells the remarkable saga of one of the most audacious, and improbable, rises and falls in American business history
  
In its earliest days, WeWork promised the impossible: to make the American work place cool. Adam Neumann, an immigrant determined to make his fortune in the United States, landed on the idea of repurposing surplus New York office space for the burgeoning freelance class. Over the course of ten years, WeWork attracted billions of dollars from some of the most sought-after investors in the world, while spending it to build a global real estate empire that he insisted was much more than that: an organization that aspired to nothing less than "elevating the world's consciousness."

Moving between New York real estate, Silicon Valley venture capital, and the very specific force field of spirituality and ambition erected by Adam Neumann himself, Billion Dollar Loser lays bare the internal drama inside WeWork. Based on more than two hundred interviews, this book chronicles the breakneck speed at which WeWork's CEO built and grew his company along with Neumann's relationship to a world of investors, including Masayoshi Son of Softbank, who fueled its chaotic expansion into everything from apartment buildings to elementary schools.
 
Culminating in a day-by-day account of the five weeks leading up to WeWork's botched IPO and Neumann's dramatic ouster, Wiedeman exposes the story of the company's desperate attempt to secure the funding it needed in the final moments of a decade defined by excess. Billion Dollar Loser is the first book to indelibly capture the highly leveraged, all-blue-sky world of American business in President Trump's first term, and also offers a sober reckoning with its fallout as a new era begins.
 
Praise For Billion Dollar Loser: The Epic Rise and Spectacular Fall of Adam Neumann and WeWork…
New York Times' Editors' Choice
Wired's Books to Read This Fall
Bloomberg's Nonfiction Title to Know this Fall
Newsweek's Must Read Fall Nonfiction
Publishers Weekly Top Ten for Business & Economics
InsideHook's Best Books for October 
"Billion Dollar Loser would be absorbing enough if it were just one man's grandiosity, but Wiedeman has a larger argument to make about what Neumann represents."
Jennifer Szalai, New York Times
"Wiedeman's finest feat of reporting and double portraiture is his evocation of Neumann's relationship with his financial savior (for a time) Masayoshi Son. . . to delve any further into their relationship would be to give away the plot of "Billion Dollar Loser," which, like the most engrossing nonfiction stories, has a plot indeed, one that only reality could contrive." 
 
New York Times Book Review, Editors Choice
"A frisky dissection of how a rickety real-estate leasing company tricked the world into seeing it as an immensely valuable, society-shifting tech unicorn....Wiedeman arranges the absurd details of their high lives in the C-suite into a pointillist portrait of wild hubris. "
Wired
"When life transcends art, tell it straight. That's what Reeves Wiedeman, a New York contributing editor since 2016, has done with Billion Dollar Loser, the propulsive tale of WeWork's, and Neumann's, rise and fall."
The Atlantic
"A rollicking Hyperloop of a ride."
San Francisco Chronicle
"An impressively reported and fast-moving tale of Neumann and WeWork's co-working house of cards...Wiedeman does a wonderful job uncovering the strange, surreal details that reveal what it was like to be in Neumann's orbit."
Pitchbook
"Wiedeman debuts with a thrilling page-turner. . . . What lifts this book to excellence is Wiedeman's ease at presenting a complex business saga both understandably and entertainingly. Readers will feel like they are in the room with Neumann and his beleaguered colleagues during every twist and turn of this fascinating corporate train wreck."
Publishers Weekly, Starred review
"Move over Theranos, there's a new fallen unicorn in town. Wiedeman deftly takes us inside the much-hyped WeWork and its once venerated founder to find out what really happened—and what really went wrong."
Newsweek
"In the distant future, when historians recall the geyser of cash that banks and venture capitalists directed to Silicon Valley, they will almost certainly use the catastrophic collapse of WeWork as a cautionary tale." 
Bloomberg
"A swift, tragicomic saga of idealism, avarice, and unfettered ambition—as illuminating about WeWork as the past decade of venture-funded grandiosity, and an excellent case study in the power of branding. Reeves Wiedeman has a talent for the artfully deployed, jaw-dropping detail; there seems to be one on every page. Reading this book gave me the sensation of visiting a Potemkin village after a storm: wires dangling, trompe l'oeil flats at a tilt. Batshit, unsettling, and wholly satisfying."
Anna Wiener, author of Uncanny Valley
"Adam Neumann thought he was the next Steve Jobs. In a vivid, carefully reported drama that readers will gulp down as if it were a fast-paced novel, Reeves Wiedeman follows the charismatic Neumann as he climbs to the mountaintop, then falls off, leaving readers to ponder whether he was a charlatan or a believer, or both, and ponder what this tale teaches about those who blindly followed WeWork up the mountain."
Ken Auletta
Little, Brown and Company, 9780316461368, 352pp.
Publication Date: October 20, 2020
About the Author
Reeves Wiedeman is a contributing editor at New York magazine, and has written for the New Yorker, the New York Times Magazine, Rolling Stone, Harper's, and other publications. 
or
Not Currently Available for Direct Purchase