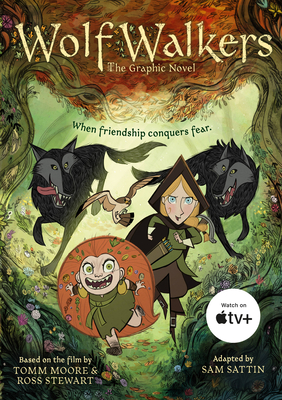 WolfWalkers
The Graphic Novel
Hardcover

* Individual store prices may vary.
Other Editions of This Title:
Paperback (12/1/2020)
Description
An enchanting graphic novel about a feud, a friendship, and two girls forever changed. Based on the beautifully hand-crafted animated adventure, WolfWalkers, this graphic novel features an introduction and exclusive original art from film cocreator Tomm Moore and co-Art Director Maria Pareja. Watch the stunning film available on Apple TV+ now.

On the orders of the Lord Protector, Robyn Goodfellowe and her father come to Kilkenny, Ireland, to wipe out the last of the wolves, deemed dangerous beasts, that live in the neighboring forest. Robyn, unable to hunt with her father and sick of being confined within the city walls, decides to sneak out, only to get caught.

She's saved by Mebh, a wild girl who lives among the wolves. Mebh and her mother are leading the pack somewhere far away from Kilkenny and the "townies" who threaten them. Mebh introduces Robyn to her way of life, and the two quickly bond over the freedoms of the forest.

Robyn soon discovers WolfWalkers, people who can communicate with and turn into wolves. After learning that they aren't to be feared, Robyn decides she must protect Mebh and her pack. But as the lives of the townies and the wolves collide, Robyn's relationship with her father comes to a head when she's transformed into the very thing he is tasked to destroy.

This graphic novel makes a great gift for readers of all ages and includes a special introduction, written and illustrated by film cocreator, Tomm Moore, and co-Art Director, Maria Pareja.

WolfWalkers is created by Cartoon Saloon, the award-winning Irish studio behind some of the industry's most renowned animated films including Song of the Sea and The Secret of Kells.

Praise for WolfWalkers:
"Lovely to behold." -- The New York Times
"A visually dazzling, richly imaginative, emotionally resonant production...." -- The Hollywood Reporter
"Kids need movies like this that respect their intelligence, center strong female characters and question policies of blind obedience.... [Moore] brings everything together...leaving audiences with another stunning artwork for the ages" -- Variety
"Enchanting...intoxicating." -- The LA TImes
"Offers an alternative vision of what popular art for children might be." -- The New Yorker
"Likely to captivate viewers young and old." -- WSJ
"It's glorious, gorgeous, and more than a little profound." -- Vulture
This title will be simultaneously available in paperback.
© 2020 Wolfwalkers
Praise For WolfWalkers: The Graphic Novel…
"Sattin's adaptation is a visual delight, with largely wordless action sequences filled with fast, edge-of-your-seat pacing culminating in a message stressing the importance of tolerance and empathy. Robyn and Mebh's friendship comes alive through the panels, making this a strong female-driven alternate history set in a time where girls had few choices…. A sweet and compelling friendship story."—Kirkus
Little, Brown Books for Young Readers, 9780316461788, 272pp.
Publication Date: December 1, 2020
About the Author
Samuel Sattin is a writer and coffee addict. He is the words behind the Glint trilogy, Bezkamp, Legend, and The Silent End. His work has appeared or been featured in the Nib, the Atlantic, NPR, and elsewhere. He holds an MFA in Comics from California College of the Arts and has a creative writing MFA from Mills College. Residing in Oakland, California, he sometimes teaches at the California College of the Arts and lives with his wife/assassin and two cats.