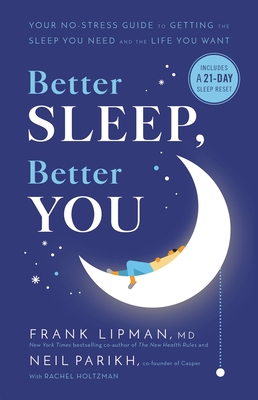 Better Sleep, Better You
Your No-Stress Guide for Getting the Sleep You Need and the Life You Want
Hardcover

* Individual store prices may vary.
Other Editions of This Title:
Digital Audiobook (4/12/2021)
Compact Disc (4/13/2021)
Compact Disc (4/13/2021)
Description
Sleep is the most important part of anyone's journey to a healthy and happy life, and with this book you can learn how to fix your sleep schedule and recover precious hours of relaxation.

If you're like most people, odds are you aren't getting enough sleep. Thanks to shifts in our culture America is in the midst of an epidemic of sleeplessness, and unfortunately, sleep deprivation has bigger consequences than one might think, ranging from irritability, brain fog, and weight gain to serious conditions like hormone dysregulation, heart disease, memory impairment, diabetes, and Alzheimer's.

In Better Sleep, Better You, functional medicine pioneer and sleep expert Frank Lipman, MD, and Casper co-founder Neil Parikh team up to offer a one-stop resource to help you reap the benefits of sleeping well every night. Unlike the dozens of articles offering a "quick fix" for insomnia, Lipman and Parikh understand that there's no such thing as a one-sleep-fits-all solution. By clearly explaining the latest developments in sleep science and all the factors that affect your sleep—including when and how you eat and exercise, how you handle stress, how you nap, and how you engage with technology—Better Sleep, Better You helps readers create a personalized sleep protocol that works for their lifestyle and needs.

Packed with fascinating science, engaging case studies, and easy-to-implement practical advice, Better Sleep, Better You provides everything you need to optimize your sleep, productivity, and happiness—for life.
Praise For Better Sleep, Better You: Your No-Stress Guide for Getting the Sleep You Need and the Life You Want…
"Better Sleep, Better You. The title says it all. There is no contributor to our health and vitality that has traditionally been as undervalued as restorative sleep. But sleep is top tier in terms of influencing our health destiny. Dr. Lipman and Mr. Parikh have done a magnificent job presenting not only the absolute fundamental role of restorative sleep in supporting virtually every aspect of our physiology, but in addition, they grace us with the tools to derive the most from our sleep experience."
 —David Perlmutter, MD, New York Times bestselling author of Grain Brain, and Brain Wash

"Sleep is one of the most important ingredients for long term health and vitality, but it is all too often overlooked, sacrificed, and deprioritized. With practical advice drawn from cutting-edge sleep science, Better Sleep, Better You is the perfect roadmap to getting your nighttime routine back on track."—Mark Hyman, MD, New York Times bestselling author of Food Fix

"Sleep is the foundation of every aspect of our health and well-being. Dr. Frank Lipman and Neil Parikh provide both an accessible roadmap for getting our best sleep and a breakdown of the latest science and advances in technology to allow everyone to experience the transformative power of truly restorative sleep. This book will not only change your nights but your life."
 —Arianna Huffington, Founder & CEO, Thrive Global

"Dr. Frank Lipman is one of the luminaries of holistic practices, and I am thrilled to see his thoughts on sleep. Neil Parikh has a passion for sleep which is why his company, Casper, has been so disruptive in the space. A fun, easy read that I will be recommending to all of my patients."—Michael Breus, MD, author of The Power of When
Little, Brown Spark, 9780316462129, 256pp.
Publication Date: April 13, 2021
About the Author
Frank Lipman, MD is a pioneer and internationally recognized expert in the fields of Integrative and Functional Medicine, as well as the founder and director of Eleven Eleven Wellness Center in New York City, one of the best-known Integrative medicine centers in the country. Frank is a New York Times bestselling author who is dedicated to simplifying a whole-systems approach to optimal health for today's reader. His most recent books, The New Health Rules and How to Be Well, broke the mold of health books by offering a dynamic and user-friendly guide to building better health one step at a time. It succeeded in reaching beyond the health-book audience and into a broad, general public, perfectly setting the stage for Sleep Well.

Neil Parikh is the Co-founder and Chief Strategy Officer at Casper, the world's first sleep brand that dominates global e-commerce in addition to having twenty Sleep Shops across North America and selling at retailers such as Target and Hudson's Bay. Casper has sold mattresses to more than a million consumers, with sales topping $400 million in 2018. This year, Casper officially joined the unicorn club, with a valuation exceeding $1 billion. As the son of a sleep doctor, Neil has been perfectly positioned to bridge the gap between the science of sleep and the realities of the sleep industry. He was accepted to medical school at seventeen, worked on robotics at NASA (where he co-authored three patents), and in 2014 launched Casper.