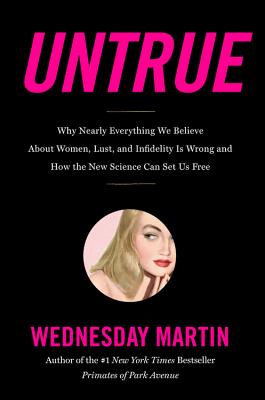 Untrue
Why Nearly Everything We Believe About Women, Lust, and Infidelity Is Wrong and How the New Science Can Set Us Free
Hardcover

* Individual store prices may vary.
Other Editions of This Title:
Digital Audiobook (9/17/2018)
Paperback (9/17/2019)
CD-Audio (9/18/2018)
Description
From the #1 New York Times bestselling author of Primates of Park Avenue, a bold, timely reconsideration of female infidelity that will upend everything you thought you knew about women and sex.

What do straight, married female revelers at an all-women's sex club in LA have in common with nomadic pastoralists in Namibia who bear children by men not their husbands? Like women worldwide, they crave sexual variety, novelty, and excitement.

In ancient Greek tragedies, Netflix series, tabloids and pop songs, we've long portrayed such cheating women as dangerous and damaged. We love to hate women who are untrue. But who are they really? And why, in this age of female empowerment, do we continue to judge them so harshly?

In Untrue, feminist author and cultural critic Wednesday Martin takes us on a bold, fascinating journey to reveal the unexpected evolutionary legacy and social realities that drive female faithlessness, while laying bare our motivations to contain women who step out.

Blending accessible social science and interviews with sex researchers, anthropologists, and real women from all walks of life, Untrue challenges our deepest assumptions about ourselves, monogamy, and the women we think we know. From recent data suggesting women may struggle more than men with sexual exclusivity to the revolutionary idea that females of many species evolved to be "promiscuous" to Martin's trenchant assertion that female sexual autonomy is the ultimate metric of gender equality, Untrue will change the way you think about women and sex forever.
Praise For Untrue: Why Nearly Everything We Believe About Women, Lust, and Infidelity Is Wrong and How the New Science Can Set Us Free…
"[An] eminently readable treatise on the lies society has been fed about female sexuality, agency, and infidelity. With each chapter, Martin builds a case for the primacy of female infidelity and for a societal reckoning with that truth. Step by step, she shows that she's thought deeply about her subject, and that all of these seemingly disparate intellectual threads are related and worthy of having been braided together. The sui generis quality of Untrue is the author's forte."
—
Deb Copaken, The Atlantic
"Scientifically literate and sexually cliterate...an exuberant unfettering of female sexuality that challenges us to 'think outside her box.' Viva la Vulva!"
—
Ian Kerner, sex therapist and author of She Comes First
"A simultaneously frothy and substantive tour of female sexual desire...An indispensable work of popular psychology and sociology."
—
Kirkus (Starred Review)
"At times playful, the narrative teems with fascinating commentary about everything from bonobos and paleolithic gender roles to Craigslist ads, as Martin examines how female sexuality continues to be shaped and stigmatized by artificial social constructions, sociopolitical values, and economics, all under the guise of 'natural' female biology and desire. A timely take on femininity and sexuality."
—
Emily Bowles, Library Journal (Starred Review)
"Combining Barbara Ehrenreich's immersive reporting style and Carrie Bradshaw's savoir faire, [Wednesday Martin] dispels many myths about female desire."
—
O, The Oprah Magazine
For centuries, men have been telling the story of female sexuality. Unsurprisingly, it was riddled with condescension, bias, and sheer ignorance. With
Untrue
, Wednesday Martin sets the record straight, shining a light on some of the female researchers reshaping our understanding of what turns women on, and why. This is an important story, beautifully told. Highly recommended."—
Christoper Ryan, coauthor of Sex at Dawn
If you have ever felt different, other, or just weird when it comes to love, sex, or intimacy, read
Untrue
. In it, Wednesday Martin bulldozes the sexual stereotypes that have silenced and constrained us for centuries, bringing the voices of women who love in a range of ways to the surface. Dazzling."—
Rachel Simmons, co-founder of Girls Leadership and author of Enough as She Is Odd Girl Out
"Wednesday Martin understands female sexuality -- from the #MeToo movement and polyamory to women's prehistoric and cultural heritage. She goes far beyond our current psychological understanding of women's infidelity to tell the real story of women's ubiquitous, tenacious, and primordial sexual strategies. And her writing is not only informative, timely, and refreshing but wonderfully engaging. Brava, Wednesday."
—
Helen Fisher, author of The First Sex and Why We Love
Little, Brown Spark, 9780316463614, 320pp.
Publication Date: September 18, 2018
About the Author
Wednesday Martin, PhD, has worked as writer and cultural critic in New York City for more than two decades. The author of Stepmonster and #1 New York Times bestseller Primates of Park Avenue, she has written for the New York Times, The Atlantic, The Daily Beast, The Hollywood Reporter, Harper's Bazaar, The Times (London) and the Daily Telegraph. She has appeared on Good Morning America, Today, CNN, NPR, NBC News, and the BBC Newshour. Martin received her PhD from Yale University and lives in New York City with her husband and their two sons.