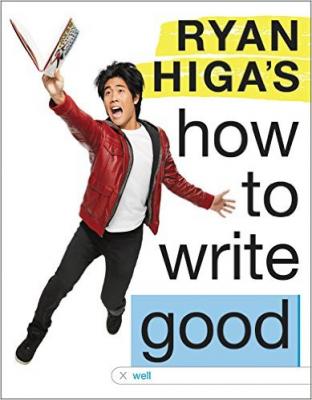 Ryan Higa's How to Write Good
Hardcover

* Individual store prices may vary.
Description
An unconventional, irreverent, yet heartfelt memoir by Ryan Higa, one of the top creators on YouTube. With pictures! And illustrations! And, y'know, words.

I know you're used to seeing me on the Internet, but here I am, coming at you in book form. You might be asking yourself, A Book? You? Why?

Great question! Why did I write a book?

Listen, I'm as surprised about it as you are. But I have a story to tell that I believe will help inspire people who are going through tough times to not only persevere through those tough times but to excel in them. And I couldn't be the only YouTuber without a book, could I?

So, welcome to Ryan Higa's How to Write Good, by me, Ryan Higa.

This is the story of how I went from being a relatively happy kid to being depressed and angry and filled with dark thoughts. This is the story of how I thought I had only one way out of this cruel world. This is the story of how I found a better way.

But wait, there's more! You're not only getting my story but you'll also learn how to write good--I mean well--from a college dropout who struggled in basic-level English classes and still became a legit, published Best Sailing Author. (That wasn't a typo. I plan to buy a boat one day...but probably not anytime soon. This book might not cell good.)
Little, Brown Books for Young Readers, 9780316464079, 208pp.
Publication Date: May 30, 2017
About the Author
Ryan Higa is a YouTube celebrity, actor, comedian, and producer. He got started on YouTube while uploading videos as a teenager growing up in Hawaii back in 2006, and he's been doing it ever since. Ryan has over 19 million subscribers to his nigahiga channel, and has held the coveted 'Most Subscribed to Channel on YouTube' spot multiple times. His "Draw My Life" video, which inspired the idea for his book, has had over 30 million views since being posted three years ago. While he no longer lives in Hawaii, Ryan continues to produce weekly videos from his home in Las Vegas, NV.
or
Not Currently Available for Direct Purchase