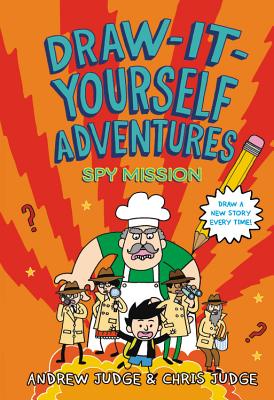 Draw-It-Yourself Adventures: Spy Mission (Hardcover)
Spy Mission
Little, Brown Books for Young Readers, 9780316464222, 144pp.
Publication Date: July 18, 2017
Description
Welcome to Doodletown, where readers create the story
When someone steals Mr. Dozen's muffin recipe, readers join superspy Ethan Doodle to solve the crime.
First, assemble your spy kit Draw yourself goggles and a fake mustache. Now trick out your spy bike with a rocket booster, lasers, and wings WAIT Which door did the suspect go through? Each one takes you to a different page....
Readers can sketch, doodle, and draw their way through the story with different options for arriving at the conclusion. And when they're finished, it's easy to go back to the beginning and create a whole new spy mission
From author Andrew Judge and his brother Chris Judge, illustrator of the Danger Is Everywhere series, comes a brand-new hybrid chapter book series full of fun prompts and silly jokes that are sure to entertain kids and have them reaching for the next book.
About the Author
Andrew Judge has written and illustrated countless short stories and comics with his brother, Chris, including regular features for the arts and culture magazines Mongrel and Totally Dublin. He lives and works as an architect in Ireland.Chris Judge is the award-winning author and illustrator of the picture books The Lonely Beast and Tin and the illustrator of Danger Is Everywhere and Danger Is Still Everywhere with comedian David O'Doherty. Chris's work has been featured in advertising, newspapers, magazines, and exhibitions in the United Kingdom and Ireland.
Advertisement