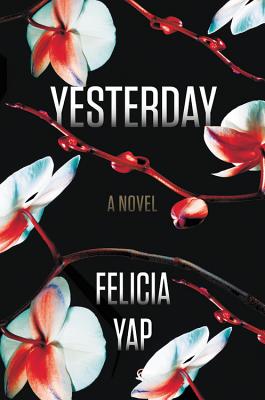 Yesterday
Hardcover

* Individual store prices may vary.
Other Editions of This Title:
Digital Audiobook (7/31/2017)
Compact Disc (8/1/2017)
Description
How do you solve a murder when you can only remember yesterday?

Imagine a world in which classes are divided not by wealth or religion but by how much each group can remember. Monos, the majority, have only one day's worth of memory; elite Duos have two. In this stratified society, where Monos are excluded from holding high office and demanding jobs, Claire and Mark are a rare mixed marriage. Clare is a conscientious Mono housewife, Mark a novelist-turned-politician Duo on the rise. They are a shining example of a new vision of tolerance and equality-until...

A beautiful woman is found dead, her body dumped in England's River Cam. The woman is Mark's mistress, and he is the prime suspect in her murder. The detective investigating the case has secrets of his own. So did the victim. And when both the investigator's and the suspect's memories are constantly erased -- how can anyone learn the truth?

Told from four different perspectives, that of Mark, Claire, the detective on the case, and the victim -- Felicia Yap's staggeringly inventive debut leads us on a race against an ever-resetting clock to find the killer. With the science-fiction world-building of Philip K. Dick and the twisted ingenuity of Memento, Yesterday is a thriller you'll never forget.
Praise For Yesterday…
"To tantalizing degrees, Yap reinvents the unreliable narrator by ingeniously weaving together true, imagined and fabricated back stories."—Lloyd Sachs, Chicago Tribune

"If you're into salacious plots, clever twists, and a mysterious murder, search no more."—Marie Claire

"Suspenseful, thought-provoking and uniquely relevant as it explores the pliability of memory, fidelity and factuality"—Family Circle

"Yap is a smart, swift plotter. . . . Remember her name."—Moira Macdonald, Seattle Times

"In Yesterday, Felicia Yap's intricate and mind-bending debut, there's murder with malice aforethought afoot and an ambitious, chess-obsessed detective on the case. But in Yap's imagined world, unusual challenges abound... In a novel with not one but four unreliable narrators at its core, you pretty much just have to strap in and go along for the bumpalicious ride."—Daneet Steffans, Seattle Review of Books

"The thriller of the summer"—The Guardian [UK]

"[An] ingenious debut...Yap fully exploits her provocative premise."—Publishers Weekly [starred review]

"First novelist Yap has built an immersive, compelling, and terrifying world where the only truth people know is what they choose to tell themselves. For readers seeking a new spin on the unreliable narrator or fans of stories of self-deception such as Dan Chaon's Ill Will or E. Lockhart's We Were Liars."—Library Journal (starred review)

"Yap is venturing into new genre territory--dare I call it a neuro-sci-fi thriller? An ambitious and fascinating twist on the throwback detective story, where we can't guess who is the killer and who is the victim...and memory itself is on trial."—Sandra Block, author of Little Black Lies

"A compelling debut... The piecing together of disparate memories and the surprise ending to this speculative fiction world will thrill mystery fans."—Booklist

"Makes us think differently, and more deeply, about ourselves from the world we live in... it's a twisty, well-plotted thriller and an exploration of memory itself."—Omnivoracious

"At once a high-concept thriller with a sci-fi premise and an old-school noir, Felicia Yap's Yesterday is a tasty, satisfyingly grounded blend. A rich, rewarding debut that shows the ways that memory can betray us as painfully--and perhaps as inevitably--as those we love."—Andrew Pyper, bestselling author of The Demonologist

"An intriguing, fast-paced thriller that captivated me right from the start."—Kate Rhodes, author of Crossbones Yard

"Hypnotic and haunting, Yesterday confidently blends suspense, noir, and science fiction to construct a truly original, breathtaking story. Felicia Yap's debut is a work of genius."—Hilary Davidson, author of Blood Always Tells

"Never has psychological crime fiction been so original, so witty and so inventive. This is an absolute firecracker of a read. I haven't enjoyed a debut this much in ages."—William Shaw, author of The Birdwatcher

"Felicia Yap takes a unique premise and rockets through this year's most clever storyline. Spectacular twists, characters as distinct as they are compelling, and a resolution absolutely no one will have seen coming make Yesterday propulsive read. Memory loss has never been so fun."—Michael Cooper, author of Clawback

"A great murder mystery with a unique and unsettling twist. This book delighted and confounded me in equal measure!"—James Oswald, author of Natural Causes

"This was an amazing book, very original and despite challenging the reader's suspension of disbelief it drew me in very quickly. Terrific to find a book that can be classed as a crime thriller yet stand out from the crowd."—Alex Gray, author of The Bird That Did Not Sing
Mulholland Books, 9780316465250, 400pp.
Publication Date: August 1, 2017
About the Author
Felicia Yap grew up in Kuala Lumpur. She read biochemistry at Imperial College London, followed by a doctorate in history at Cambridge University. She has written for The Economist and the Business Times. She has also been a radioactive-cell biologist, a war historian, a Cambridge lecturer, a technology journalist, a theater critic, a flea-market trader, and a catwalk model. Felicia lives in London and is a recent graduate of the Faber Academy's novel-writing program.
or
Not Currently Available for Direct Purchase