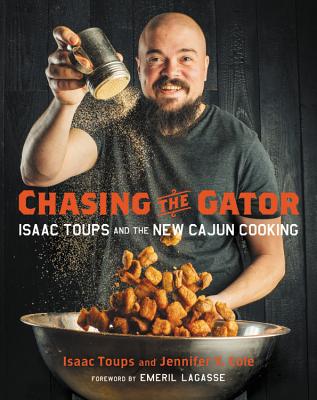 Chasing the Gator
Isaac Toups and the New Cajun Cooking
Hardcover

* Individual store prices may vary.
Description
A badass modern Cajun cookbook from Top Chef fan favorite Isaac Toups and acclaimed journalist Jennifer V. Cole, featuring 100 full-flavor stories and recipes.

Things get a little salty down in the bayou...

Cajun country is the last bastion of true American regional cooking, and no one knows it better than Isaac Toups. Now the chef of the acclaimed Toups' Meatery and Toups South in New Orleans, he grew up deep in the Atchafalaya Basin of Louisiana, where his ancestors settled 300 years ago. There, hunting and fishing trips provide the ingredients for communal gatherings, and these shrimp and crawfish boils, whole-hog boucheries, fish frys, and backyard cookouts -- form the backbone of this book.

Taking readers from the backcountry to the bayou, Toups shows how to make:

A damn fine gumbo, boudin, dirty rice, crabcakes, and cochon de lait His signature double-cut pork chop and the Toups Burger And more authentic Cajun specialties like Hopper Stew and Louisiana Ditch Chicken.

Along the way, he tells you how to engineer an on-the-fly barbecue pit, stir up a dark roux in only 15 minutes, and apply Cajun ingenuity to just about everything.

Full of salty stories, a few tall tales, and more than 100 recipes that double down on flavor, Chasing the Gator shows how -- and what it means -- to cook Cajun food today.
Praise For Chasing the Gator: Isaac Toups and the New Cajun Cooking…
One of the Best Books of the Year: Garden & Gun, Boston Globe, Southern Living, Philadelphia Inquirer

Toups "shares his recipes so casually, it's as if he were telling you how to make duck gumbo over beers in a hunting blind...his 'new Cajun' approach refers to the ways you can adapt his recipes for the modern table... Empowering for a cook who loves Cajun flavors."—New York Times

"Takes the reader on a wild ride with plenty of incredible food along the way, including dirty rice, boudin, and Louisiana Ditch Chicken... hilarious, opinionated, and a little salty... a fun read."—Southern Living

"A meaty tour of regional cooking from a New Orleans favorite... the sharp-tongued chef's first book blends classics and new creations."—Eater

"A rowdy valentine to Toups' Cajun heritage... he wants every meal to be a celebration, the kind that yields you a hangover from the food... Toups lovingly covers the Cajun standards--boudin, gumbo, dirty rice, Boudreaux and Thibodeaux jokes--but it's a brash, wild love, full of bliss and vinegar."—Garden & Gun

"A rowdy, roux-thickened journey into the rich and rustic [Cajun] culture... from the salty prose to the compelling recipes to the stunning photographs by Denny Culbert, Chasing the Gator is a riveting reminder that if what you know about Louisiana cuisine is limited to the tourist-packed restaurants of New Orleans, you've barely scratched the surface."—Atlanta Journal-Constitution

"An extremely entertaining cookbook and survey of Louisiana cuisine... Toups' ribald sense of humor shines through in the head notes and recipe instructions... Expertly written and edited by Toups and Cole, and full of useful kitchen techniques that readers can use throughout the year, this is a book that will stay close to my cutting board until it's covered with flour and grease."—Nashville Scene

"If you can't get to Louisiana, this is an excellent stand-in."—Food & Wine

"Are you obsessed with all foods Cajun? This is your time. This is your book."—Delish

"Each bite will make anyone born in Cajun Country feel right at home... Chasing the Gator puts his flair for flavor in the hands of home cooks."—Taste of the South

"An array of dishes that exemplify the Cajun cooking that Toups grew up on in south Louisiana as well as the special flair he brings to them and to life in general."—Associated Press

"Isaac Toups grew up in deep Cajun country. He has been steeped in Cajun traditions his whole life--it's in his blood, and that's evident as soon as you meet him... Isaac's rustic and decadent Cajun dishes take you on a journey through Louisiana that most tourists never get to see or experience."—From the foreword by Emeril Lagasse

"Offers fresh takes on Cajun classics, such as chicken and andouille gumbo and crawfish... Enjoy the ride through the Cajun prairies, swamps, bayous, marshes, and rivers with Toups as your tour guide and the fruits of the region to fortify your belly and delight your taste buds."—New Orleans Homes and Lifestyles

"New Orleans chef and Top Chef alum Toups presents innovative Cajun dishes in this must-have collection of recipes... An outstanding addition to the storied Louisiana cookbook canon, Toups's volume deserves a spot on the shelf of anyone who cooks Cajun and New Orleans cuisine."—Publishers Weekly (starred review)

"Toups launches his first cookbook with much bravado and no fear. How often does one encounter a collection with Cajun games in sidebars (try tomahawk throwing) and more than occasional cussing spattered throughout?... Toups' authentic voice also relays some mighty fine (more than 100) dishes, all, as he says, either prairie or coastal Cajun... The recipes reflect his heritage well: trotters and white beans, smoked duck gumbo, boiled crawfish, bacon-tomato braised rabbit. Good photographs accompany."—Booklist

"Chasing the Gator should come with a warning: do not read hungry. Isaac Toups' colorful tribute to the traditions of Cajun cooking is dangerously appetite-inducing and equally enlightening. You may have to ice your arm after all the roux-stirring, but you'll walk away with a profound appreciation for the Cajun way of life--a delicious and authentic piece of American culture."—Danny Meyer, CEO of Union Square Hospitality Group, author of Setting the Table

"It's hard not to be charmed by Isaac Toups, and almost impossible not to fall for the bold, brave, and unabashedly rich flavors of his Louisiana kitchens. With Chasing the Gator, Toups spills all his magical cooking secrets and time-honored traditions, showing how to make everything from the perfect boudin to his daddy's famous seafood gumbo. It's a lip-smacking wild ride through the heart of Cajun country, and there's no better chef I would want as my guide!"—Gail Simmons, food expert, TV host, and author of Bringing it Home

"If you were to blindfold me and serve me some of Isaac Toups' food, first of all I'd wonder what the heck kind of shenanigans you were pulling, but I'd know exactly whose dishes they were. Isaac's food tastes so unmistakably of a place and a tradition and a reverence for both of those things, inextricably bound by an exceptional generosity of spirit. This man knows how to raise hell in all the best ways, and the trip there--at his restaurants and in this book--is something close to heaven every step of the way."—Kat Kinsman, senior food and drinks editor, Extra Crispy

"Chasing the Gator is the Cajun Bible. Its recipes are everything you need to live life like a local--including the attitude. If you can't live in New Orleans, cooking Isaac's way might just be the next best thing. And he really knows his way around a pig skin."—Archie Manning

"Toups' form of authentic Cajun cooking comes at you extra-bold and spicy, like a cat-5 hurricane out of the Gulf. And yet his recipes in Chasing the Gator are approachable and enabling. This cookbook is a riveting read, and anyone interested in the heritage of the American South needs to own this beautifully rendered dive into grattons, frisseurs, tata bouille, cochon de lait, and roux peas. Get ready to make the most soul-stirring gumbo you've ever tasted!"—Matt Lee and Ted Lee, James Beard Award-winning authors of The Lee Bros. Charleston Kitchen

"Isaac Toups gives me hope for the future of Cajun cooking."—James Carville, the Ragin' Cajun
Voracious, 9780316465779, 256pp.
Publication Date: October 23, 2018
About the Author
Isaac Toups has four times been named a James Beard Best Chef of the South Semi-Finalist or Finalist since opening Toups' Meatery in 2012 with his wife, Amanda. He was named an Eater Young Gun of the South, Eater New Orleans' Chef of the Year, and a Top Chef fan favorite.

Before opening Toups' Meatery, he honed his skill for a decade as a fine-dining chef at restaurants such as Emeril's Delmonico. His cooking has been featured by the Wall Street Journal, Food & Wine, CNN, and Tasting Table, among many other outlets. He is a passionate advocate for the protection of America's wetlands.

Jennifer V. Cole spent nearly a decade getting to know the intricacies of the South at Southern Living magazine, where she served as deputy editor and where her annual restaurant lists were considered the final word on where to eat in the region. Her writing appears widely in other publications, including Food & Wine, Garden & Gun, and Wildsam Field Guides.