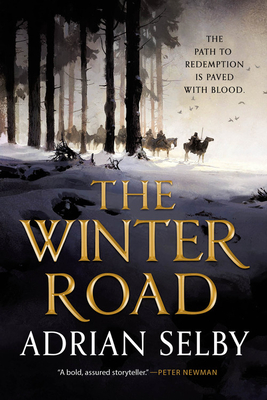 The Winter Road (Paperback)
Orbit, 9780316465885, 496pp.
Publication Date: November 13, 2018
* Individual store prices may vary.
Description
The brutally powerful story of a daring warrior traveling a path that might bring salvation to her people...or lead her to ruin. For fans of Mark Lawrence, Andrzej Sapkowski, and Joe Abercrombie.
The Circle - a thousand miles of perilous forests and warring clans. No one has ever tamed such treacherous territory before, but ex-soldier Teyr Amondsen, veteran of a hundred battles, is determined to try.

With a merchant caravan protected by a crew of skilled mercenaries, Teyr embarks on a dangerous mission to forge a road across the untamed wilderness that was once her home. But a warlord has risen in the wilds of the Circle, uniting its clans and terrorizing its people. Teyr's battles are far from over . . .
For more from Adrian Selby, check out:
Snakewood
About the Author
Born and raised in Barry, South Wales, Adrian studied creative writing and philosophy at university before embarking on a career in video games. He has worked for several big-name studios as a producer. He lives with his family on the south coast of England.
Praise For The Winter Road…
"Set in a brutal world of subtle magic, clashing empires, and commercial interests, this is an impressive fantasy debut. Selby demonstrates the command of style, character, plotting, and world building of a seasoned author."—Booklist on Snakewood

"Betrayal and retribution epitomize Selby's epic fantasy/thriller debut, set in an Earth-like, barbaric, drugged-up society reliant on plant-based narcotic concoctions for addictive potions and deadly poisons. His detail-heavy, conversational dialogue in memoir/journal design and his militant, Berserker-ish characters keep pages turning. Perfect for fans of Joe Abercrombie."—RT Book Reviews on Snakewood

"Not your typical grimdark fantasy....While it's a complex tale, this is also an immensely readable one, and should appeal to fans of the immersive world-building of Brandon Sanderson. Selby constructs his world on a personal, visceral level, making sure we feel everything that happens to the narrators."—BarnesandNoble.com on Snakewood

"Original and effective ... relish the well-choreographed action scenes."—Library Journal on Snakewood

"I give it nothing but the highest recommendation."—Grimdark Magazine on Snakewood

"Contemporary and grimdark as it comes."—British Fantasy Society on Snakewood

"Absolutely fascinating and incredibly original."—Sense of Wonder on Snakewood

"Wears its grimdark on its sleeve ... a thrilling tale of adventure, betrayal, triumph and loss."—Interzone on Snakewood

"Grim mercenaries and badass alchemists brought to life by a bold, assured storyteller."—Peter Newman, author of The Vagrant, on Snakewood

"A lot to enjoy, especially if you are a fan of dark, gritty, old-soldier stories."—Fantasy Faction on Snakewood

"Uniquely dark and gritty fantasy. An intriguing debut."—Bibliosanctum on Snakewood