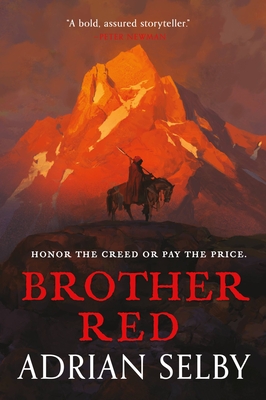 Brother Red
Paperback

* Individual store prices may vary.
Description
From one of the most exciting new voices in dark epic fantasy comes an intensely brutal and brilliantly cinematic novel: the story of a soldier torn between loyalty to her family and her quest to preserve a kingdom's future.
She was their hope, their martyr, their brother . . .
Driwna Marghoster, a soldier for the powerful merchant guild known as The Post, is defending her trade caravan from a vicious bandit attack when she discovers a dead body hidden in one of her wagons.
Born of the elusive Oskoro people, the body is a rare and priceless find, the center of a tragic tale and the key to a larger mystery.
But as Driwna investigates who the body was meant for, she finds herself on a trail of deceit and corruption . . . a trail that will lead her to an evil more powerful than she can possibly imagine.
Also by Adrian Selby:
Snakewood
The Winter Road
Praise For Brother Red…
"Lovers of grimdark worlds will enjoy Selby's unique setting and brutal action sequences."
—
Publishers Weekly
"Selby demonstrates the command of style, character, plotting, and world building of a seasoned author."
—
Booklist on Snakewood
"Teyr's ambition and endurance are admirable, her goal is refreshingly mundane and pragmatic, and Selby has crafted a deeply imagined world."
—
Publishers Weekly on The Winter Road
"Not your typical grimdark fantasy....While it's a complex tale, this is also an immensely readable one, and should appeal to fans of the immersive world-building of Brandon Sanderson. Selby constructs his world on a personal, visceral level, making sure we feel everything that happens to the narrators."
—
B&N SciFi and Fantasy Blog on Snakewood
Orbit, 9780316465922, 512pp.
Publication Date: January 26, 2021
About the Author
Adrian Selby studied creative writing at university before embarking on a career in video game production. He worked for several big-name studios as a producer before settling down to more conventional work in IT project management. He is a Tolkien fanatic and online gaming addict, and lives with his wife and family on the south coast of England.