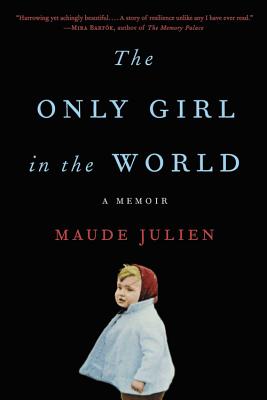 The Only Girl in the World
A Memoir
Paperback

* Individual store prices may vary.
Other Editions of This Title:
Digital Audiobook (12/11/2017)
Digital Audiobook (10/7/2019)
Compact Disc (12/12/2017)
Compact Disc (12/12/2017)
Hardcover (12/12/2017)
Description
For readers of Room and The Glass Castle, an astonishing memoir of one woman's rise above an unimaginable childhood.

Maude Julien's parents were fanatics who believed it was their sacred duty to turn her into the ultimate survivor -- raising her in isolation, tyrannizing her childhood and subjecting her to endless drills designed to "eliminate weakness." Maude learned to hold an electric fence for minutes without flinching, and to sit perfectly still in a rat-infested cellar all night long (her mother sewed bells onto her clothes that would give her away if she moved). She endured a life without heat, hot water, adequate food, friendship, or any kind of affectionate treatment.

But Maude's parents could not rule her inner life. Befriending the animals on the lonely estate as well as the characters in the novels she read in secret, young Maude nurtured in herself the compassion and love that her parents forbid as weak. And when, after more than a decade, an outsider managed to penetrate her family's paranoid world, Maude seized her opportunity.

By turns horrifying and magical, The Only Girl in the World is a story that will grip you from the first page and leave you spellbound, a chilling exploration of psychological control that ends with a glorious escape.
Praise For The Only Girl in the World: A Memoir…
"At oncefascinating, mystifying and distressing...The story takes on the energy of athriller, building on the reader's hectic desire for [Julien's] escape."—
New York Times Book Review
"A harrowing yet achingly beautiful tale of a girl imprisoned by her brutal, fanatic family, but whose yearning for wonder and love ultimately drives her toward the improbable light of the world. . .
The Only Girl in the World
is a story of resilience unlike any I have ever read."—
Mira Bartók, author of the National Book CriticsCircle Award Winner The Memory Palace
"In the hierarchy of traumatic memoir, Maude Julien has something to write home about. . .
The Only Girl in the World
is the haunting story of a girl whose survivalist parents locked her away and subjected her to 'training' starting at the age of three. But it is also proof that love is in our nature regardless of our nurture."—
Vanity Fair
"The author of this harrowing memoir describes a childhood trapped
in her family's grand house on the outskirts of a small French town in the
nineteen-sixties...Now working as a therapist specializing in cases of
psychological manipulation, she tells her story with the unflinching clarity of
someone who is no longer ruled by her trauma."
—
The New Yorker
"One of the most original and compelling stories I've read. A tale of hope and profound courage,
The Only Girl in the World
illustrates how trusting ourselves and following our hearts can save us from the most oppressive and cruel conditions. Her brave spirit shines as a bright reminder that what lies within us is stronger and more powerful than our circumstances."—
RuthWariner, New York Times bestselling author of The Sound ofGravel
"A living testimony of resilience... An account as gripping as it is inspiring."
—
Elle
"The year's most harrowing memoir...At times the book, in form, resembles the beginnings of Emma Donoghue's
Room
, but this text is necessarily more graphic and frightening...My multiple audible gasps while working through
The Only Girl in the World
were partly a result of its author's ability to so artfully capture the meaning and depth of her survival. You wonder how anyone who went through what she did could come out functioning on the other side...That
The Only Girl in the World
exists as it does is a most persuasive argument for Julien's remarkable willpower."—
Entertainment Weekly
"A disturbing,
engrossing memoir. . . A startling testament of survival."
—
Kirkus
"Chilling."
—
In Style
"This story is never maudlin-it is so absorbing that you have to remind yourself to breathe from time to time."
—
Le Point
"A
harrowing, gripping memoir of abuse and psychopathy...Julien approaches the past
with fearless contemplation, veracity, and vivid portrayals of the brutality in
her early life."
—
The AV Club
Back Bay Books, 9780316466639, 288pp.
Publication Date: December 11, 2018
About the Author
Maude Julien is a therapist specializing in manipulation and psychological control. For the last ten years she has been doing anthropological research on the consequences of acculturation among Australian aborigines. A frequent contributor to radio and television, she has helped hundreds of patients since 1995. She lives in Paris.
or
Not Currently Available for Direct Purchase