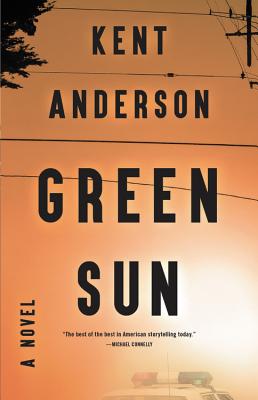 Green Sun (Hardcover)
Mulholland Books, 9780316466806, 352pp.
Publication Date: February 27, 2018
Other Editions of This Title:
Digital Audiobook (2/26/2018)
Paperback (3/12/2019)
Library Binding, Large Print (6/27/2018)
* Individual store prices may vary.
Description
"One of the unsung legends of crime fiction" (Chicago Tribune), Kent Anderson, returns after two decades with this dazzling novel about justice, character and fate, set against the backdrop of an American city at war with itself.

Oakland, California, 1983: a city churning with violent crime and racial conflict. Officer Hanson, a Vietnam veteran, has abandoned academia for the life-and-death clarity of police work, a way to live with the demons that followed him home from the war.

But Hanson knows that justice requires more than simply enforcing the penal code. He believes in becoming a part of the community he serves -- which is why, unlike most officers, he chooses to live in the same town where he works.

This strategy serves him well . . . to a point. He forges a precarious friendship with Felix Maxwell, the drug king of East Oakland, based on their shared sense of fairness and honor. He falls in love with Libya the moment he sees her, a confident and outspoken black woman. He is befriended by Weegee, a streetwise eleven-year-old who is primed to become a dope dealer.

Every day, every shift, tests a cop's boundaries between the man he wants to be and the officer of the law he's required to be. At last an off-duty shooting forces Hanson to finally face who he is, and which side of the law he belongs on.
About the Author
Kent Anderson is a U.S. Special Forces veteran who served in Vietnam and a former police officer in Portland, Oregon, and Oakland, California. With an MFA in creative writing from the University of Montana, he has taught college-level English and written screenplays. His two other novels, Sympathy for the Devil and Green Sun, both feature Hanson. Anderson may be the only person in U.S. history to have won two NEA grants for creative writing as well as two Bronze Stars. He lives in New Mexico.
Praise For Green Sun…
A 2019 LOS ANGELES TIMES BOOK PRIZE FINALIST
WINNER -- PRIX du ROMAN NOIR d'ETRANGER
"Green Sun succeeds on so many levels, it's hard to keep count. . . . Hanson is a fascinating and memorable character, but the real star of Green Sun is Anderson's writing. . . . He's a compassionate writer who never wastes a single word. . . . Anderson is adept at finding a terrible kind of beauty in the worst circumstances, which makes Green Sun difficult to put down even when it's emotionally painful to keep reading. Above all, it's a stunning meditation on power, violence and the intractability of pain, which Anderson seems to understand all too well."
—
Michael Schaub
,
NPR"Quietly staggering . . . Kent Anderson is one of the unsung legends of crime fiction."
—
Lloyd Sachs
,
Chicago Tribune"Anderson's writing is reminiscent of that of James Lee Burke, blending pathos, violence, and corruption with long-shot hope and glimpses of natural wonder. . . . Anderson's lean but limber style makes this novel a suitable companion for just about anyone."
—
Erik Spanberg
,
Christian Science Monitor"Kent Anderson's GREEN SUN is, simply put, one of the finest police novels I have ever read. I'd gladly put it on the same shelf with Tim O'Brien's THE THINGS THEY CARRIED. Yes, it's that good."
—
Stephen King"Kent Anderson serves up the best of what crime fiction can do in Green Sun, showing us a slice of the world that stands for the whole wide world, and giving us Officer Hanson, whose perseverance and bedrock fairness and understanding of human frailty make him a hero for all places and times. The Hanson Trilogy should not be a secret. It's the best of the best in American storytelling today."
—
Michael Connelly"Green Sun tells the unvarnished truth about what it is to be a cop in modern day America. I can give a suspense novel no higher compliment."
—
James Patterson"Deeply moving.... Anderson's model of community policing couldn't be more timely."
—
Publishers Weekly (starred review)"Anderson doesn't publish much, but when he does, it's something to remember. . . . It is perhaps the perfect time for an honest, realistic, unflinching portrayal of a good cop, and Anderson delivers just that."
—
Booklist (starred review)
"Kent Anderson is the finest portrayer of the cop novel, elevating the genre to the highest literary form. With his third novel, Green Sun, he completes a trilogy that would sit effortlessly alongside the masters, Cormac McCarthy and James Lee Burke. This is Ellroy for a whole new generation. I am green with admirable envy."
—
Ken Bruen"Kent Anderson has crafted a literary miracle here. We're transported to 'Nam and circa-'80 Oakland, reimagined as Hell, seen through the eyes of a crusading cop unique in the annals of police literature. This jazzy--and jazz influenced--novel is like the best of early Joseph Wambaugh. In Oaklandese: If I'm lyin', I'm flyin'!"
—
James Ellroy"Kent Anderson immediately pulls you into his taut, authentic depiction of a cop's life in early-80s Oakland. Green Sun is crime fiction at its best: smart, unflinching, and, ultimately, compassionate."
—
Alafair Burke"[Anderson] imbues his protagonist with a solid dose of humanity. If I were a cop, Hanson would be on my short list for role models."
—
BookPage"Kent Anderson is the real deal, with a past to prove it. And Green Sun shows it, with writing that pours across the page like a dark storm, but also shines, and stays with you long after you put it down."
—
David Swinson