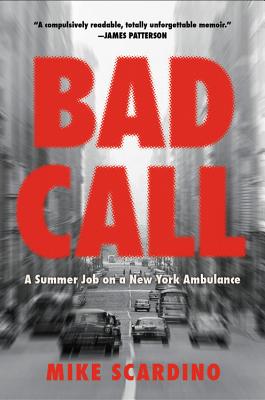 Bad Call
A Summer Job on a New York Ambulance
Hardcover

* Individual store prices may vary.
Other Editions of This Title:
Digital Audiobook (7/16/2018)
Compact Disc (7/17/2018)
Compact Disc (7/17/2018)
Description
An adrenaline-fueled read that will stay with you long after you turn the final page, Bad Call is a "compulsively readable, totally unforgettable" memoir about working on a New York City ambulance in the 1960s (James Patterson).

Bad Call is Mike Scardino's visceral, fast-moving, and mordantly funny account of the summers he spent working as an "ambulance attendant" on the mean streets of late-1960s New York.

Fueled by adrenaline and Sabrett's hot dogs, young Mike spends his days speeding from one chaotic emergency to another. His adventures take him into the middle of incipient race riots, to the scene of a plane crash at JFK airport and into private lives all over Queens, where New Yorkers are suffering, and dying, in unimaginable ways. Learning on the job, Mike encounters all manner of freakish accidents (the man who drank Drano, the woman attacked by rats, the man who inflated like a balloon), meets countless unforgettable New York characters, falls in love, is nearly murdered, and gets an early and indelible education in the impermanence of life and the cruelty of chance.

Action-packed, poignant, and rich with details that bring Mike's world to technicolor life, Bad Call is a gritty portrait of a bygone era as well as a bracing reminder that, though "life itself is a fatal condition," it's worth pausing to notice the moments of beauty, hope, and everyday heroism along the way.
Praise For Bad Call: A Summer Job on a New York Ambulance…
"
Bad Call
is a compulsively readable, totally unforgettable memoir that recounts a sensitive college student's experience working on an emergency ambulance in hell, aka New York City."—
James Patterson
"[A] fresh and powerful debut memoir...From
accidental deaths to suicides, Scardino writes with the detail of a crime
reporter...Scardino's unsparing memoir offers an empathetic look at human
pain and suffering."
—
Publishers Weekly, Starred Review
"This remarkable memoir, a vivid and gruesome record of his experiences...are like a punch in the gut. Even when a patient survives, there is always suffering, which Scardino captures with empathy and outrage."
—
National Book Review
"In
the late 1960s, Mike Scardino took a summer job on an ambulance crew in New
York City, offering him a strange, macabre, and compelling insight into a part
of city life seldom seen...Morbid and entertaining: a snapshot of life and death
in the big city of a bygone era."
—
CrimeReads
"A laugh-till-you-cry look at 1960s New York through the
eyes of an ambulance driver who saw the city at its most vulnerable and bloody.
Scardino, who worked in a Queens ambulance for four summers in the 1960s,
encountered the grotesque and the ludicrous daily and shares his tales in
hilarious and harrowing detail. A fun slice of NY life that is not for the
squeamish."
—
NY Post
Little, Brown and Company, 9780316469616, 304pp.
Publication Date: July 17, 2018
About the Author
Mike Scardino is a native of Elmhurst, Queens. In order to pay for college, he worked on a New York City ambulance as a teenager, which led to his decision not to pursue medicine as a career. Mike eventually found his way into advertising, where his ambulance experience proved to be an unexpectedly useful fit. He is married to the woman he met on his third day at college and has three daughters. He currently resides in South Carolina.